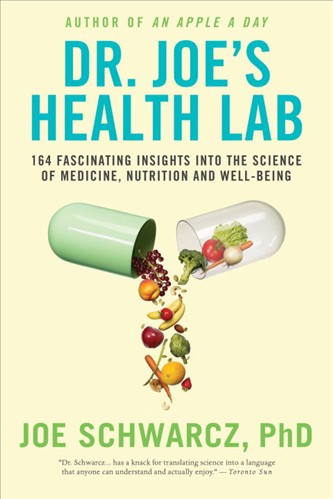 The McGill Bookstore presents Dr. Joe Schwarcz reading and signing his new book, "Dr. Joe's Health Lab".
February 4, 2012 
1:00 PM to 2:30 PM
McGill Bookstore, 3rd Floor

3420 rue McTavish

The bestselling author of Brain Fuel and An Apple a Day reveals the science of being well, eating well, and staying well clear of "alternative therapy" charlatans.

Health Lab
's theme is the most popular of Dr Joe's specialities. There are riveting and sometimes hair-raising vignettes from the history of medicine and food production. There are reports aimed at equipping readers to recognize and beware muddled thinking, misunderstandings and deceptions in media stories about health and nutrition and in the claims made by the peddlars of "alternative" therapies. There is a wealth of information on the science of inner well-being and outer beauty. The secret to good health lies in understanding the chemistry involved. Ask Dr. Joe.
DR. JOE SCHWARCZ
is director of McGill University's Office of Science and Society, where he teaches courses on nutrition and the applications of chemistry to everyday life. Among his many honours are the Royal Society of Canada's McNeil Award, and the American Chemistry Society's renowned Grady-Stack Award, of which he is the only non-American recipient. Dr. Schwarcz is the host of a weekly radio show on CFRB in Toronto and CJAD in Montreal, and writes a weekly column for the
Montreal Gazette
.
Info: 514-398-3222

January 31, 2012