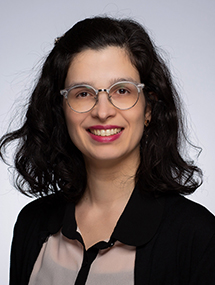 Source: RI-MUHC
Congratulations to Marina Machado!
Marina Machado, PhD, a postdoctoral fellow from the Research Institute of the McGill University Health Centre (RI-MUHC), won the Best Visual Presentation prize for her poster at a meeting of the CIHR Drug Safety Effectiveness Network (DSEN). The poster she presented in Ottawa on January 21 was titled "Treatment Patterns of Checkpoint Inhibitors in Metastatic Melanoma." This was the first population-based study to evaluate therapy discontinuation of pembrolizumab and nivolumab monotherapies and combination of nivolumab and ipilimumab in patients with metastatic melanoma.
Marina's project is one of the DSEN-related projects tackled by the CAnadian Network for Advanced Interdisciplinary Methods for comparative effectiveness research (CAN-AIM) team. Her supervisor, Dr. Sasha Bernatsky, is a member of the Infectious Diseases and Immunity in Global Health Program and with colleagues Michal Abrahamowicz and Louise Pilote, is a founding member of CAN-AIM. They conduct research at the RI- MUHC's Centre for Outcomes Research and Evaluation at the RI-MUHC.
May 6 2020