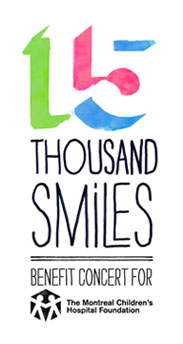 Benefit concert "15 000 smiles"

will take place on Friday, May 11, 2012 at 7:00 p.m.

at the St. Patrick's Basilica

460 Rene-Levesque W.
Honorary Chair: Dr. Pascale Hamel, President of the Quebec Association of Pediatricians.

Originally from Quebec, she studied medicine from 1984 to 1989 at Université de Montréal and completed her residency in pediatrics at Sainte-Justine Hospital from 1989 to 1994. She received her certificate from Quebec in Pediatrics in 1994.
Special guests: Anne Robert (Violon) and Alain Gagnon (Piano)
With the participation of the I Medici di McGill orchestra and F.A.C.E youth choir.
For more information, visit http://www.15000smiles.com/home.php