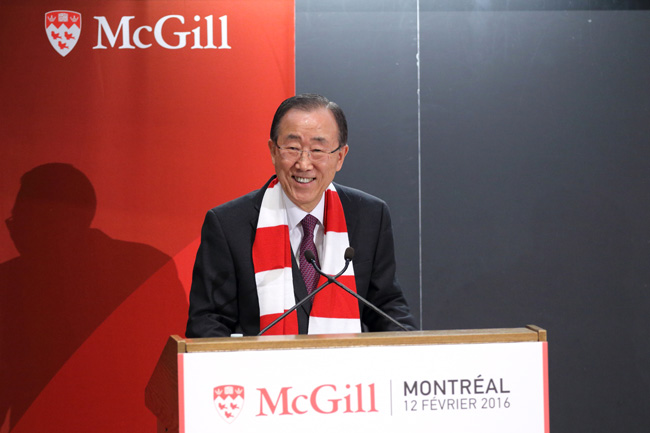 By Neale McDevitt

Humanitarian action must empower young people, who should be mobilized to effect lasting change, United Nations Secretary-General Ban Ki-moon told McGill students on Friday afternoon as part of his three-day visit to Canada.

"You are not here at McGill just for yourselves, but for our common future," Ban told a packed Leacock 132. "I call on you to give back as a global citizen. Rise to the challenges of your generation."

Ban reminisced about being a young, idealistic 18-year-old who was chosen to be among 100 student leaders worldwide to visit the United States. Having come from humble roots, Ban didn't have a suit for the trip. "My family was poor. The community collected funds so my teacher could buy me a suit," Ban told the audience. "I wore that suit on a day that would change my life forever – when I visited Washington, D.C., and met with President [John] Kennedy… who inspired me to seek a life of public service. I left the White House resolved to give back to the community that had paid for my first suit – and to my country, to our world.

"Each of you has your own version of my first suit," said Ban.

Throughout his speech, Ban – who sported a long McGill scarf – made numerous University references, including several William Shatner/Captain Kirk allusions. He spoke of the address to the McGill International Law Association by then-U.N. Secretary-General Dag Hammarskjöld some 60 years ago. "[Hammarskjöld] said realists are tempted by the illusion of cynicism and idealists are tempted by the illusion of utopia. In other words, if you are realistic, you may expect too little. If you are idealistic, you may expect too much," said Ban.

"How to balance idealism and realism — that was the essence of some of the best advice I ever received," Ban continued. "In the late 1950s, my middle school principal told me: keep your head above the clouds and your feet firmly planted on the ground then advance step by step."

According to Ban, as the world grapples with the major threats of unemployment, climate change, armed conflict and humanitarian crises, young people – and their ability balance idealism and realism – will play an increasingly important role in finding solutions.

"At the nexus of the world's greatest hopes and worst problems, you find young people… With all these global threats, we cannot just worry about young people… We have to invest in youth and work with them for a new future. We have to put young people in influential positions," said Ban, introducing Ahmad Alhendawi, the U.N.'s first-ever Youth Envoy.

Ban used climate change as an example on how young people can, and already are, on the vanguard of change. "Climate change represents an intergenerational injustice. The older generation has not taken care of the planet that young people inherit," he said.

"But youth have been leading on climate action, which is essential to sustainable development," Ban continued. "I was impressed by the more than 5,000 young people who adopted a Youth Manifesto ahead of the Paris climate talks last December.

"You can all be part of the transition to a low-carbon future. You are consumers, innovators and voters," he said. "You can invest in green solutions, invent new technologies and elect leaders who are committed to climate action. You can be the entrepreneurs who do more than fill jobs – because you create them."

Throughout the event, Ban was warmly received, garnering several ovations from the crowd. None was more boisterous than when he spoke about the Montreal Canadiens in advance of the team's game against the Buffalo Sabres. "I am a diplomat, so I should not take sides in any situation, including a hockey game," said a smiling Ban. "But let me just say: Go, Habs, go!"

February 17, 2016