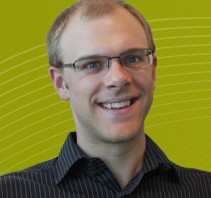 Sébastien Ricoult, Ph.D. Student in Neurology and Neurosurgery at McGill University, is the award winner of the Fonds Nature et technologies, one of the three Fonds awards of the Fonds de recherche du Québec. His award-winning publication "Large Dynamic Range Digital Nanodot Gradients of Biomolecules Made by Low-Cost Nanocontact Printing for Cell Haptotaxis is published in Small, 19(9), 3308-3313, 2013.
His work constitutes a tipping point in terms of ease of use that will drive the widespread adoption of nanocontact printing by a diversity of researchers, similarly to what occurred with microcontact printing of proteins in the early 2000s. Protein nanopatterning will result in the advancement of fields such as microarray analytics, biosensors, or tissue engineering. In the domain of biomedical sciences, the implementation of certain protein patterns will give a more accurate insight into processes such as the migration of cancer cells and the response of bacterial cells to different concentrations of antimicrobial agents. These findings will potentially improve palliative care of cancer metastasis or neurodegenerative disorders, the development of materials with superior bacterial resistance and the healing of debilitating spinal cord injuries.
Read the full article here.
In addition to promoting research careers in Québec, this competition recognizes the exceptional research contributions of college and university students (bachelor's, master's, doctorate), postdoctoral fellows and members of professional bodies who are enrolled in advanced research training programs in the areas covered by the three Fonds de recherche du Québec.
To learn more about the awards, click here.
November 25, 2013