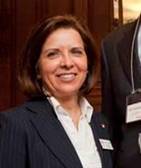 Colleagues,

I am delighted to announce that Joanne Leebosh has been appointed to the position of Managing Director of Development for the Faculty of Medicine, McGill University. In this role, Joanne will delineate the Faculty's development strategies and implement priorities to advance our fundraising, major gift and planned gift efforts.

Joanne, who has served as Interim Director of Development for us over the last several months, joined McGill's Development and Alumni Relations team in 2005, bringing with her broad experience in not-for-profit organizations. In 2008, she became Senior Development Officer, Regional Major Gifts, and was appointed Associate Director of Development for our Faculty a few years later. Joanne is a McGill alumna, herself, with a Bachelor of Education degree. She also holds a Certified Association Executive designation from the Canadian Society of Association of Executives.

Joanne will work closely with the Faculty's leadership and staff, as well as development staff based in other units, other members of the University community, volunteers, donors, prospective donors and alumni. We are confident her track record in building relationships and fundraising at all levels, together with her knowledge of our Faculty, will prove instrumental in helping us to achieve our fundraising objectives.

Please join me in welcoming Joanne warmly into her new position.

David Eidelman, MDCM

Vice-Principal (Health Affairs)
Dean of the Faculty of Medicine

February 25, 2013