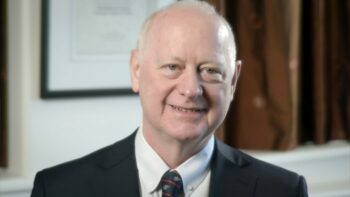 We are pleased to announce the appointment of Dr. Guy Rouleau to the position of Chair of the Department of Neurology and Neurosurgery, Faculty of Medicine, McGill University, effective July 1, 2013. Dr. Rouleau takes on this role in addition to his responsibilities as Director of the Montreal Neurological Institute and Hospital – The Neuro – a position he has held since January 2013.
As Chair of the Department, Dr. Rouleau replaces Dr. Lesley Fellows, who served as Interim Chair since 2010. We take this opportunity to thank Dr. Fellows for her exceptional leadership during the transition period that ensured McGill's stellar reputation in the neurosciences was not only maintained but enhanced.
Dr. Rouleau is a pioneer in the field of neuroscience. An MD graduate from the University of Ottawa, he completed his neurology residency at McGill University in 1985 and his PhD in genetics at Harvard University. He has dedicated his career to advancing research and clinical care for neurological patients, and to training the next generation of neuroscientists.
Over the last 20 years, Dr. Rouleau and his team have focused on identifying genes causing neurological and psychiatric diseases, including autism, amyotrophic lateral sclerosis, hereditary neuropathies, epilepsy and schizophrenia, as well as providing a better understanding of the molecular mechanisms that lead to these disease symptoms. Among his main achievements are his contributions to the identification of over 20 disease-causing genes and his discovery of new mutational mechanisms.
Prior to joining The Neuro, Dr. Rouleau was at the Université de Montréal where, in addition to his own research laboratory, he directed the CHU Ste-Justine Research Centre, the Centre of Excellence in Neuroscience of the Université de Montréal (CENUM) and the Réseau de Médecine Génétique Appliquée du Québec. He is a recipient of many honours, including the 2012 Prix du Québec – Prix Wilder Penfield, the Henry Friesen Award and the Margolese Prize and he is an Officer of the Ordre national du Québec.
As Chair of McGill's Department of Neurology and Neurosurgery, Dr. Rouleau will provide leadership to continue its tradition of excellence in research and education. He will provide strategic direction to the department, will advise the Dean on all academic matters pertaining to the department and will provide recommendations with respect to recruitment, academic appointments, promotion and tenure.
Please join us in wishing Dr. Rouleau the utmost success in his new, additional position.
David Eidelman, MDCM

Vice-Principal (Health Affairs)

Dean of the Faculty of Medicine

McGill University

Mara Ludwig, MD

Associate Dean, Faculty Affairs
July 8, 2013