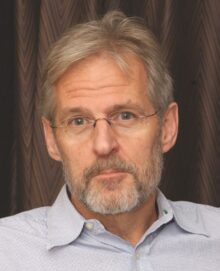 It is our pleasure to announce the appointment of Dr. Eric Shoubridge to the position of Chair of the Department of Human Genetics, Faculty of Medicine, McGill University. Dr. Shoubridge replaces Dr. David Rosenblatt who has served in this role since 2001. We take this opportunity to thank Dr. Rosenblatt for his exceptional leadership as Chair over the course of the past twelve years, during which time the Department undertook a review of its teaching at both the undergraduate and graduate levels, saw an increasing number of genetics programs and content integrated across McGill's network of affiliated hospitals and witnessed continued growth in the numbers of its graduate students.
Dr. Shoubridge is a James McGill Professor at McGill University, as well as a Professor of Human Genetics and of Neurology and Neurosurgery. His laboratory is located at the Montreal Neurological Institute (MNI). A two-time McGill graduate, Dr. Shoubridge completed his PhD at the University of British Columbia in 1981 and his post-doctoral training at Oxford prior to joining the faculty of the MNI in 1985.
Internationally renowned for his research on the molecular genetics of mitochondria and in the identification and characterization of mitochondrial disease genes, Dr. Shoubridge's laboratory developed the first animal models to investigate the transmission and segregation of mtDNA, and pioneered functional cloning methods to identify the genetic defects in individual patients with autosomal recessive mitochondrial disease. His laboratory is now incorporating next generation sequencing methods to rapidly identify the spectrum of genetic mutations associated with these disorders.
Dr. Shoubridge has over 150 peer-reviewed articles, book chapters, reviews and editorials to his name. Among his honours and awards, he has been an International Research Scholar of the Howard Hughes Medical Research Institute and a Senior Investigator of the Canadian Institutes of Health Research. He was the recipient of the Jacob's Ladder award for outstanding research in Neurogenetics in 2006 and received the Established Investigator Award from the MNI in 2009. Dr. Shoubridge was elected as a Fellow of the Royal Society of Canada in 2004 and named a Fellow of the Canadian Institutes for Advanced Research in 2006.
As Chair of McGill's Department of Human Genetics, Dr. Shoubridge will provide leadership to continue its tradition of excellence in teaching and research. As part of the Faculty Leadership Council, he will advise the Dean on all academic matters pertaining to the Department, while continuing to pursue his own successful research program. Additionally, he will oversee the recruitment of leading scientists to the Department, in conjunction with the McGill and Genome Quebec Innovation Centre.
Please join us in welcoming Dr. Eric Shoubridge to his new position and in wishing him the greatest success in building on the Department's excellence and enhancing its outstanding international reputation.
David Eidelman, MDCM

Vice-Principal (Health Affairs)

Dean of the Faculty of Medicine
Mara Ludwig, MD

Associate Dean, Faculty Affairs
June 11, 2013