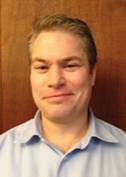 We are delighted to announce the appointment of Dr. Craig Mandato to the position of Chair of the Department of Anatomy and Cell Biology, Faculty of Medicine, McGill University, effective February 1, 2012. Dr. Mandato replaces Dr. Nathalie Lamarche-Vane, who has graciously led the department as Interim Chair since January 1, 2010, a commitment for which we thank her sincerely.

In addition to Dr. Mandato's appointment, Dr. Elaine Davis, Associate Professor (Anatomy and Cell Biology) and Associate Dean (Biomedical BSc, Graduate and Postdoctoral Affairs) for the Faculty, has assumed the role of Associate Chair to support the education mandate of the department. Dr. Davis will hold these positions concurrently.

Dr. Mandato is an Associate Professor of the Department of Anatomy and Cell Biology and an Associate Member of the Department of Medicine's Division of Experimental Medicine. He joined the Faculty of Medicine as an Assistant Professor and a Canada Research Chair in 2003, after pursuing a postdoctoral fellowship at the University of Wisconsin-Madison and his PhD in Biology at the University of Waterloo in Ontario. In addition to training students at the undergraduate, graduate and post-doctoral levels, Dr. Mandato has engaged in a full range of Faculty, inter-Faculty and University committees. He served as Chair of the Undergraduate Committee (Anatomy and Cell Biology) and Chief Undergraduate Advisor of the department, for three years respectively.

An expert in the study of cytokinesis or cell fission (considered one of the most mysterious processes of the animal cell division cycle), Dr. Mandato has focused his research on the cytoskeletal components of cell division, cell motility, and the properties of cellular wound healing in muscle and neurons. He currently holds grants from the Natural Sciences and Engineering Research Council (NSERC), the Heart and Stroke Foundation of Quebec and NSERC's Collaborative Health Research Projects program. Dr. Mandato has published numerous articles, as well as book chapters, in his field and is invited to speak frequently at seminars and symposiums provincially and nationally.

As Chair of the Department of Anatomy and Cell Biology, Dr. Mandato will be responsible for overseeing the undergraduate and post-graduate educational programs and research initiatives, as well as for the department's overall strategic direction. He will also provide recommendations on academic appointments, promotions and the awarding of tenure.

On behalf of the Faculty of Medicine, please join us in wishing Dr. Mandato a warm welcome as the new Chair of the Department of Anatomy and Cell Biology, and Dr. Davis as the Associate Chair (Education).

 David Eidelman, MDCM
Vice-Principal (Health Affairs)

Dean of the Faculty of Medicine

Mara Ludwig, MD
Associate Dean, Faculty Affairs

March 1, 2012