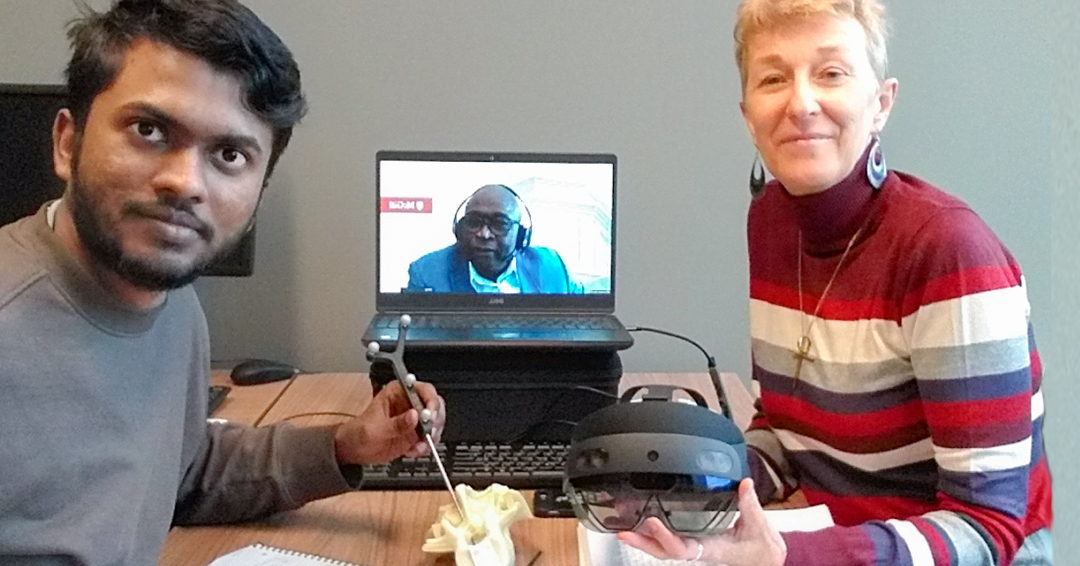 Antonia Arnaert, PhD, wears many hats: public health expert, educator, researcher, innovator, and entrepreneur. With one patent already provisionally approved in the U.S. and Canada and two more products in development and soon to be submitted for obtaining provisional patents, she can add the word inventor to the list. "An inventor is someone who looks for solutions to complex problems," she explains, crediting her team of Swajan Paul, MD, spine surgeon, digital health expert and Ph.D. student in Experimental Surgery, and Zoumanan Debe, MD, orthopedic surgeon, digital health expert and process improvement specialist, for the success they have achieved together thus far. 
An Associate Professor at the Ingram School of Nursing and an Associate Member of various departments and research centres (Department of Surgery – Division of Experimental Surgery, Department of Oncology – Global Oncology Program, St. Mary's Hospital Research Center, and Research Centre at the Integrated Health and Social Services Centre Outaouais), Prof. Arnaert has made a name for herself in the digital healthcare research space for the past 20 years. Her areas of expertise include telehealth nursing and the use of digital health technologies including mobile health, wearable devices, and augmented reality (AR). "Teaming up with Zoumanan and Swajan has taken my research program in an exciting new direction," she explains, adding that they each bring their unique areas of expertise to the task of brainstorming new digital solutions to intricate problems in spine health.   
With the support and guidance of McGill's Innovation and Partnership Office, last fall the team obtained a provisional patent for their invention of a surgical guidance system for the optimal placement of a surgical screw during spine surgery. The system uses AR glasses, a technology that superimposes a computer-generated image on a user's view of the real world. By viewing the surgical field through a superimposed virtual model of the patient's anatomical details, the surgeon can carry out this delicate procedure with much greater precision, reducing the risk of errors and post-surgical complications. 
Currently, the team is working on two other products related to spine health. The first of these is a series of over 100 scenarios using AR to teach nurses and nursing students how to safely execute patient care transfer techniques.  As Prof. Arnaert explains, this is important because nurses, orderlies and other health professionals spend a great deal of their time transferring patients from the bed to a chair or from a wheelchair to the toilet. Improper technique often results in low back pain and musculoskeletal problems. 
A second product invented by the team is a wearable smart garment called SPINORT, designed to treat chronic low back pain by stimulating the deep back muscles and correcting the spine posture. SPINORT was one of 36 inventions (out of 150 applicants) selected to participate in the 2023 cohort for the 12-week Acceleration Program offered by CENTECH, Montreal, to give inventors and startups the knowledge and skills to bring their product to market. The team is aiming to commercialize all three products through Debson–ITS, a McGill spin-off. They are also extremely thankful for the incredible support and advice they have been receiving from the members of McGill HBHL NeuroSphere team and the McGill Innovation and Partnership Office throughout their journey.   
Obtaining a patent for a new product is a long and rigorous progress. The road to product commercialization is equally long. Paradoxically, the path of developing new products means less time for publishing – the holy grail of academia. 
Yet, for Prof. Arnaert, who consciously chose the path of invention, the rewards are worth the investment. "It should be seen as a source of great pride for the university and an option for future researchers who want to go in this direction. The whole point of doing this work, of being an inventor and entrepreneur, is to make a change that has a positive impact on the patient's life, on the nurse's life, on the life of the healthcare professional."