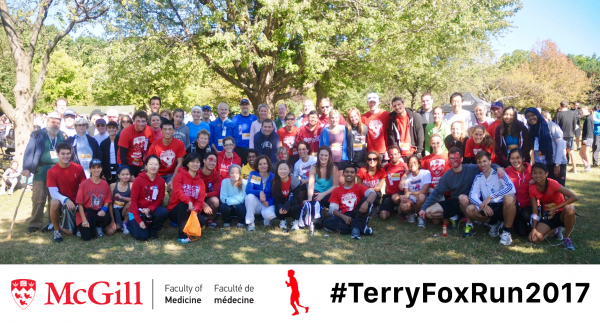 Members from across McGill University's Faculty of Medicine are joining forces to participate in the annual Terry Fox Run, which will take place on Sunday, September 17 at 9:00 am in the Old Port of Montreal. This year, students, residents, Faculty members, and alumni from Medicine, the Rosalind and Morris Goodman Cancer Research Centre, and the Schools of Nursing, Physical and Occupational Therapy, Communication Sciences and Disorders, and other disciplines, have come together to create an interprofessional team to promote this initiative and to raise funds for cancer research.

"I cannot think of a better way to encourage people to exercise. As a Family Physician and as a member of the Medical Faculty, I feel that leading by example and asking others to join me, to walk or run in the Terry Fox Run has been a great way to get people moving," says Dr. Barry Slapcoff, Assistant Professor in the Department of Family Medicine at McGill, who has been involved in this annual event for fifteen years. Dr. Slapcoff began participating in this event with some of his patients in order to encourage physical activity and healthy lifestyles among the group. In 2012, he started recruiting McGill medical students to join him and his annual team  expanded to include medical students, family medicine residents, and other faculty members. The run has become way for students to interact with residents, physicians, and faculty members in a fun and informal way, while supporting a worthy cause.

This year, under the leadership of Deborah Friedman, Assistant Dean of Student Affairs, Schools, Faculty of Medicine, the goal is to bring together students and faculty members from multiple disciplines across the Faculty in order to support the community, promote health and physical activity, foster leadership and teamwork, and unite students and health care professionals within the Faculty of Medicine. "This event is an amazing opportunity to collaborate with students from different disciplines within the Faculty of Medicine to support a worthwhile, health-related cause. Our leadership committee has done a great job at building momentum and mobilizing students to get involved," notes Olivia Monton, a second-year McGill medical student who has helped organize this year's team.

The annual Terry Fox Run, the legacy of Terry's Marathon of Hope, has always been about giving what you can and participating as you are able. The Terry Fox Foundation now raises funds for Canadian cancer research, but more than this, Terry ran to raise awareness. This yearly run is in the same spirit: a community event where everyone from families to elite athletes join together to keep Terry's message alive.

To join the McGill team, here.

September 6, 2017