The Louis and Artur Lucian Award was established through a bequest to McGill University under the will of the late Olga Leibovici to honour the donor's two brothers, and was conferred for the first time in 1978.  The Award is designed to honour outstanding research in the field of circulatory diseases by a scientific investigator or group of investigators whose contribution to knowledge in this field is deemed worthy of special recognition.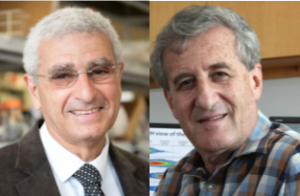 This year the Award is shared between two outstanding investigators, Dr. Dan Roden, MDCM'74, from Vanderbilt University and Dr. Nabil Seidah from the Institut de recherches cliniques de Montréal.  Dr. Roden received the award for his work on mechanisms underlying variability in response to drug therapy, with a particular focus on therapies used to treat cardiac arrhythmias.  Dr. Seidah received the award for his work on understanding the role of PCSK9 in the regulation of cholesterol metabolism and as a drug target to treat hypercholesteremia. Congratulations Dr. Roden and Dr. Seidah!

To learn more about the Louis and Artur Award, please visit the Lucian Award site or facebook page.

August 9, 2018