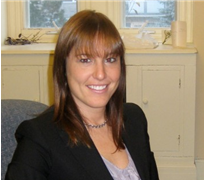 It is with the warmest of wishes, and a measure of sadness, that I announce the departure of Melina Tondino, Manager, Human Resources, McGill Faculty of Medicine, and senior advisor on all resource activities pertaining to our administrative staff. After close to a decade of committed support, Melina will begin a new leg in what has been to date a very successful career trajectory.

Melina joined the Faculty of Medicine, in Human Resources, in 2002, and over a short period was promoted three times for her acumen in talent management and her input as both subject matter expert and change agent.  In 2008, she assumed responsibility for the Faculty's full Human Resources portfolio, including 1,000 administrative employees in 40 departments across multiple sites.

Together with her team of five Human Resources professionals, Melina has significantly improved client relationships and service levels through a client-dedicated approach, while playing a key role in the research and planning of the Faculty's strategic administrative initiatives. Melina and her team was also responsible for the design and launch of the Faculty's highly regarded Wellness Program.

In tandem with her contributions to the Faculty, Melina pursued and successfully completed her graduate studies. In 2010, she earned a Master's of Business Administration degree (Global strategy and Leadership) from McGill, as well as a place on the Dean's Honour List, building on her Bachelor's of Arts degree in Psychology and Certificate in Human Resources Management, also from McGill.

Melina's work with the Faculty has been transformative, and I invite all to join me in thanking her and in wishing her the greatest success as she embarks on this new adventure, in the private sector, beginning November 21, 2011.

Sincerely,

April Caluori, M.M.
Executive Director, Faculty of Medicine & Health Affairs

McGill University