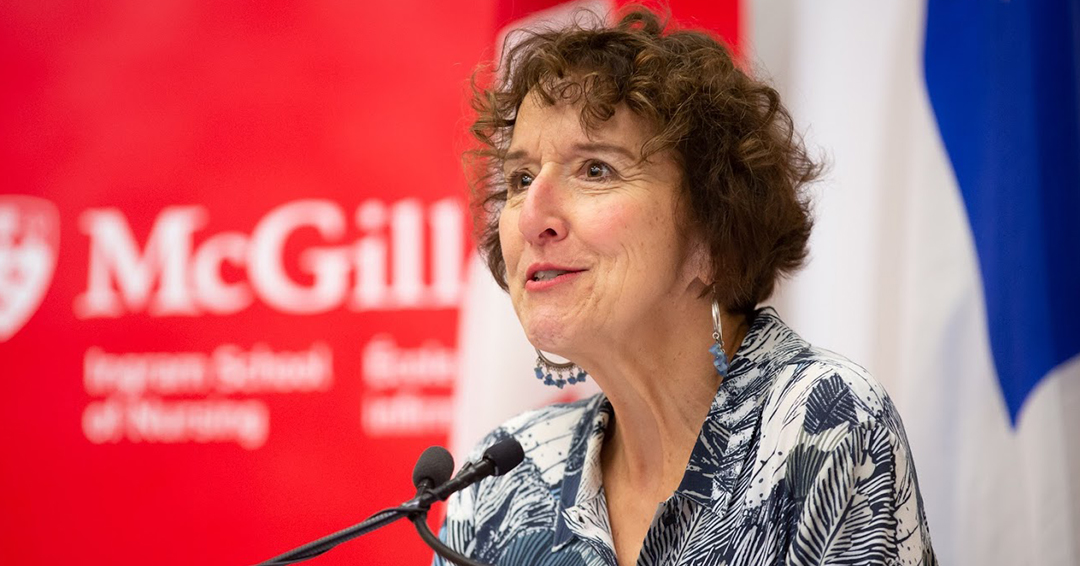 It is with great pleasure that we announce the reappointment of Professor Anita Gagnon as Associate Dean and Director of the Ingram School of Nursing (ISoN), Faculty of Medicine and Health Sciences, McGill University. Prof. Gagnon has served in this role with distinction since September 2015, when she first became Interim Director. She was appointed Associate Dean and Director in September 2016.
During her first term, Prof. Gagnon led a revision of the structural elements of the School, which included the creation of several new offices, among them the Online and Continuing Nursing Education Office and the Clinical Partnership Office. She made several strategic hires, including a Data analyst and Communications officer, and spearheaded new committees, including the Technology Committee and the Teaching Assignment Group. She mandated five-year strategic plans in 14 programs and initiatives, emphasizing empowerment and excellence, and a sense of the possible. She oversaw the launch of three new Nurse Practitioner (NP) concentrations, making McGill the first in Quebec to offer all five NP concentrations. It is also under her leadership that the ISoN opened its new facilities on Sherbrooke Street, including a state-of-the-art simulation centre, and launched Quebec's first online Bachelor of Nursing (Integrated) Program, in response to the critical need for university-prepared nurses in this province.
Prof. Gagnon has also overseen important advancement initiatives. During her term, the ISoN obtained more than $9 million in donor funding to support major projects and innovations, such as the Satoko Shibata Clinical Nursing Education Lab, the Bachelor of Nursing (Integrated) Online Program and continuing education in neurological nursing, as well as five nurse-led downtown clinics to help underserved populations affected by diabetes.
A McGill alumna, Prof. Gagnon holds a PhD in Epidemiology and Biostatistics from McGill and a Master of Public Health degree from Johns Hopkins University School of Hygiene and Public Health. She completed her Bachelor of Science degree in Nursing at the Catholic University of America in Washington, DC. She also earned a Certificate in Refugee Issues from York University in Toronto, and has been involved in a wide range of refugee projects and studies in Haiti, Nepal and several other countries around the world.
Prof. Gagnon joined McGill in 1997 and has been a Full Professor since 2014. As a researcher, she works as a Senior Scientist at the Research Institute of the McGill University Health Centre (MUHC). She has been Principal Investigator or Co-investigator on several grants related to the reproductive health of migrant women, and has presented and published in several venues. She has also pursued research as a Nurse Scientist in the Department of Nursing and Obstetrics and Gynecology at the MUHC and at the Lady Davis Research Institute of the Jewish General Hospital.
Prof. Gagnon is regularly invited to present her research internationally and is active on a number of committees in the McGill academic health network. She has also served as Associate Editor of the Canadian Journal of Nursing Research and on the editorial board of the Journal of Obstetric, Gynecologic & Neonatal Nursing. She has earned several recognitions, including in 2019 when she was named one of the top 25 most cited Canadian nursing faculty members.
In her second mandate as Associate Dean and Director of the ISoN, Prof. Gagnon will continue to lead and oversee the School's education, research and service missions, and provide mentorship to faculty members. She will advise on recruitment, academic appointments, promotion and tenure, and lead strategic planning and oversee financial allocations. She will also lead the continued growth in enrolment across several programs to respond to Quebec's need for more nurses and nurse practitioners, as defined by the Ministries of Health and Social Services and of Higher Education. She will continue to promote the highest standards of excellence in all areas of the School's activities and represent its interest as a member of the Faculty Deanery Executive.
Please join us in congratulating Professor Gagnon on her reappointment and in wishing her continued success in this role.
| | |
| --- | --- |
| Dr. David Eidelman | Dr. Lesley Fellows |