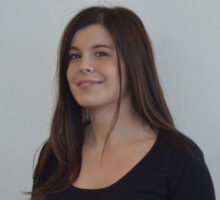 I am pleased to announce the appointment of Ms. Angélique Adam to the position of Immigration Advisor, Human Resources, Faculty of Medicine, McGill University, effective July 31, 2017.

Angélique Adam completed her Bachelor of Law degree at Université de Montréal in 2013 and is a member of the Quebec Bar and the Canadian Bar Association. She is currently completing an online program in Project Management at McGill. Armed with knowledge of immigration law in general and of the Immigration and Refugee Protection Act specifically, Ms. Adam joins McGill's Faculty of Medicine after having spent nearly two years working as the Immigration Manager for Technicolor Canada Inc. where, among her varied tasks, she served as the key advisor to employees and recruits regarding all facets of immigration. Prior to her time at Technicolor Canada Inc., Ms. Adam served as immigration lawyer and legal counsel in international mobility for Phoenix Gestion Mobilité Internationale Inc.

As Immigration Advisor for the Faculty of Medicine Ms. Adam will provide guidance and advice to the Faculty's HR team with respect to foreign national trainees including postdoctoral fellows, research award recipients and graduate research trainees, ensuring the Faculty complies with federal and provincial immigration rules. Immigration matters for professorial staff will continue to be managed by the Administrative Excellence Centres (AEC) in conjunction with the Academic Affairs Office.

Serving as the primary point of contact for the AECs for matters within her purview, Ms. Adam will also liaise with provincial and federal agencies in order to keep abreast of new developments and changes to legislation and will analyze their potential impact on the Faculty. Reporting to the Director, Human Resources, she will prepare immigration information sessions for Faculty of Medicine academic and administrative staff in order to ensure awareness of immigration rules as they relate to trainees and she will be responsible for the implementation and communication of any changes to internal procedures as they arise.

Please join me in welcoming Angélique Adam to McGill University and to the Faculty of Medicine and in wishing her the utmost success in this new role.

Pascale Mongrain, CPA-CA, Lawyer
Executive Director, Faculty of Medicine