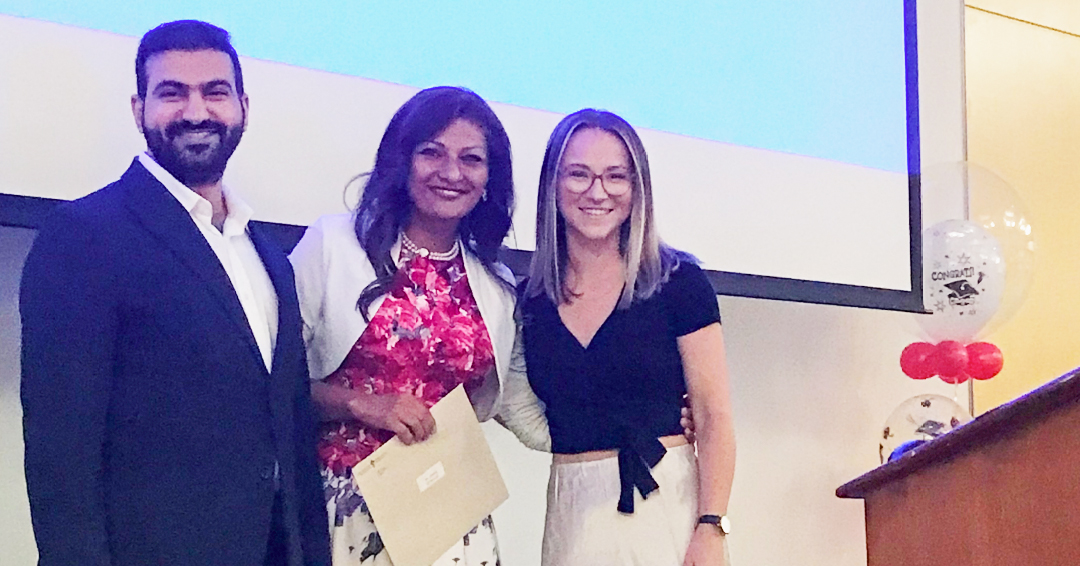 Amira El-Messidi, MDCM, Associate Professor in the Department of Obstetrics and Gynecology at McGill University's Faculty of Medicine and Health Sciences was named as the recipient of both the award for Outstanding Overall Teacher at the Department of Obstetrics and Gynecology for Academic Year 2022-2023 and the award for Outstanding Teacher at the Royal Victoria Hospital for the Academic Year 2022-2023. The awards, presented during the Department's end of year dinner on June 15, are based on postgraduate resident trainees' selection amongst attending physician staff.  
The first award, for outstanding overall teacher in the department, recognizes the physician who contributes the best in quantity and quality of teaching in the entire department of obstetrics & gynecology across all McGill teaching hospital sites (the McGill University Health Centre (MUHC), St Mary's Hospital Center, the Jewish General Hospital, Lakeshore hospital and Lasalle hospital). 
The second award recognizes the physician who contributes the best in quantity and quality of teaching in the local hospital centre they work, which in the case of Dr. El-Messidi is the MUHC's Royal Victoria Hospital. 
These two awards now mark 11 outstanding teaching departmental awards Dr. El-Messidi has received, to date, since her joining the department at McGill in October 2009.  
"These awards are important to me as they recognize the appreciation of the residents for my dedication to postgraduate education," says Dr. El-Messidi. "They acknowledge the efforts that I have made to provide them with teaching and guidance both during and after hours, including evenings and weekends when I am not on clinical duty, even when I am away on vacation. This stems from my passion for postgraduate medical education, which also motivated me to pioneer the textbook, "OSCES in Obstetrics and Maternal-Fetal Medicine: An Evidence-Based Approach" recently published by Cambridge University Press." 
Dr. El-Messidi completed medical school at McGill University in 2002. She completed her residency in Obstetrics & Gynecology at the University of Ottawa and received her Royal College Specialty certification in 2007. She then completed a Fellowship in Maternal-Fetal Medicine in 2009 at the University of Ottawa and obtained her Royal College Subspecialty certification that year. During her Fellowship, she trained at The Queen Mother's Hospital in Glasgow, Scotland as well as Guy's & St. Thomas Hospital in London, UK. In 2011, Dr El-Messidi completed a McGill Faculty of Medicine scholarship titled "Teachers' Scholars Program for Educators in Health Science."  
Since her appointment at McGill, she has made landmark contributions in postgraduate education which have granted her 16 teaching awards to date, including departmental, university, national and international awards. She has also received the Faculty of Medicine and Health Sciences' Maude Abbott Prize, the Carl Nimrod Educator Award for Excellence in Education, the National Faculty Award for the American College of Obstetricians & Gynaecologists' Council on Resident Education, and the Excellence in Teaching Award from the Association of Professors of Gynecology and Obstetrics. She served as examiner for the Medical Council of Canada and Royal College of Physicians and Surgeons of Canada for both Obstetrics & Gynecology and Maternal-Fetal Medicine. She also currently participates in the McGill medical school admissions selection. Dr. El-Messidi has been very active as an invited speaker nationally and internationally. She is also active in research and has numerous publications and published abstracts in peer-reviewed journals and was an Associate Editor for the Journal of Obstetrics and Gynaecology Canada. 
Congratulations Dr. El-Messidi!