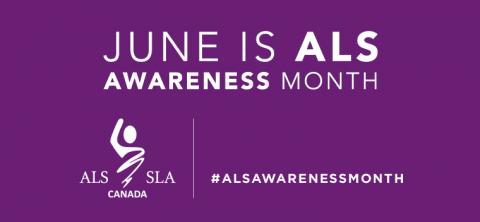 As a major Canadian centre for amyotrophic lateral sclerosis (ALS) research and treatment, the Montreal Neurological Institute and Hospital – The Neuro, invites the public and the media to learn more about the disease and current research and treatments, to donate money for ALS research and to wear the national emblem of ALS in Canada, the blue cornflower, during ALS Awareness Month in June. 
What is ALS?

Commonly called Lou Gehrig's disease, amyotrophic lateral sclerosis (ALS) involves the death of motor nerve cells in the brain and spinal cord. These are the cells that control our voluntary movements. As the disease progresses, the muscles weaken to the point of total paralysis. Most people survive less than five years following diagnosis. A small percentage of patients live for ten years or even longer. Fewer than one in ten ALS patients has a family history of the disease.  About 3,000 Canadian adults have ALS. At present, there is no cure. 

ALS care at The Neuro
The ALS Program at The Neuro is considered a model of multidisciplinary care, delivering outstanding, tailor-made care to meet the diverse needs of ALS patients, and their families. The ALS clinical research program develops and tests new ALS therapies in collaboration with the Canadian ALS Clinical Trial Consortium (CALS), and with researchers abroad.

Their model of care includes the timely and proactive mobilization of needed resources, for example, equipment needs, home care requirements, respite and palliative care.  They respect individual wishes and limits yet still push the obstacles and boundaries in our system to provide stellar care.  The Program carries a strong guiding belief: dealing with the biology- the disease- is only one aspect of care. Going beyond the immediate medical needs of the patient, the team takes a holistic approach, providing organized care for ongoing challenges and connecting the patient and their family to educational programs and support groups in the community.  In addition, the team's leadership is a driving force working to raise national and international awareness of ALS, its devastating impact on lives, the lack of treatment and the compelling need for more research and fund-raising. 

ALS research at The Neuro
The Neuro's experts are conducting important ALS basic research in state-of-the-art laboratories. A $2-million donation by the Reed Family / The Tenaquip Foundation enabled The Neuro to establish the new Reed Family Motor Neuron Disease Research Unit. The Neuro's many national and international partnerships are helping to advance research into ALS and to develop effective treatments

Dr. Bernard Brais
is a neurologist, co-director of The Neuro's neuromuscular research unit and director of the CHUM ataxia centre. He investigates the genetic basis of neurogenetic disorders with founder effects in Quebec. He has played an important role in identifying causal genes for several neurological disorders and in identifying previously unknown neurogenetic diseases. Under his co-directorship, The Neuro's neuromuscular research unit has focused research on the genetic, molecular and cellular basis of ALS.  The unit has revealed insights into the epidemiology of ALS and performs rigorous clinical research on new ALS treatment options.
 Dr. Heather Durham
has concentrated on ALS research for more than 25 years.  She seeks to understand why motor neurons are particularly vulnerable to damage in ALS, and how these neurons are affected by different genetic mutations responsible for familial forms of ALS.  By identifying commonalities and differences in how toxic mutant proteins cause the death of motor neurons, her work can potentially improve the pre-clinical identification and evaluation of therapies.  Dr. Durham works to promote ALS research initiatives and awareness across Canada and serves as a member of the Board of Directors of the ALS Society of Canada.
Dr. Angela Genge
is a neurologist, Director of the Clinical Research Unit and the ALS Clinic. She is a very active clinical investigator and is involved with numerous trials and work groups. Her current research activities include clinical trial development in ALS, epidemiological studies in ALS and clinical research in the inflammatory myopathies. Dr. Genge has worked tirelessly to expand both the number and scope of clinical trials in neurological disease. The Clinical Research Unit (CRU) runs and supports clinical research in a wide variety of neurological diseases including Multiple Sclerosis, ALS, Epilepsy, Migraines, Pain, Brain Tumour and Stroke. For more information:
http://cru.mcgill.ca/
Dr. Heidi McBride
is an expert on mitochondrial biology.  The mitochondria are organelles within the cell that use oxygen to break down sugar and fat to provide energy to cells.  Dr. McBride investigates the regulation of these pathways in healthy and diseased organisms, and also studies how damaged mitochondria are cleared from the cell.  Her work is helping to understand how errors in mitochondrial function may contribute to the development of ALS.
Dr. Peter McPherson's
research aims to understand the function of proteins in nerve cells by using biochemical, molecular, structural and cellular approaches.  His laboratory has identified proteins that could play a fundamental role in neurodegenerative and motor neuron diseases.  His laboratory identified a protein called Scyl1 that functions in the transport of other proteins in nerve cells. Mutation of this protein in mice generates a motor neuron disease that has many features of ALS in humans and appears to be a strong model for the disease. Dr. McPherson is also working on a protein module called the DENN domain. It was recently demonstrated that one DENN domain-bearing protein is the product of the C9orf72 gene, which is the most common mutation in ALS. His laboratory is working to identify the interacting partners for the DENN domain of C9ORF72 to provide new insights into ALS.
Dr. Eric Shoubridge
investigates genes that underlie mitochondrial dysfunction, which is believed to contribute to ALS and many other neurodegenerative diseases, including ALS.
Dr. Stefano Stifani
studies the generation, muscle connectivity, and regeneration of nerve cells (motor neurons) controlling respiration, mastication and swallowing. A major aim of his team's work is to understand the mechanisms regulating respiratory motor neuron development to understand how functional motor circuits are assembled. His team aims to translate this information into protocols to generate human respiratory motor neurons from pluripotent stem/progenitor-like cells. Achieving this goal would provide a source of disease-relevant nerve cells that will enable the study of motor neuron disease pathophysiology. Moreover, respiratory motor neurons derived from pluripotent human stem/progenitor-like cells would enable large-scale screening of new potential therapeutic compounds. These compounds might facilitate the development of strategies to promote the repair of motor circuits damaged in motor neuron diseases like ALS.
Dr. Hiroshi Tsuda
 investigates the molecular mechanisms and genetic pathways underlying ALS. He aims to develop therapeutics to delay the onset and progression of ALS.  His team has developed models that recapitulate many phenotypes associated with ALS. His projects will advance understanding of ALS and provide insight towards the development of a treatment.
ALS and Community Support
The Tony Proudfoot Fund provides support funds for scientists at The Neuro who undertake research on ALS.  The Fund was established by the late Tony Proudfoot, former quarterback of the Montreal Alouettes of the Canadian Football League. He was diagnosed with ALS in 2007. Before he succumbed to the disease three years later, he made great efforts to increase public awareness of ALS and raised funds for ALS research. The Tony Proudfoot Training Studentship in ALS, provides $25,000 stipend support to masters and doctoral students wishing to pursue specialized research training in the field of ALS. The current recipient is Aaron DeMedeiros-Howe in Dr. Durham's lab.

The Neuro is active in the community and has leadership roles with the ALS Society of Quebec which provides support for people with ALS and their families, creates public awareness, and raises funds for patient services and research.  The ALS Society of Quebec works in partnership with other provincial ALS agencies and with the ALS Society of Canada.