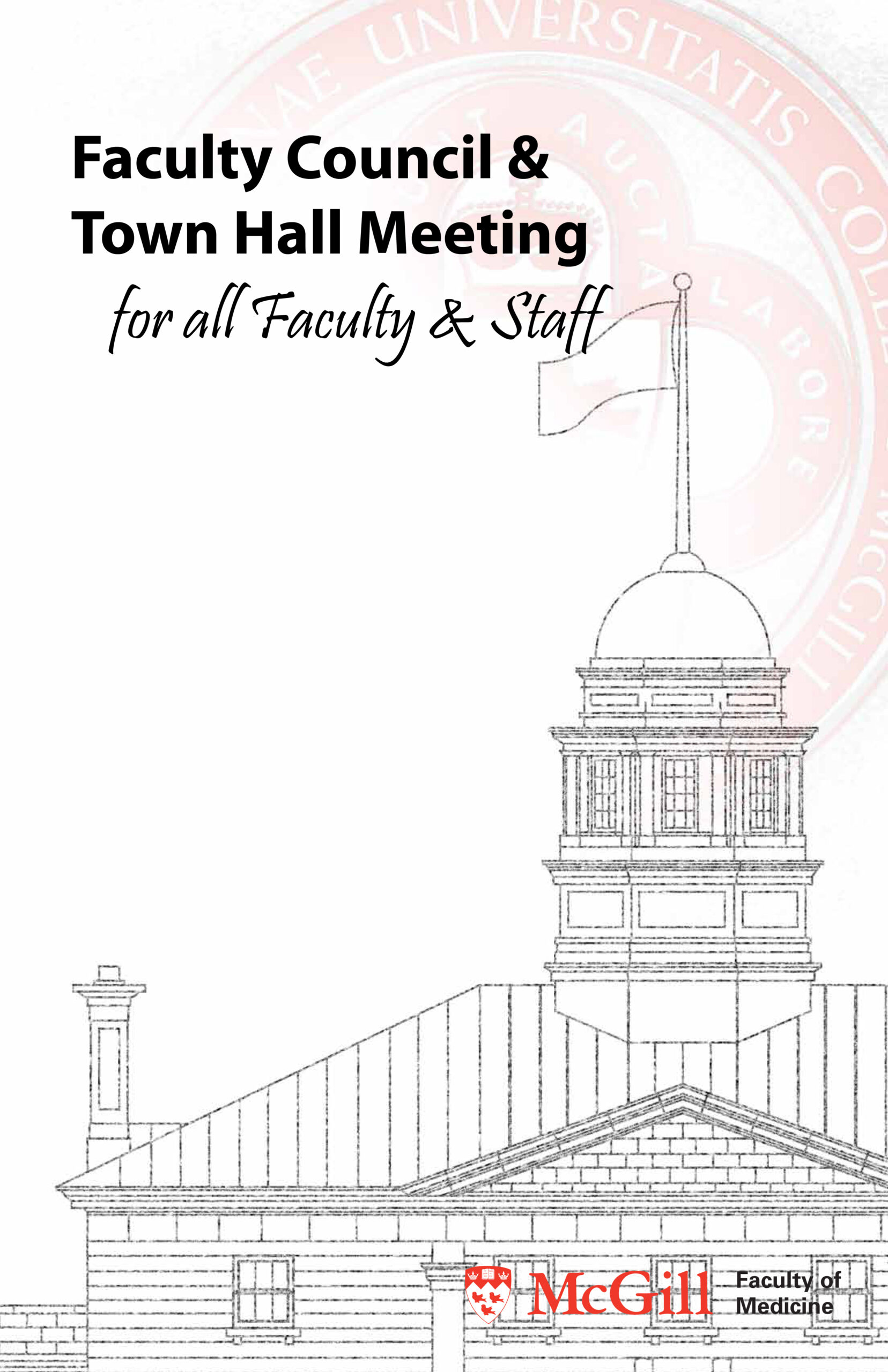 "We are at the end of this march I firmly believe, and it will be an extraordinary pleasure to see this project come to life," remarked Dean Richard I. Levin at the latest Faculty Council & Town Hall meeting on November 10. He was speaking about the much-anticipated construction of the Glen Campus, for which the official announcement of the bid winner is fast approaching, followed close on its heels by a ceremonious groundbreaking ceremony. This was just one of the notable updates Dean Levin shared with members of the Faculty of Medicine at this biannual gathering.

Attendees also heard about other developments, including the new Contract of Affiliation signed between the University and the MUHC, which defines some key issues that "will allow the sharing of clinical facilities and a much closer coordination of research activities and knowledge," noted Dean Levin. Within the McGill Academic Health Network, this agreement serves as a template for current negotiations concerning affiliation renewal with the Jewish General Hospital, as well as for upcoming discussions with St. Mary's Hospital Center and the Douglas Mental Health University Institute.

Coordination of information is also an integral part of the Faculty's Think Dangerously strategic planning initiative. Officially launched in April, the Think Dangerously Design Groups – Education, Research and Faculty Lifecycle – are shaping ideas and developing approaches that will help the Faculty of Medicine remain relevant in today's world and chart our future course. Proposals from each of the design groups are expected to be completed by spring 2010. Stay tuned for further details in Med E-News.

Within our Academics Affairs office, searches are underway for new chair holders for the Departments of Pediatrics, Anatomy and Cell Biology, Microbiology and Immunology, and Obstetrics and Gynecology, with some of these processes at the initial stages and others near completion. During the meeting, Dean Levin took the opportunity to congratulate the new Chair of Surgery, Dr. Gerald Fried, who was chosen for this coveted position among many stellar international candidates.

A number of infrastructure developments were presented, all intended to better support life sciences research at McGill. The Faculty's steps toward modernizing the McIntyre Medical Sciences Building with the installation of new heating, ventilation and air-conditioning systems, together with planned renovations to labs on the seventh and eighth floors, are a result of funding support from the federal and provincial governments' Knowledge Infrastructure Program. Additional projects are slated for the Macdonald Engineering Building, the Otto Maass Chemistry Building and the Douglas Mental Health University Institute.

Following the meeting, Prof. Anthony C. Masi, Provost, presented a contextualized view on the McGill University Budget. Comparing the current circumstances to previous years and other leading Canadian and American universities, he made clear that McGill is well-placed to rise above the obstacles it faces, and described plans developed to address the current challenges.

The presentations during the Faculty Council & Town Hall meeting showcased upcoming plans and new initiatives. With ongoing communication being a key element in achieving these objectives, Dean Levin encouraged everyone present to share their observations, criticisms and suggestions by posting comments on Med E-News.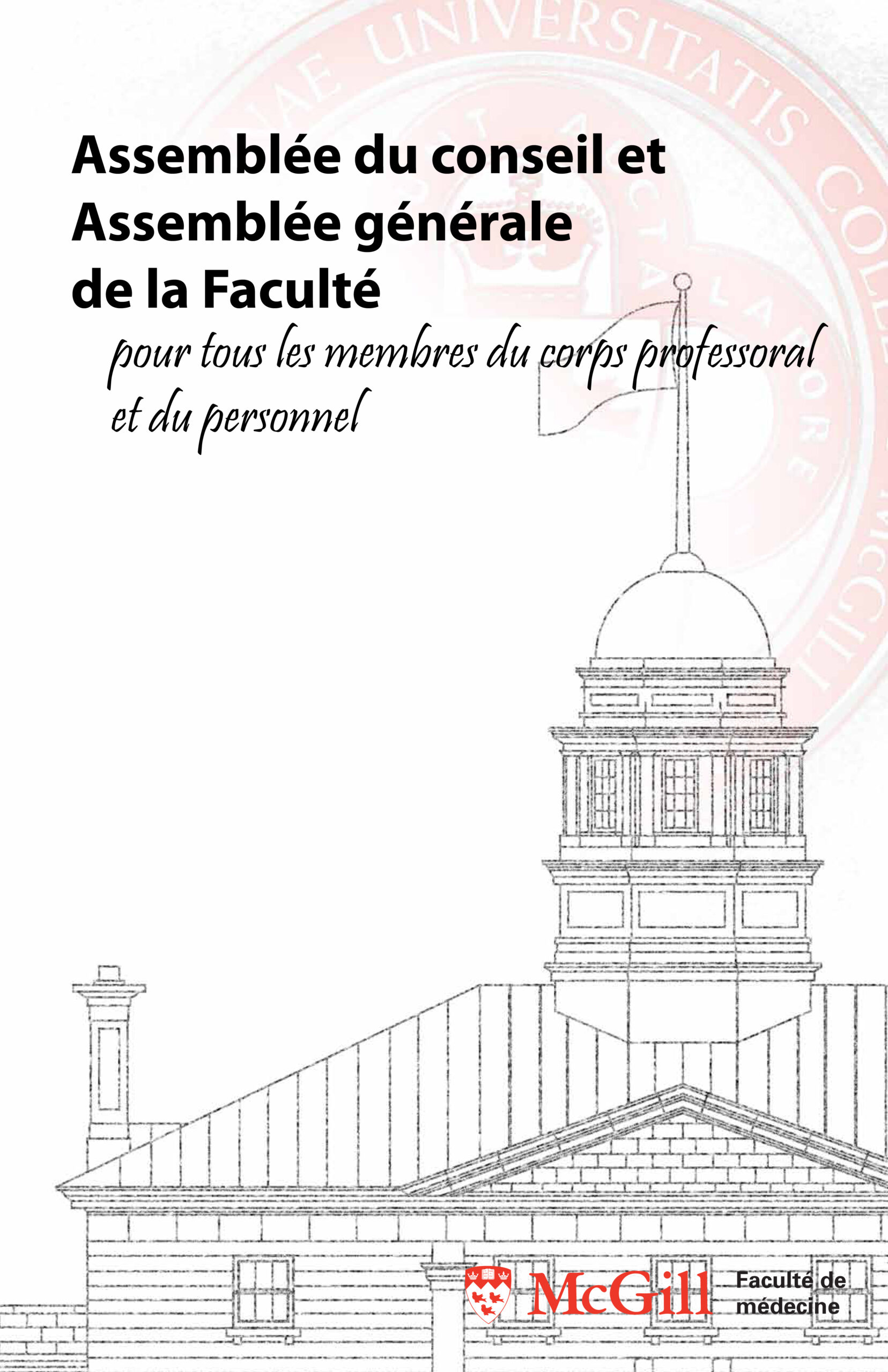 « Je crois fermement que nous en sommes à la fin de cette marche, et ce sera avec un plaisir extraordinaire que nous verrons ce projet prendre forme », a fait remarquer le doyen, monsieur Richard I. Levin, lors de la dernière
Assemblée du conseil et Assemblée générale de la Faculté
, le 10 novembre. Il parlait de la construction attendue avec impatience du Campus Glen, pour laquelle l'annonce officielle du meilleur soumissionnaire approche à grands pas, suivie de près par une pompeuse cérémonie de première pelletée de terre. Et ce n'était qu'une des mises à jour remarquables que le doyen Levin a partagée avec les membres de la Faculté de médecine à l'occasion de ce rassemblement biannuel.
Les participants ont également reçu une mise à jour sur d'autres développements, notamment le nouveau contrat régissant l'affiliation entre l'Université et le CUSM, qui définit certaines questions essentielles « qui permettent le partage d'installations cliniques et une coordination beaucoup plus étroite des activités de recherche et des connaissances », a fait remarquer le doyen Levin. Au sein du réseau universitaire mcgillois de santé, cette entente sert de modèle aux présentes négociations de renouvellement de l'affiliation avec l'Hôpital général juif, ainsi qu'aux prochaines discussions avec le Centre hospitalier de St. Mary et l'Institut universitaire en santé mentale Douglas.

La coordination des renseignements fait aussi partie intégrale de l'initiative de planification stratégique de la Faculté intitulée L'année des idées novatrices. Lancés officiellement en avril, les Groupes de conception sur l'enseignement, la recherche et le cycle de vie du corps professoral de l'initiative L'année des idées novatrices donnent forme à des idées et développent des démarches qui aideront la Faculté de médecine à demeurer compétente dans le monde d'aujourd'hui et à définir notre trajectoire future. Les propositions de chacun des groupes de conception devraient être terminées d'ici au printemps 2010. Surveillez les détails à venir dans le Bulletel.

Au sein de notre Service des affaires académiques, des recherches sont en cours pour de nouveaux directeurs des départements de pédiatrie, anatomie et biologie cellulaire, microbiologie et immunologie, ainsi qu'obstétrique et gynécologie. Certains de ces processus en sont au stade initial, d'autres s'achèvent. Pendant l'assemblée, le doyen Levin a saisi l'occasion de féliciter le nouveau directeur du département de chirurgie, le Dr Gerald Fried, qui a été sélectionné pour ce poste convoité parmi d'excellents candidats provenant du monde entier.

Un certain nombre de travaux de développement des infrastructures ont été présentés, tous ayant pour but d'améliorer le soutien à la recherche en sciences de la vie à McGill. Les mesures prises par la Faculté pour moderniser le Pavillon McIntyre des sciences médicales par l'installation de nouveaux systèmes de chauffage, de ventilation et de climatisation, de concert avec les rénovations planifiées dans les laboratoires des septième et huitième étages, sont le résultat du soutien financier du Programme d'infrastructure du savoir des gouvernements fédéral et provincial. Des projets supplémentaires sont prévus pour le Pavillon de génie Macdonald, le Pavillon de chimie Otto Maass et l'Institut universitaire en santé mentale Douglas.

Après l'assemblée, le professeur Anthony C. Masi, vice-principal exécutif, a fait une présentation contextualisée du Budget de l'Université McGill. En comparant le contexte actuel à celui des années précédentes et à celui d'autres universités canadiennes et américaines de pointe, il a clairement démontré que McGill était en bonne position pour s'élever au-dessus des obstacles qu'elle rencontre, et a décrit les projets mis de l'avant pour relever les présents défis.

Les présentations qui ont eu lieu pendant l'Assemblée du conseil et l'Assemblée générale de la Faculté mettaient en valeur les projets et les nouvelles initiatives à venir. Étant donné que la continuité dans les communications constitue un élément essentiel pour atteindre ces objectifs, le doyen Levin a encouragé chaque personne présente à partager ses observations, ses critiques et ses suggestions en publiant des commentaires dans le Bulletel.