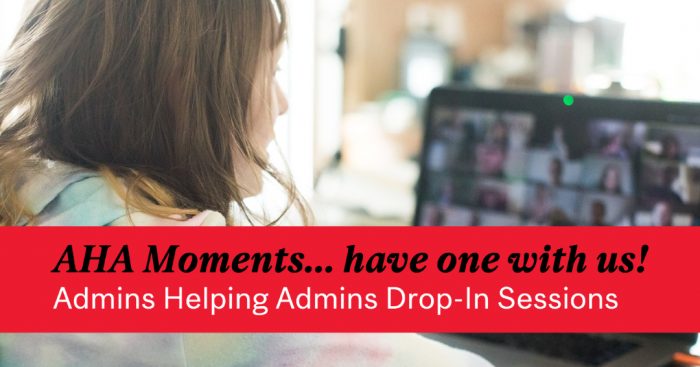 Admins Helping Admins Drop-In Sessions

You are warmly invited to take part in our inaugural Admins Helping Admins (AHA) Moments event on Thursday, November 5, from 12 to 1 p.m. This biweekly drop-in series is designed to support members of the administration and support staff in the McGill Faculty of Medicine and Health Sciences (FMHS).

During hourly lunchtime sessions, we will come together to discuss issues, share experiences and learn about self-care with colleagues from across the Faculty.  Modelled after the Faculty Helping Faculty series, our aim is to bring together engaging speakers from inside and outside the FMHS and organize enjoyable and creative activities, to provide practical and emotional support as we navigate the COVID-19 pandemic.

Our first AHA Moment event on November 5 will focus on Mindfulness 101 and will be a moment to relax, reflect and take some time out of your busy day for wellness. The activities will be lead by Cassandra Fusco, Associate Director for AEC 9 and Stephanie Larocque, Student Affairs Officer for AEC 7.  You can find more information on the attached flyer.

Please register for this session: rsvpevents.medicine@mcgill.ca. We look forward to spending time together.

Stay tuned for more information about upcoming AHA sessions.

Sincerely,

The Admins Helping Admins (AHA) Committee
October 30 2020