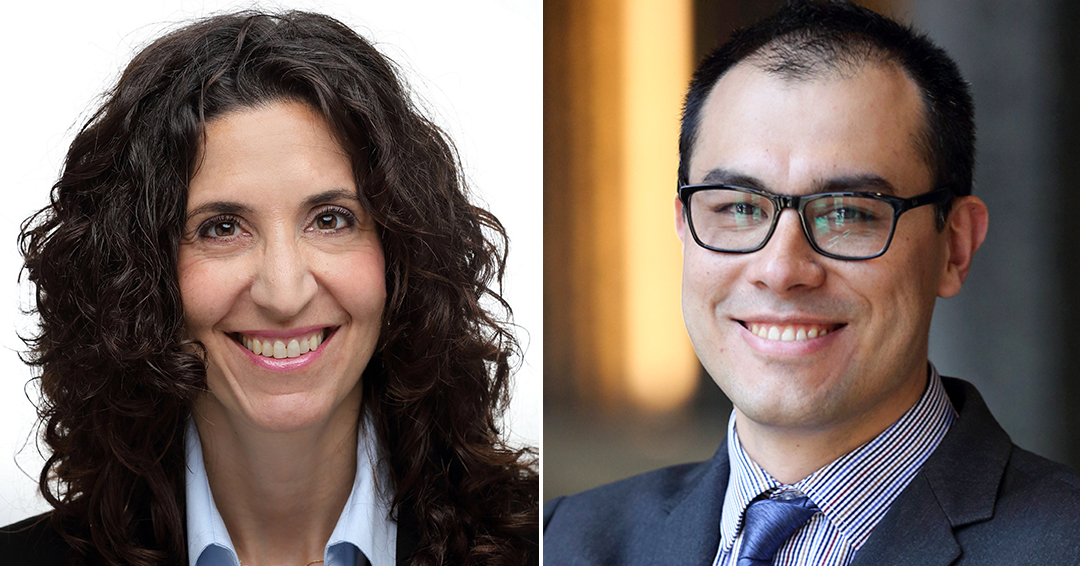 In late 2018, Melina Vassiliou, MD, MEd, Associate Professor, Department of Surgery, created an interdisciplinary group to gather the best minds in research, education and surgery to reimagine surgical education.
Four years later, the Surgical Education Group has emerged from a pandemic-imposed hiatus with a recent presentation at the Department of Surgery's Grand Rounds and a growing calendar of events.
The group invites learners and faculty from the worlds of surgery, education, research and beyond to exchange ideas and expertise. Together, they are united by a common goal of improving surgical education for the next generation, as well as patient care.
The evolution of the Surgical Education Group
When creating the group, Dr. Vassiliou sought the input of educational scientists and residents alongside clinicians and surgeons.
"We thought it would be better to expand it not only just to be about research, but to be about the surgical education community in general, and to discuss the things that bring us together, as well the skills and knowledge we could share," she recalls.
Since being appointed Associate Chair in Education at the Department of Surgery and the Adair Family Chair in Education in 2021, Dr. Vassiliou has handed the group's reins to two of its earliest members – Maryam Wagner, PhD, and Carlos Gomez-Garibello, PhD, who are both Assistant Professors of Health Sciences Education and faculty members of the Institute of Health Sciences Education (IHSE). They are also program leads for McGill's Assessment and Evaluation Unit.
Serving as co-chairs of the group, they organized the group's first post-pandemic meeting in October 2022. Since then, the group recently hosted its first presentation, on how AI could be used in surgical education, at the Department of Surgery Grand Rounds. Experts in the field from several North American universities spoke at the event, including:
Elif Bilgic, PhD, Assistant Professor, Pediatrics at McMaster University
Daniel A. Hashimoto, PhD, Assistant Professor of Surgery at the Hospital of the University of Pennsylvania
James Jung, MD, Assistant Professor at the Department of Surgery, University of Toronto
Ruchi Thanalawa, MD, MS, Assistant Professor of Surgery, Division of Cardiothoracic Surgery at the School of Medicine of the Oregon Health and Science University.
Collaboration at the heart of surgical education excellence
Asked about how the Surgical Education Group will contribute to excellence in surgical education, Prof. Gomez-Garibello highlights its interdisciplinary nature and the collaboration it fosters. He also notes the myriad settings where surgical education takes place: from classrooms and simulation centres to hospitals, operating rooms and during consults with patients.
"There are excellent educational principles and theories, but they need to be adapted or even transformed in ways that make them feasible within this complex context of clinical settings," says Prof. Gomez-Garibello.
Prof. Gomez-Garibello believes that surgical education's complexity challenges members of the group to come up with fresh and innovative approaches to research projects and other endeavours. In this wide-ranging field, the group allows members to pitch their ideas and receive informed advice from subject matter experts.
"It's important to have a group in which people with different interests, ideas and theories can come together, enrich their project with new perspectives and then have an opportunity to implement their ideas in the real world," he says.
Moving from isolation to impact
Prof. Wagner agrees that the group's diversity of expertise is its strength.
"One of the assets of the Surgical Education Group is that it brings people from different backgrounds and with different perspectives together, but we all believe in the importance of the advancement, enhancement and improvement of surgical education," she explains, adding that the group's early discussions have led to rich discussions and collaborations between faculty members and learners in the group.
For Dr. Vassiliou, the group also has an important role to play amid the repercussions of the pandemic.
"At a time when the pandemic exaggerated some of the isolation that people experience, I think it's important to create a sense of community here in surgical education," she says. "The group is a place where people feel they belong, where people feel safe to explore new ideas, concepts, educational strategies and methods of assessment."
Building on McGill's longstanding excellence in surgical education
The return of the group has been welcomed within the Faculty, particularly by Prof. Wagner and Prof. Gomez-Garibello's colleagues at the IHSE.
"The Institute of Health Sciences Education is committed to advancing scholarship in health sciences education. It is exciting to see the growth of research and scholarship in surgical education in recent years," said Elizabeth Anne Kinsella, PhD, Director of the Institute of Health Sciences Education. "A number of our Institute members are world leaders in this field and are making impactful contributions at national and international levels."
As the group focuses on the future of surgical education, it also acknowledges McGill's rich history in the field.
In a bibliometric analysis published in the Journal of Surgical Education in 2016, McGill was ranked the third-most cited institution in surgical education research. It also found that a research article on the value of simulation in laparoscopic surgery, led by Gerald Fried, MD, Associate Dean, Education Technology and Innovation and Director of the Steinberg Centre for Simulation and Interactive Learning, is among the 20 most-cited articles on surgical education in the world.
Prof. Gomez-Garibello calls Dr. Fried "foundational" for his innovations in simulation for surgical education. "This is a demonstration of how invested Dr. Fried is in education," he adds. "His seminal work started here, and that has inspired other surgeons."
Prof. Wagner also credits the faculty at the Department of Surgery for creating a culture that innovates new practices and inspires the next generation.
"So many of them are innovators who think outside the box," she says. "They collaborate internationally, they hold leadership positions and are also extremely supportive of any resident who is interested in research. They take them under their wing, support them in their advancement and provide them with opportunities to excel."
Dr. Fried has also expressed his support to the group, saying it encourages early-career surgeons and academics to explore successful careers in surgical education.
"It also allows them to address questions that are relevant and important, not only for their careers but for the safe practice of surgery and our responsibility to practice safely for our community," he adds.
Get involved!
Interested in attending the Surgical Education Group's meetings and hearing more about their future projects? Contact Prof. Wagner or Prof. Gomez-Garibello for more details.