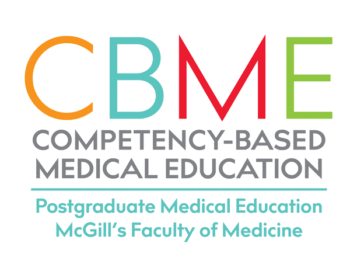 Dr. Mohamed El-Sherbini talks about workload, feedback and more
By Caroline Phaneuf and Lisa Dutton

The McGill Faculty of Medicine is rolling out a new approach to postgraduate medical education (PGME), competency-based medical education (CBME), across its programs. In 2013, the Royal College of Physicians and Surgeons of Canada began developing Competency by Design (CBD), Canada's version of CBME for Royal College specialty programs. In 2017, McGill and Canada's 16 other faculties of medicine started introducing this new approach.

Canada's Family Medicine residency programs were early adopters, successfully implementing a similar approach, known as the "Triple C" curriculum, as early as 2008.

To date, 20 McGill PGME programs have transitioned to CBME. The rest of our Royal College specialty programs will adopt CBME over the next few years.  CBME will build on the excellence, mentorship and coaching for which our clinician-teachers are known.

CBME is a major step forward in formative assessment. Each residency program worked with the Royal College to develop its unique set of training and assessment requirements – called Entrustable Professional Activities (EPAs).  Each EPA includes CanMEDS-based milestones related to different stages of training.  The EPAs and milestones lay out a clear learning plan for residents and provide well-defined teaching and assessment goals for educators.

Under the CBME model, clinician-teachers directly, deliberately and frequently observe residents, providing them with feedback and coaching. The goal is to help residents acquire the competencies needed to ensure they meet the requirements for each EPA. These clinician-teachers will record their observations and assessments using the one45 electronic platform. The Competence Committee will review these assessments and decide on a resident's readiness for promotion to the next stage of training.

We interviewed Dr. Mohamed El-Sherbini, Associate Professor and Urology Program Director.  The Department of Urology transitioned to CBME in 2019.   He has some advice for program directors who preparing for the move to CBME.
1. Question: McGill's Faculty of Medicine is world-renowned for its excellence in training residents. The current faculty was trained in the traditional way and are excellent doctors, so why change to CBME?
Answer:  We are not actually changing the way we train residents. We have been doing it right all along. The focus of CBME is to make sure all learners acquire the critical competencies or skills and knowledge required for independent practice – unsupervised practice – immediately upon completing residency.
2. Question: What are CBME's main advantages?
Answer: CBME enhances the relationship between the teacher and the learner. Attending physicians are required to provide residents with frequent, direct feedback linked to the competencies they are trying to achieve. Under the older training system, residents are given feedback, but globally, and not on a regular basis.
3. Question: There is a perception that CBME is a lot more work. Have you found that to be true?
Answer: Every new change initially involves more work. However, once people understand how CBME works and get into a rhythm, it's not really much more work. The regular feedback and assessments were actually always being done but in an informal way. With all the technology we have access to, like laptops and iPads, it is not that time-consuming to give feedback and write it down in a timely manner.
4. Question: What is a big misconception about the amount of feedback required?
Answer: If a competency needs to be achieved, the attending physician does not have to provide written feedback each time the medical task is done. In Urology for example, if a resident needs to be assessed on the use of a flexible cystoscope, he or she may do 30 procedures in one day. The teacher does not have to give feedback after each procedure. It is better to give verbal feedback after the first few, then after five or 10, the teacher can take notes to provide written feedback.
5. Question: What are some of the most important lessons learned during your Program's transition to CBME?
Answer: Encourage your residents to be very proactive. They are adult learners and should take charge of their education. CBME is new and clinicians are not used to it yet. If residents need a certain number of observations, they should not be shy to ask to be assessed and to receive feedback. Staff have to realize residents are just trying to advance their learning and their competencies.
6. Question: What were your greatest resources as you transitioned to CBME?
Answer: I worked closely with the Postgraduate Medical Education Office and the PGME Education Team and they did a great job helping us prepare for the transition to CBME. They supported us during the CBME orientation meetings we organized for faculty. The Royal College also has a lot of information on its website, as well as videos and webcasts with speakers from across Canada. Listening to the testimonials, you realize how positive CBME can be.

The McGill PGME Education Team has created a variety of CBME teaching and learning materials that each program can adapt. The PGME Education Team has also created a series of videos that capture the experience and advice of programs that have transitioned to CBME. You can find this material on the CBME section of the PGME website.

Should you have questions at any point before or during your program's transition to CBME, please do not hesitate to contact the Postgraduate Medical Education Office at: pg-education.med@mcgill.ca.
October 17 2019