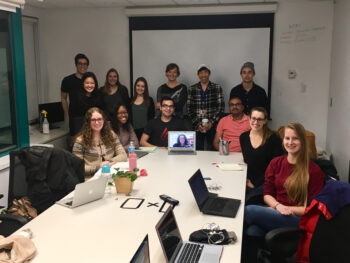 Source: aifred health

An artificial intelligence (AI) start-up founded by students and alumni from McGill University has been announced as one of the Top 10 teams out of 59 teams representing 14 countries that are advancing in the international $5M IBM Watson AI XPRIZE Competition. The company, aifred health, is using AI technology to develop a clinical decision aid for physicians to improve the effectiveness of depression treatment.

The company product is designed as a resource for doctors, and will predict the best treatment – whether that be a specific medication, psychotherapy, or other possible treatment – based on an individual patient's profile, including symptoms, demographics, and biological measures. This type of predictive information will improve the process of finding the best depression treatment, and has the potential to decrease the stress and time spent by millions of patients trying to find a treatment that works for them.

The start-up was formed in January 2017, and after a year of intense research and product development, members of the project are thrilled at this recognition on the AI world stage. "I am incredibly proud of what our diverse, multidisciplinary team has accomplished in such a short time. We are building something that is truly going to make a difference for patients and their families", says CEO and Chief Medical Officer of aifred health, Dr. David Benrimoh.

The company began with a small number of university students but has now expanded to include content advisors from around the world with research expertise in genetics, neuroimaging, AI, psychiatry, and more. Members of the project team come from diverse backgrounds: Computer Science, Neuroscience, and Medicine, forming the powerful coalition needed to tackle one of healthcare's biggest problems.

Dr. Joelle Pineau, an AI researcher at McGill University and head of the new Facebook AI Research lab in Montreal, is impressed by the work being done at aifred health: "It's wonderful to see that machine learning methods have the potential to help improve treatment outcomes for individuals with depression. This is a complex problem requiring the integration of several types of information. I am excited to see what the aifred team and their collaborators will achieve!"

The success of aifred health in the past year is indicative of the impact that AI technology will have in the field of healthcare. Montreal has rapidly become a hub for AI development, and the momentum of this city's AI community only continues to increase. Improving mental health treatment will benefit not only those who suffer from mental illness, but their families, friends, and employers – as well as overburdened healthcare systems. According to the World Health Organization (WHO), an estimated 11-20% of people experience depression at some point in their lives, and the success of companies like aifred health provide a source of optimism for many in the quest for better mental healthcare. The students, doctors, researchers, and developers involved with aifred health have entered an exciting new phase, providing better resources for physicians prescribing treatments for depression and better experiences for those being treated for mental illness.

ABOUT XPRIZE
XPRIZE, a 501(c)(3) nonprofit, is the global leader in designing and implementing innovative competition models to solve the world's grandest challenges. XPRIZE utilizes a unique combination of gamification, crowd-sourcing, incentive prize theory, and exponential technologies as a formula to make 10x (vs. 10%) impact in the grand challenge domains facing our world. XPRIZE's philosophy is that—under the right circumstances— igniting rapid experimentation from a variety of diverse lenses is the most efficient and effective method to driving exponential impact and solutions to grand challenges. Active competitions include the $30M Google Lunar XPRIZE, the $20M NRG COSIA Carbon XPRIZE, the $15M Global Learning XPRIZE, the $7M Shell Ocean Discovery XPRIZE, the $7M Barbara Bush Foundation Adult Literacy XPRIZE, the $5M IBM Watson AI XPRIZE, the $1.75M Water Abundance XPRIZE and the $1M Anu & Naveen Jain Women's Safety XPRIZE. For more information, visit www.xprize.org/.

Related Coverage
National Post (FP4) | Three Quebec Teams in Top 10 on AI XPRIZE; Psychiatry, Tutoring and Remediation Firms

Starter Incubator | http://www.starterincubator.com/author/jamie-becketyourstory-com-jamie-beckett/

Robotics Business Review | Applying AI to Mental Health, Aifred Health Advances in AI XPRIZE Competition

December 8, 2017