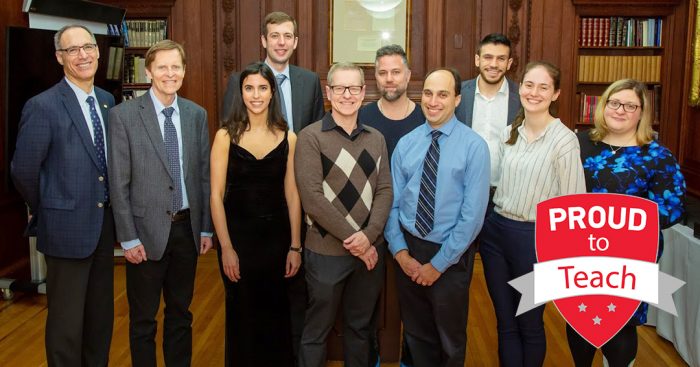 By Lisa Dutton
The internet variously defines the idiom 'when the rubber hits the road' as, when the action really begins; when the real work happens; or the moment when theory becomes reality.

In medical school, 'the rubber hits the road' during transition to clinical practice (TCP).  During much of the first year and a half of medical school, students attend lectures and do lab work.  It is a marathon of learning. However, during TCP, students learn at the bedside by seeing patients in McGill affiliated hospitals and clinics.

The word doctor is derived from the Latin word docere, meaning "to teach"
TCP students embed themselves in various care teams and learn while working side by side with clinicians or physician-residents and, frankly, the entire care team teaches them a thing or two, or three.

TCP teachers freely pass on their medical skills and knowledge, such as how to conduct a patient interview, how to perform a physical exam, how to present a patient's case. Students also learn essential 'soft skills' such as compassion, commitment to patients and teamwork.

To acknowledge the amazing contribution of all TCP teachers, McGill's Undergraduate Medical Education Office annually presents awards of excellence.
This year's awards ceremony, held on February 11 in Holmes Hall, honoured 13 TCP clinician-teachers and residents for their outstanding contributions to medical education.

Med-2 students nominated the clinician-teacher who had an indelible impact on them.  To provide a sense of the tremendous influence these TCP teachers have had on medical students, here are a few anonymous quotes.

"(This teacher is) very committed to providing us with a meaningful learning experience. He provided new lectures based on student feedback from last year and is an excellent lecturer. He is very approachable."

"Amazing enthusiasm when it comes to teaching TCP students. (She) allows the student to feel independent, gives appropriate feedback when necessary. Teaching was also clear and well put together."

"An amazing teacher and one of the best mentors that I have met so far. He has a great passion for teaching and takes his job very seriously. He was always available to listen to our concerns and always asked us about our experiences of the previous day. He was an excellent role model for the entire class and played a big role in making our experience…intellectually stimulating."

The Faculty of Medicine would like to thank all of its teachers and pays particular tribute to this year's recipients of the Transition to Clinical Practice Awards for Excellence in Teaching.

Dr. Annie Véronique Côté,
Anesthesia
Dr. Elizabeth Décary
, Anesthesia
Dr. Mark Karanofsky,
Family Medicine
Dr. Constantine Alexandre Soulellis,
Internal Medicine
Dr. Joe Carlton,
Neurology
Dr. Dina Namiranian
, Neurology
Dr. Bryan Arthurs,
Ophthalmology
Dr. Vincent Sun
, Ophthalmology
Dr. Lajos Kovacs,
Pediatrics
Dr. Adam Hart,
Surgery
Dr. Jason Corban
, Surgery
Dr. Ali Bessissow,
Radiology
March 23 2020