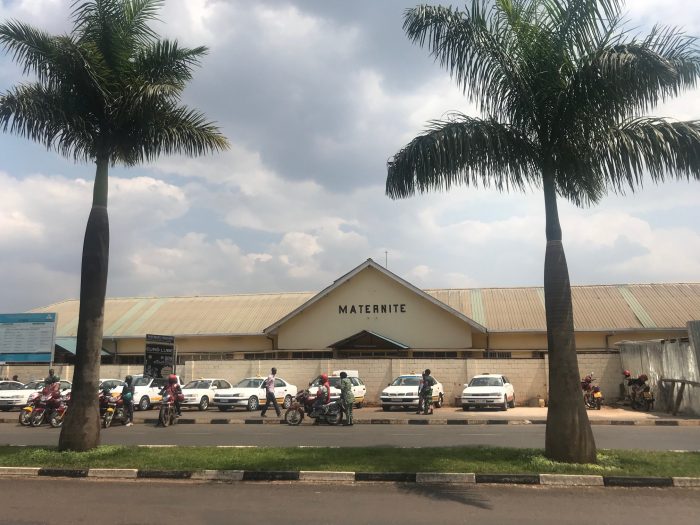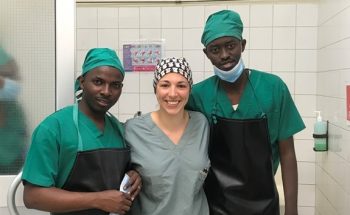 By Philip Fine
As the first recipient of the Dr. Alice Benjamin Global Maternal and Child Health Award, Dr. Céline Giordano, a McGill Obstetrics & Gynecology resident, spent a month this summer at the Centre Hospitalier Universitaire de Kigali (CHUK), in Rwanda's capital.

The award honours the 40-year-plus career of Dr. Alice Benjamin, a maternal-fetal medicine specialist who has helped thousands of Montreal women deliver healthy babies and trained generations of physicians. It was made possible by generous donations from former patients and their families, as well as by colleagues and residents who have appreciated Dr. Benjamin's mentorship throughout the years.

Working at the CHUK, a specialized tertiary care hospital, Dr. Giordano saw firsthand the impact of healthcare disparities. Conditions that are rare in North America are common in Rwanda. Dr. Giordano encountered cases of abdominal tuberculosis, as well as of necrotizing fasciitis, severe sepsis and cardiomyopathy. It was, however, the prevalence of peritonitis, an infection of the abdominal cavity, that most surprised her. "I never thought peritonitis could be a common complication of caesarean sections," she says. Peritonitis affects patients so frequently in Rwanda that the CHUK runs a dedicated operating room for the condition.

Since 1994, in the post-genocide era, Rwanda has been making steady improvements to its healthcare system. While midwives provide the majority of obstetrical care, more graduating obstetricians are now being sent to rural areas, and family doctors receive training on how to perform caesarean sections. This has led to a significant decrease in maternal mortality, from 1,300 deaths per 100,000 births in 1990 to 290 in 2015.

As for Dr. Benjamin, she says that it is invaluable for medical residents like Dr. Giordano to experience a different healthcare system and to spend time in a country with limited material resources. "In Kigali, Dr. Giordano saw doctors perform miracles with so little," says Dr. Benjamin. "Yes, they still have a long way to go, but thanks to Céline, we are hearing about a system that is healing and recovering from decades of challenges."

Dr. David Eidelman, Vice-Principal (Health Affairs) and Dean of the Faculty of Medicine at McGill, says that thanks to donors, Dr. Giordano was able to observe cases that are extremely rare in Canada, an experience that is crucial to the development of well-rounded doctors. "In a region like Montreal, where patients come from all over the world, clinicians have to be mindful of cultural differences and regional prevalence of diseases."

The Dr. Alice Benjamin Global Maternal and Child Health Fund was launched in May 2018, and, by the beginning of November, had raised $420,000, achieving nearly half of its million-dollar goal.

Mr. Lorne Lieberman, BA'94, who initiated the fund as a thank-you to Dr. Benjamin, says that Dr. Giordano is identifying issues that will help pave the way for better global-health connections. He finds the award provides "moments of humility that allow residents to appreciate everything we have in North America, while opening their hearts and minds to reach out to low-resource areas of the world."

The next award recipient will also work at the CHUK and is scheduled to be in Kigali this summer. Future plans for the Dr. Alice Benjamin Global Maternal and Child Health Fund include building strong ties with the CHUK and bringing Rwandan specialists to McGill for observership and training.

Learn more about the Dr. Alice Benjamin Fund, here.

December 18 2019