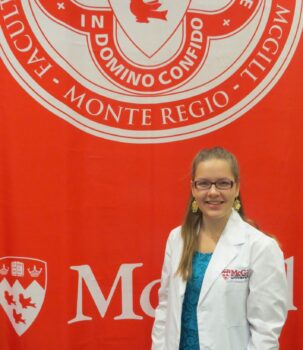 Potential discovery made possible through medical student's summer internship
According to the Alzheimer's Society, Alzheimer's disease and other dementias, which have a profound impact on the lives of those affected and their loved ones, affect nearly 750,000 Canadians, with the number of cases expected to double within the next 20 years globally as the world's population ages. Now, a new study led by researchers at McGill University's Faculty of Medicine and published on the website of the Journal of Prevention of Alzheimer's disease (JPAD) offers new hope in the battle against early-stage Alzheimer's disease through the novel use of a two-drug combination.   

The landmark article, titled "Combination therapy of anti-tau and anti-amyloid drugs for disease modification in early-stage Alzheimer's disease: socio-economic considerations modelled on treatments for tuberculosis, HIV/AIDS and breast cancer", paves the way for randomized clinical trials combining drugs acting on the two main pathologies associated with Alzheimer's disease, beta-amyloid deposition and tau hyperphosphorylation. This blueprint for a combination study design will be used in the near future when there is evidence of efficacy and safety for individual drugs.

Sara Tomaszewski, the lead author of the paper is a second-year medical student at McGill's Faculty of Medicine.  McGill's new MDCM curriculum includes exposure to clinical research which provided her the opportunity to work with Dr. Serge Gauthier and Dr. Pedro Rosa-Neto, Faculty members at McGill's Faculty of Medicine and researchers at the Alzheimer Disease Research Unit, McGill Centre for Studies in Aging at the Douglas Mental Health Research Institute as well as with Dr. Anders Wimo from the Karolinska Institute in Stockholm, Sweden.

"This summer, working at the McGill Center for Studies in Aging, I had the opportunity to collaborate with renowned clinician-researchers, such as Dr. Rosa-Neto, Dr. Wimo, and my truly inspiring mentor Dr. Gauthier," says Tomaszewski. "This enriching experience allowed me to enhance my research skills and to reflect on how to advance Alzheimer's care in order to improve the quality of life of patients and their loved ones. I also deepened my knowledge of the socio-economic implications of a potential disease-modifying combination therapy for Alzheimer's disease, which became a key focus of our article."

"Working with bright students such as Sara in the context of their first exposure to clinical research as early as first year medical school may lead to more clinician-scientists being trained," says Dr. Gauthier. "The article Sara wrote is a blueprint for future combination trials in Alzheimer's disease, and looks at the potential socio-economic impact of such therapy. This article is a milestone in Alzheimer treatment research."

The paper explores the socio-economic aspects of the use of such drugs if proven to have additive benefit, taking as examples combination therapies against tuberculosis, HIV/AIDS and breast cancer. These social considerations are part of the mandate of the Ethical, Legal and Social Impact (ELSI) committee of the Canadian Consortium on Neurodegeneration in Aging (CCNA), committee chaired by Dr. Gauthier. The CCNA is a national initiative funded by the Canadian government through the Canadian Institutes of Health Research (CIHR) and partners that brings together over 350 Canadian scientists to advance research on all aspects of the neurodegenerative diseases.

"Sara's accomplishment illustrates one of the main missions of our research unit: fostering discussions on emerging topics on dementia and opening opportunities to the next generation of clinician scientists to express their innovative ideas to the world," says Dr. Rosa-Neto.

The ELSI committee of the CCNA provided support for Sara Tomaszewski's summer studentship which led to this important publication.

S. Tomaszewski1 ; S. Gauthier ; A. Wimo ; P. Rosa-Neto (2015): Combination Therapy of Anti-Tau and Anti-Amyloid

Drugs for Disease Modification in Early-Stage Alzheimer's Disease: Socio-Economic Considerations Modeled on


Treatments for Tuberculosis, HIV/AIDS and Breast Cancer. The Journal of Prevention of Alzheimer's Disease (JPAD).


http://dx.doi.org/10.14283/jpad.2015.85
Dec. 3, 2015