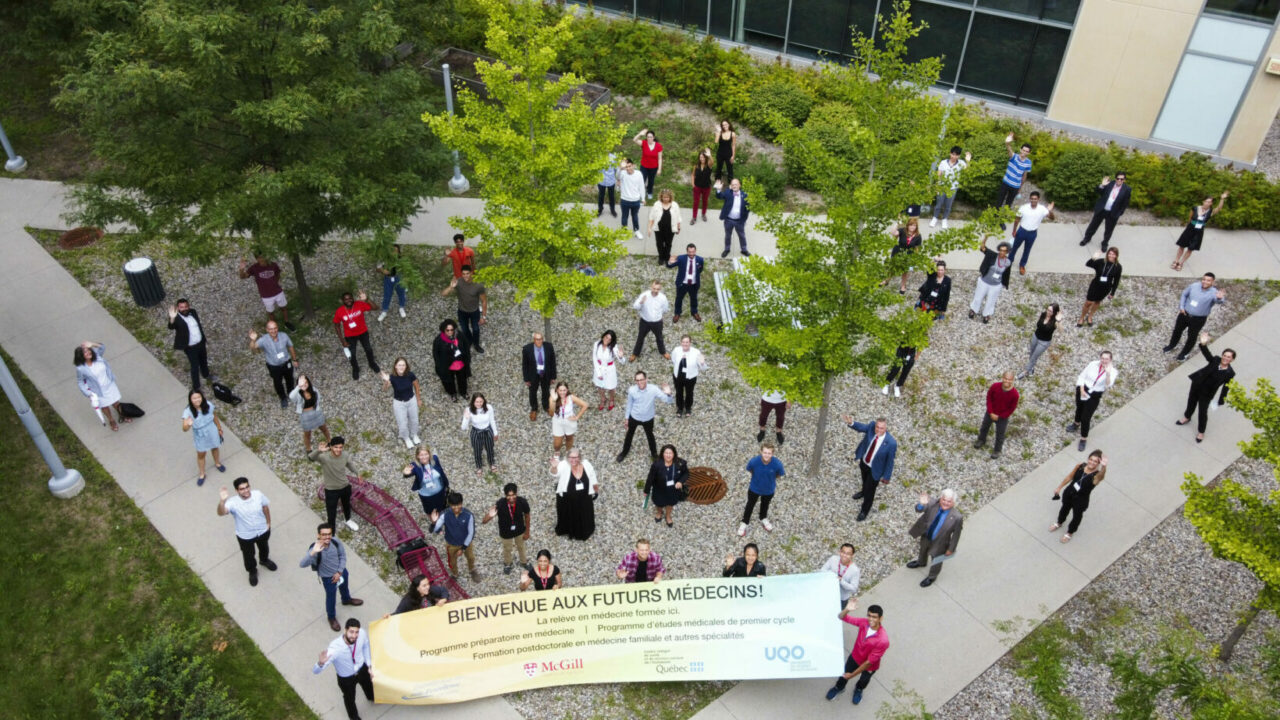 A historic milestone for Outaouais, as well as for McGill and its partners
By Lisa Dutton

The excitement was palpable in Gatineau the week of August 17, as McGill University and its partners – the Centre intégré de santé et de services sociaux (CISSS) de l'Outaouais and the Université du Québec en Outaouais (UQO) – welcomed two new cohorts of students: 24 future physicians entering the McGill Undergraduate Medical Education Program and 16 more entering the McGill Medicine Preparatory Program, the latter offered in partnership with UQO.

In addition, this year, the McGill Family Medicine residency program in Outaouais increased capacity to welcome 36 residents over the course of the two-year program.

McGill now offers the full range of medical education and training programs in Outaouais, in French.

Training the next generation of doctors in Outaouais, for Outaouais
"McGill is proud to collaborate closely with its partners in the Outaouais region," says Dr. David Eidelman, Vice-Principal (Health Affairs) and Dean of the Faculty of Medicine and Health Sciences. "By offering our three programs locally, our goal is to create a centre of excellence in health that will attract medical students, residents and experienced clinicians to the region. We are training a new generation of leaders in Family Medicine and other specialties in Outaouais. Together, we have reached a historic milestone with the launch and expansion of these programs."

"Everyone is proud and energized – students, professors and administrators," says Dr. Gilles Brousseau, Vice-Dean and Director of McGill's new Campus Outaouais. "This is a really important moment for the region. Not only have we recruited an exceptional group of bright students, we have also hired a great team of motivated and inspiring health professionals and scientists, true educators who are passionate about passing on their knowledge and skills to the next generation."

More than 200 professors and clinician-teachers, most of whom are from Outaouais, will teach the four-year McGill Undergraduate Medical Education (UGME) Program. Their teaching time varies depending on their medical expertise: some may only teach one hour per year, while others will teach 60 hours per year. The Campus' administrative team is also in place and excited to get to know and support the new students.

The Medicine Preparatory Program launched in record time
McGill's one-year Medicine Preparatory (Med-P) Program, under the direction of the Faculty of Science, includes six compulsory life science courses, three complementary courses and one elective course, all of which will be taught at the UQO campus. Professors from McGill's Faculty of Science will teach the life sciences courses (such as biology and physiology), and professors from UQO will teach the statistics, humanities and social sciences courses.

"The McGill Faculty of Science is proud to be part of the launch of the Medicine Preparatory Program in Outaouais. My team and I are devoted to ensuring this new cohort of students enjoys the same rigorous learning experiences as their Montreal peers and are well prepared to start medical school a year from now," said Prof. Bruce Lennox, Dean of the Faculty of Science.

In her welcoming address to students, UQO Rector Murielle Laberge said, "Your presence here today represents the realization of a project that is very dear to our region. We are now able to train doctors in the Outaouais region, in French, to meet the local population's needs and that of our health care institutions. It is also an important step in the development of our future health programs."

The McGill-UQO program's objective is to prepare CEGEP graduates to enter the McGill UGME Program at Campus Outaouais on graduation.

"I warmly congratulate and thank the McGill-UQO team for their extraordinary efforts to launch the French-language Med-P Program in record time," says Dr. Samuel Benaroya, Associate Vice-Principal and Vice-Dean (Health Affairs) at McGill's Faculty of Medicine and Health Sciences. "In the years to come, we look forward to continuing to work closely with our partners to advance our shared mission in the Outaouais region. I would also like to extend a special thank-you to UQO for its very warm welcome of our new students and faculty members during Orientation Week."

Working together to increase physicians in the Outaouais region since 1988
McGill University has been working with the CISSS de l'Outaouais (then called the Conseil régional de la santé et des services sociaux) since 1988 to train Family Medicine residents in the region. For over 30 years, the partnership has positively impacted health care capacity in Outaouais, with 70-80% of McGill residents trained in Outaouais subsequently remaining in the region to practice medicine.

"The addition of these two medical programs is historic for us because now more physicians will be trained here. This will attract professionals and specialists to Outaouais, and we are very pleased," said France Dumont, Associate Chief Executive Officer of the CISSS de l'Outaouais.

Construction nears completion
"McGill's Outaouais Campus is rapidly taking shape. We are in the final stages of construction: the walls are being painted and floor coverings installed," says Mr. Michel Leblanc, Senior Project Director at the Outaouais Campus. "All the people involved in the construction project – architects, engineers, plumbers, carpenters, etc., are from the region. The campus is truly being built by the community, for the community."

Construction will be completed by late fall, at which time the facility will be set up, and teaching will start in time for the winter semester.

Discover Campus Outaouais at http://www.mcgill.ca/campusoutaouais.

Check out the pictures taken during the Orientation sessions and the launch event, which included a meet and greet with local media.

Related coverage:
https://www.cbc.ca/news/canada/ottawa/mcgill-med-school-satellite-campus-outaouais-1.5698699
https://ici.radio-canada.ca/nouvelle/1728832/medecine-uqo-mcgill-outaouais-rentree
https://www.ledroit.com/actualites/faculte-satellite-de-medecine-une-journee-historique-pour-loutaouais-281d29dd6f76e5635de02f053327a13d
https://www.lesoleil.com/actualite/le-fil-groupe-capitales-medias/faculte-satellite-de-medecine-une-journee-historique-pour-loutaouais-281d29dd6f76e5635de02f053327a13d
https://tvagatineau.ca/blogue/article/uqo-la-facult%C3%A9-de-m%C3%A9decine-accueille-ses-premiers-%C3%A9tudiants
https://www.fm1047.ca/nouvelles/sante/327103/arrivee-des-premiers-etudiants-en-medecine-a-luqo
https://ici.radio-canada.ca/nouvelle/1727089/campus-medecine-universite-mcgill-outaouais-gatineau-penurie-main-oeuvre-pandemie
August 28, 2020