By Ryan Catherine Breithaupt
"McGill's medical history is fascinating. We have to make sure we preserve it and make it accessible in its myriad forms. It is what makes us unique. After all, if you don't know where you've been, you will not know where you are going." -Pam Miller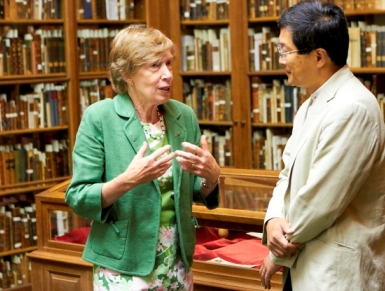 To mark the recent retirement of Pamela Miller, History of Medicine Librarian, Osler Library, Med-e News is commemorating her 15 years of service and essential contributions to not only the Osler Library, but to McGill University as a whole.

Although Pam Miller states that her career path was "definitely not a straight line," a common thread seems to weave its way through her professional experience and is indicative of a love of history and a flair for archival work. After completing post-graduate training at University College London's School of Librarianship and Archives and working for a year at the Hudson's Bay Archives in London, England, she returned to Montreal, married and started a family with her husband Carman Miller, Professor of History at McGill. She began working part time at the archives of the McCord Museum in 1971, where she eventually became Curator of Archival Collections and ran the museum's library.

Although the archives and library temporarily closed due to budgetary restrictions, it wasn't long before Pam's talent and dedication were sought out by two different McGillians. "Shortly after [leaving the McCord Museum], I was invited by June Schachter, Osler Librarian and Dr. William Feindel, Curator of the Penfield Archive, to help work on their archival projects. Neither one of them was aware that the other was making the same plans! I've been fortunate to have been here ever since," she recollects with amusement. She worked simultaneously as an archivist for the Osler Library and for the Penfield Archive from 1996-1999 before taking on the role of Acting History of Medicine Librarian at the Osler Library from 1999-2002, and then History of Medicine Librarian from 2002 to May 2011.

It is clear that for Pam Miller, her job stems from a deep passion, as she lovingly describes the library's many changes over the years. "In the early days," she says, "when the library was in the Strathcona Building, the Osler librarian, W.W. Francis, used to work in the Osler Room and would welcome visitors and talk about medical history. That was memorable for the lucky ones who met him."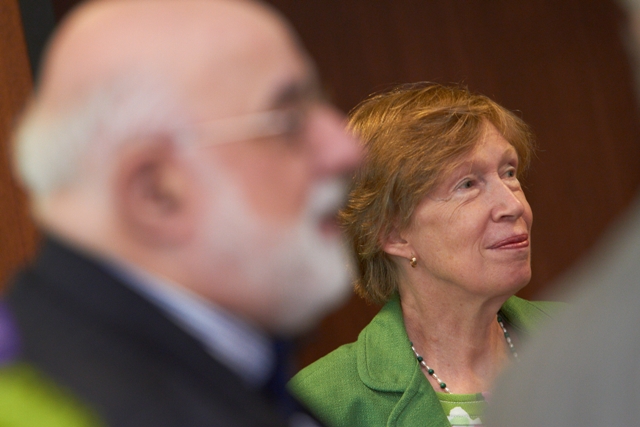 When the library moved to the McIntyre Building in 1966, the mandate of the library changed and expanded from being a rare book library to include a circulating collection dedicated to the history and social studies of medicine. "From Osler's collection of 8,000 books, we now have over 90,000 rare and in-print books, 350 metres of archives and about 600 artifacts," she explains.

The seed of Pam's dedication to the Osler Library was planted early on. "My father gave me a copy of A Way of Life when I was quite young so I've been aware of his philosophy of life for decades," she says. Osler seems to have inspired her personal philosophy and vision for the library. "Osler was a communicator," she says. "In his day people communicated through books, through the written word, through teaching, through example. As we take advantage of the electronic age, there will be a lot more wonderful projects, more student groups, more seminars, more exhibitions and more international collaborations which promise to be lots of fun. The important thing is to keep communicating."

When asked if there are any specific collections that hold special meaning for her, she replies quickly with "Osler's archives." She explains. "His student notebooks, pathology reports and research notebooks are particularly moving because they display the iron self-discipline that was at the core of everything he accomplished," she says.

Pam expresses her deep gratitude for the donors who help encourage the growth of the library's collections, initiating vital projects. "The generosity of our Board of Curators and donors is truly amazing. They fund most of our book purchases and all of our projects, from conservation to on-line cataloguing, to exhibitions. We could not survive without their support."

While looking forward, Pam knows it is also important to look back. "McGill's medical history is fascinating," she says. "We have to make sure we preserve it and make it accessible in its myriad forms. It is what makes us unique. After all, if you don't know where you've been, you will not know where you are going."

She hopes that the library will eventually expand to see an Osler librarian endowed and an archivist brought on staff. "We do a tremendous amount with a tiny staff. We need to grow to be able to exploit our full potential," she explains.

To her successors and those interested in a career as an archivist, Pam imparts some wise words of wisdom. "Be kind to your researchers and listen to their projects. It's a two-way street. We help them and in return, they inform us. Also, given the opportunity one should hire staff smarter than oneself, and then support them to the hilt."

Even though she intends to spend more time gardening and playing music after retirement, Pam won't stray too far from the history of medicine. She plans to continue working on the Neuro History project by consulting on the production of an inventory of all the archival material relating to Neurology and Neurosurgery at McGill, and she has also been invited to be second vice-president of the American Osler Society.