By Diane Weidner, Steinberg Centre for Simulation and Interactive Learning

As the Director of the Adult Trauma Program at the McGill University Health Centre (MUHC) and co-director of the Centre for Global Surgery at the MUHC, Dr. Tarek Razek actively participates in surgical and trauma development programs around the world.  He is a regular facilitator at the Steinberg Centre for Simulation and Interactive Learning (SCSIL) where he leads team trauma workshops with McGill medical undergrad students, residents and faculty. He also teaches advanced workshops such as the Definitive Surgical Trauma Care (DSTC), where he shares knowledge with trauma surgeons and perioperative nurses from here and abroad.  We sat down with Dr. Razek during a recent workshop to learn more about the importance of this training.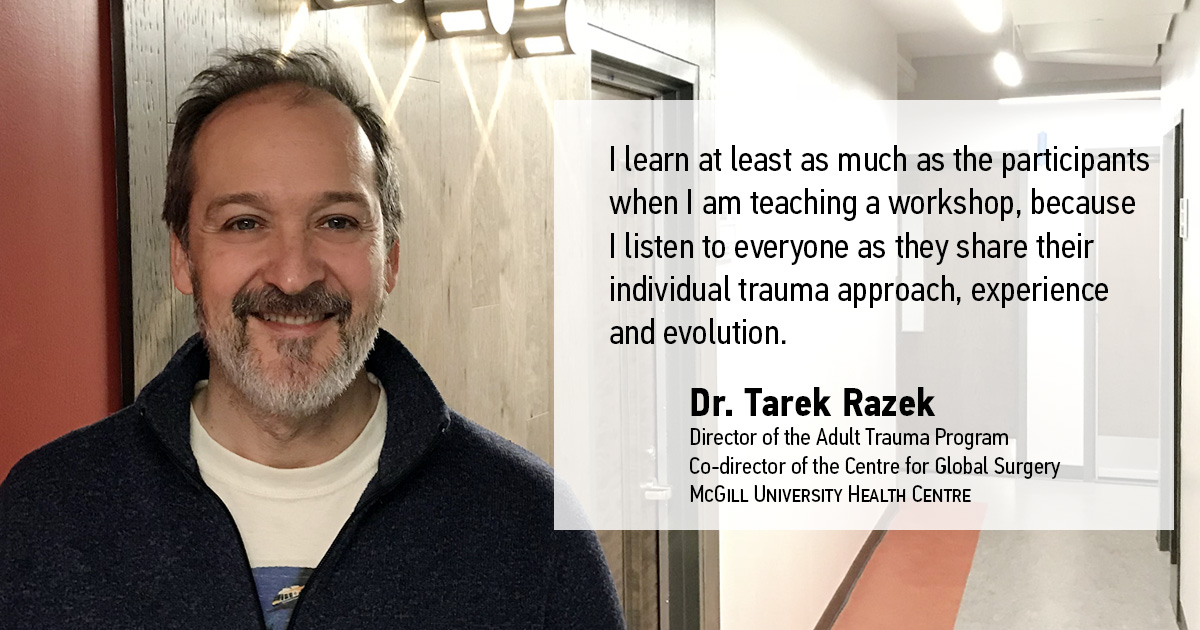 How did you get involved in the DSTC training initiative?
When I was just coming out of my training and starting my practice, I happened to get together with a group of physicians who do what I do. The DSTC program had just started to flourish internationally, recognizing a huge gap in training and educational opportunities to practice complex tasks that we don't, in many places, have the opportunity to perform very often, but that we all must know how to do. How do you organize yourself to manage severe trauma patients in a critical situation with complex injuries and, more importantly, how do you organize your whole team to learn how to function well together to carry out these huge tasks under stress?  It's about enhancing simulation and educational opportunities to improve our team performance when we try to do very difficult things together. I was very interested in this teaching opportunity, so I joined their team and became a trainer for this course, which is offered by the International Association for Trauma Surgery and Intensive Care (IATSIC).

What are the advantages of being part of an international network?
The people involved in this training program are all dedicated to managing acute trauma and critical case management, learning how to teach, train and develop ways to do this better. We teach this internationally, in Australia, New Zealand, Singapore, Portugal, Spain, Norway, Sweden… it's just unbelievable. You meet all these remarkable people doing this in their own lead trauma centres in each of these places, trying to enhance the capacities in all the teams in their secondary facilities to be able to cope better with major trauma. You also learn about how their local system works because you are intimately involved with training their teams with them. I've learned a ton about how things work globally.

From a global perspective, what's remarkable is some of the similarities across what we're all trying to do when there's a major trauma case. The philosophy and the general approach has become more and more harmonized in terms of the best practices globally. What's interesting are the variations in the abilities and the ways you have to get that done: different contexts, logistics, environments, and resources.

A fun aspect of this workshop is that you must have one international guest faculty, and that adds a lovely flavour to the program.  You get a different perspective, a different point of view and, a different context which really enriches the program and also creates a family network of trainers.  Our visiting international trainer with us for this workshop is Steve Moeng Maeyane who runs one of the large trauma units in Johannesburg, South Africa. We are really lucky to have him here.  His reality is really different, but what he's trying to accomplish is very much the same. His experience level in dealing with major penetrating injuries is vastly significant to anyone from this region, and we have access to his expertise and his perspective. It's really fabulous to be able to listen to him and discover how he approaches these things.

It's extremely productive for me to participate as a faculty member. I learn at least as much as the participants when I am teaching a workshop, because I listen to everyone as they share their individual trauma approach, experience and evolution.

How has the training evolved over the years?
This year, we also have the Definitive Perioperative Nurses Trauma Care (DPNTC) workshop.  Over two days, nurses gain hands-on, practical experience as they practice side-by-side with trauma surgeons to manage life-threatening injuries. This workshop provides them with opportunities to further develop their surgical decision-making skills during complex scenarios. This program already existed in Australia and Singapore, and has now come to Canada, where it is being offered at the SCSIL in conjunction with the DSTC course.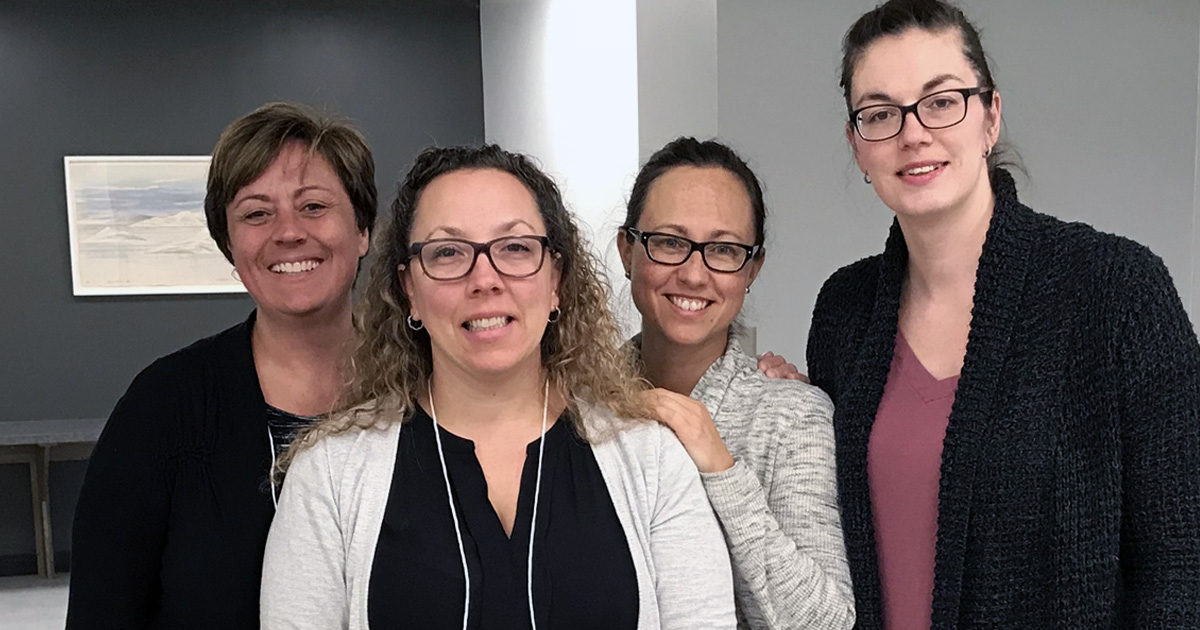 To learn more about upcoming workshops, please contact Sonia Primeau by email at traumacourses.muhc@gmail.com

May 11, 2018