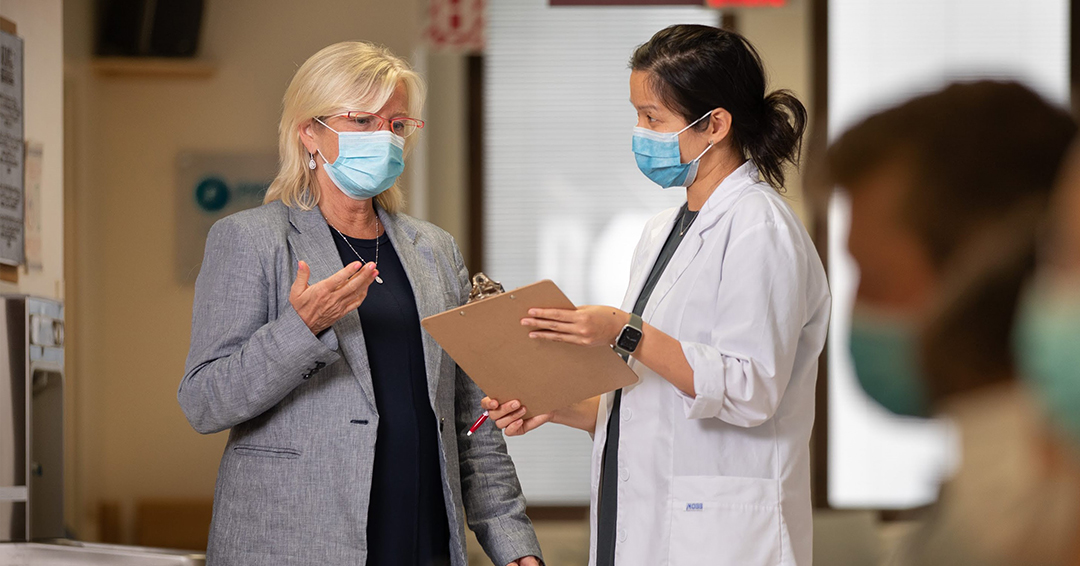 Dr. Angela Genge (left) discusses ongoing ALS trials at The Neuro with clinical research coordinators on her team.
The Neuro is the only site in Canada for a clinical trial testing a promising ASO therapy for ALS patients with mutations in the fused in sarcoma gene
Amyotrophic Lateral Sclerosis or ALS is a life-changing diagnosis. There is very little in the way of treatments to slow down the loss of motor neurons that control walking, speaking, eating and breathing, effectively trapping active minds in increasingly unresponsive bodies. On average, people are diagnosed in the prime of their lives and have a two- to five-year prognosis. It's hard to imagine anything worse — except perhaps receiving the same diagnosis when you are just a teen.
According to ALS Canada fact sheet on ALS and genetics, approximately 5% of individuals with familial ALS and 1% of those with sporadic ALS have fused in sarcoma mutations (FUS). An April 2020 review of the scientific literature published in the Journal of Child Neurology confirmed that this particularly aggressive form of ALS is the most mutated gene in juvenile and pediatric ALS, and also makes up 60% of those who develop ALS before age 40.
"This is a very rare form of genetic ALS, but it is devastating. It is the diagnosis that affects the youngest ALS patients, and it is progresses very quickly," explains Dr. Angela Genge, a neurologist and the executive director of the ALS Centre of Excellence in Research and Patient Care at The Neuro (Montreal Neurological Institute-Hospital).
"Within 18 months of onset, these young patients often require ventilatory support – which means they cannot survive off a ventilator. I remember one young patient, she was the first person in her family to go to university," recalls Dr. Genge. "She went from being a healthy young woman with her life ahead of her, to being cared for by her parents at home on a ventilator for a decade."
Stopping the protein in its tracks
There is currently no treatment to slow the progression of this brutal form of the disease, but a team at the Clinical Research Unit at The Neuro is working to change that. The Neuro is the only site in Canada taking part in a new phase I-III clinical trial studying an antisense oligonucleotide (ASO) therapy for this genetic form of ALS.
"ASO treatments are a new class of drugs and they are extremely promising. They have been shown to save infants with spinal muscular atrophy (SMA). This type of therapy has changed SMA from a fatal disease to a chronic condition. We are hoping to do the same for FUS-ALS," explains Dr. Genge.
"We are the only site in Canada and one of only 16 worldwide with this trial. We are uniquely positioned to work with patients in English and French. The sponsor of this study supports travel from other countries, and we are hoping that patients will reach out to us."
Under Dr. Angela Genge's leadership, the CRU has expanded in the past 10 years from having a handful of ALS trials to over 15 trials this year in ALS and over 110 trials a year across 11 areas of neurology. This makes the CRU among the centres with the most ALS trial in Canada.
Making genetic testing available across Canada
The team is also leading important initiatives in ALS, including a pan-Canadian strategy to improve genetic testing for all ALS patients.
"What became apparent to us in speaking to patients is that while we offer genetic testing to all patients newly diagnosed with ALS, access to genetic counselling and testing in other provinces is not as clear cut," explains Kristiana Salmon, National Programs Manager for Genetic ALS at the Clinical Research Unit. "This is what prompted us to spearhead a Canadian effort, in collaboration with clinicians and genetic specialists across Canada, to improve access to genetic testing for people living with ALS."
There are numerous reasons why a family history could be missed, including smaller family sizes, and a younger age of onset for some forms of the disease, which could lead to misdiagnosis. "If you don't test everyone with ALS, you are not going to identify every patient with rare subtypes that now have treatments being developed," she says.
Most importantly, research on genetic subtypes of ALS is fueling an understanding of the broader clinical spectrum of ALS. "The more we can understand genetic forms, and how to effectively treat them, the more we can apply that knowledge to the disease spectrum as a whole, including in cases where we don't have a clear idea of the cause," concludes Ms. Salmon.