Claire Webster is the Program Founder, Ambassador and Lecturer for the McGill Dementia Education Program.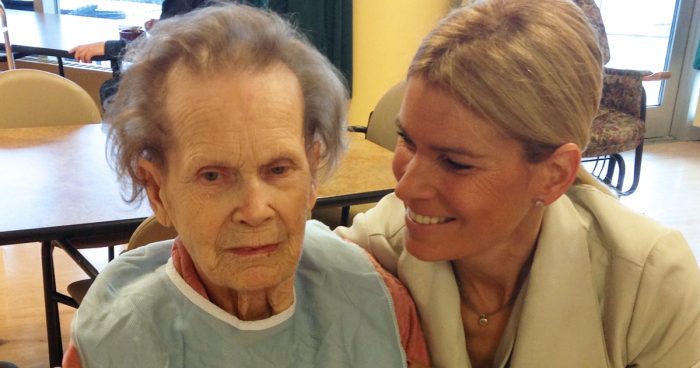 By Claire Webster

Today marks the fourth anniversary of my mother's death. On May 6, 2016, she succumbed to Alzheimer's disease at the age of 83. I remember the day as if it were yesterday. Tremendous waves of grief flowed through me as I sat by my mother's bedside, comforting her on the last leg of our journey together on this earth as mother and daughter. I lay my head on her chest and kept telling her it was okay to let go … it was time. I held her, waiting and watching her body slowly begin to die, hour after hour, minute after minute, wondering when the final breath would come. It was an experience beyond words. All I could think was, "She is me and I am her."

My mother's journey with Alzheimer's disease was a long one. She was diagnosed in her early 70s while still very physically fit; the disease stole so many precious years from what should have been a vibrant time in her life. I was angry at the disease for taking away what should have been the golden years of her life. She was a caregiver to my father for over 30 years, and deserved her freedom and independence. It should have been her time to discover a new life for herself, but she never had the opportunity to do that. She wasn't able to get to know her two beautiful granddaughters, or watch her cherished grandson become a great man.

Unprepared for the demands of caregiving
Nothing could have prepared me for the ripple effect that this disease would have on my mother, on me as the caregiver or on my family. My young children would witness not only the decline of their grandmother, but also the unravelling of their mother. As caregivers, life puts us through such a rigorous training program. We become crisis experts, responding to a multitude of situations both physically and mentally, and we develop our own coping mechanisms. We rarely give ourselves permission to "just be" and enjoy our lives, as we are constantly distracted by our responsibilities and responding to the next crisis.

Over the past 14 years, I've met with hundreds of caregivers who all have their own stories to tell. The common thread that binds us all is that the majority have not been given enough information about the disease by the medical community, nor have they been told about the importance of seeking out support services. This lack of education has a significant impact on the quality of care and safety of both the individual and their caregiver.

A system in crisis
Every day, I sit glued to the media reports highlighting the tragic details of seniors who are dying alone in long-term care facilities as a result of the COVID-19 pandemic. There are no words to describe the compassion that I feel for these individuals as the virus randomly selects its next victim, and for their family members who cannot be by their sides. I had the privilege of accompanying both of my parents to the other side, and understand how much peace and comfort this brings.

This pandemic has opened a "Pandora's box" with regard to how seniors are being treated, and has brought to the forefront important gaps in care, exposing the reality of what has been taking place in some residences for a very long time.

I began advocating on my mother's behalf from the moment she entered into a private assisted living facility in 2006 and did not have the cognitive skills necessary to advocate for herself. Unfortunately, the staff never received the necessary training to care for an individual with dementia. Soaking wet diapers, a broken hand, a broken walker, unexplained cuts and bruises throughout her body and face, an escape from a "secure floor," mistakes in administering her medication—these were all par for the course back then. I spent over two years pleading with the public health care system to help me relocate her from this "imaginary palace" that drained all of her life savings. It was only after she escaped from her lock-down floor and was found in an underground garage that my pleas were finally heard. She was transferred to an excellent government-funded facility with trained and competent staff in June of 2012 where she would spend the last four years of her life.

Becoming an advocate for change
Despite my challenging path, the gift of my mother's illness was that it provided me with a training ground from which to learn and grow. I realized that my calling was to dedicate the rest of my life towards helping other families navigate the caregiving journey and to become an advocate, using my experience to instill change within the health care system. I wake up every morning feeling a tremendous sense of purpose knowing that I can share my experience and education with others. In addition to being a Certified Alzheimer Care Consultant, I call myself a "Caregiver Crusader."

One of my greatest accomplishments is my involvement with the McGill University Dementia Education Program, which is part of the Division of Geriatric Medicine in the Faculty of Medicine. As a founder, lecturer and ambassador of this program, I am collaborating with a team of dedicated multidisciplinary health care professionals to develop programs that educate and support family caregivers, along with health care professionals and medical students of the future, with a focus on patient-centered care.

To help support family caregivers during this COVID-19 crisis, we are launching a weekly webcast series, McGill Cares, beginning next Wednesday, May 13 at 12:00 pm EDT. During these candid, 30-minute interviews with leading experts, I will explore topics related to caring for a loved one with dementia.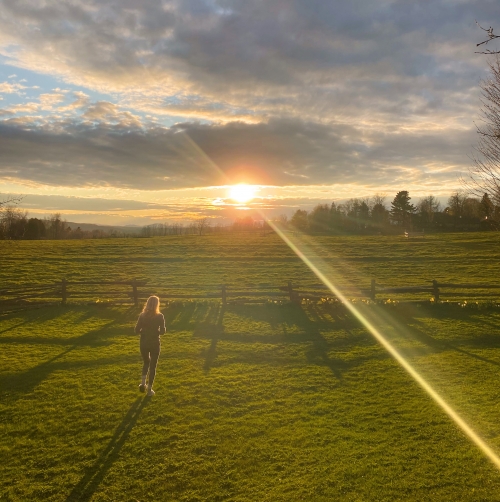 I encourage you all to reach out and get the support and education that you need during these trying times, to stand together and to lean on each other. If you are interested in becoming an advocate for change, please contact your local government representative and let your voice be heard. Let's stand together and make a difference.
Throughout the years, I have learned so much about my resilience as an individual, and my family's ability to withstand, learn and grow together. I could not be more grateful for the support that I have received from my husband and three children, and the strength and courage that I inherited from both of my parents. I hope you will join my crusade.

With strength and love on your journey,
Claire Webster

Program Founder, Ambassador & Lecturer

McGill University Dementia Education Program
May 6 2020