6 Questions is a new GCRC initiative focusing on the students behind the lab coats. Our trainees are the heart and soul of the centre and we want to put a face to the names by learning what they are up to both inside and outside the labs.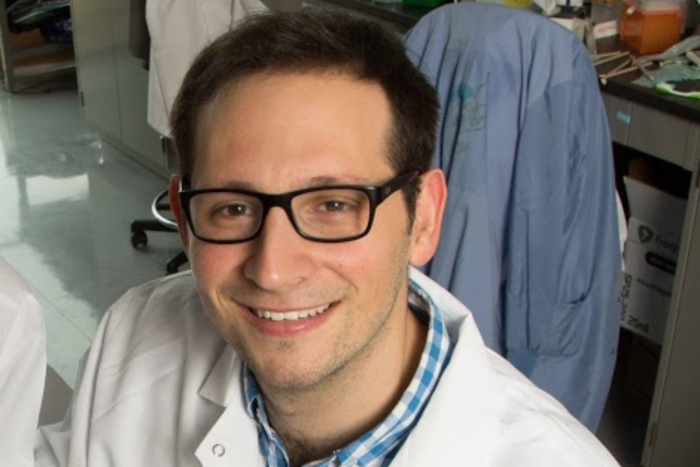 Research Area: Brain metastasis
Department: Experimental Medicine
Faculty supervisor: Dr. Peter Siegel
By Marie Moucarry
Tell us a bit about yourself:

I am from Montreal, I grew up in the West Island and I came to McGill in 2012 to do my Bachelor's in Anatomy & Cell Biology. During that time, I started to develop my interest in research and medicine, and also spent four months at Leeds University in the UK as part of a study exchange, which I really enjoyed. Currently, I am part of the combined MD/PhD program at McGill where I carry out research at the GCRC. I will be re-integrating back into medical school in January, following 4 years of full-time research for my PhD.
Why did you choose the GCRC?
I began working at the GCRC as an undergraduate student with Dr. Peter Siegel and quickly became interested in working with him for a PhD. Our lab is focused on metastasis, which accounts for over 90% of cancer related deaths. This makes metastasis a very important problem to tackle if we want to make a difference in the lives of cancer patients. Once I was admitted to the MD/PhD program, I initiated a new project in the lab studying brain metastases. Peter gave me the academic freedom to pursue my interests in this area and steer the project, with his close mentorship. Over my time in the lab, I have learnt a lot from his leadership and management style, qualities I hope to take with me as I continue my training to (hopefully) one day become an academic clinician-scientist.
Tell me about your research in three sentences or less?
My research is focused on metastatic brain tumours which reach the brain from primary sites such as the breast, lung, and skin. The most important finding of my PhD uncovered that invasion of cancer cells outside of the tumour and into the adjacent brain predicts recurrence and shortened survival in patients with surgically resected brain metastases. We have begun studying the underlying biology and clinical applications of this finding by developing mouse models derived from patient-tumor tissues, in vitro approaches, and initiating clinical trials using invasion status as a biomarker.
What excites you most about doing research?
Having the potential to impact the lives of patients through our research is what gets me out of bed in the morning. It is a real privilege to work with a talented team of scientists and clinicians who have taught me so much over my time at the GCRC and inspire me each day. Our work together in the lab has directly led to the initiation of clinical trials; being able to interact with patients impacted by our findings and seeing our research applied in the real world has been among the most rewarding experiences in my PhD. I am hopeful and optimistic that our efforts will result in real improvements in their care.
What is your favourite thing to do outside of the lab?
I like to spend time away from work with my fiancé and with my friends and family. Obviously with COVID-19, I can't do that as much as I'd like. However, I am grateful to be working at home and in the laboratory while many of my former medical school classmates are working on the front lines in the hospitals. I am using the extra time at home to re-direct our research findings towards clinical applications as I return to medical school. I also recently purchased a stationary bike, which has allowed me to exercise while watching the Friday Spotlight Seminars. As much as I enjoy multitasking, it will never beat having a Happy Hour beer with my colleagues during the talk.
What are your plans after leaving the GCRC?
I hope to one day become a clinician-scientist involved in the care of cancer patients while also leading a translational research group. I remain very open minded to different clinical specialties that will allow me to achieve my desired balance of exciting clinical practice, ample time for research and a reasonable family life balance. I still have many years ahead of me until I reach this point though- finishing medical school, residency, and fellowships. For the time being, I hope to remain present at the GCRC as much as possible, even after I return to medical school.
What will you miss the most about the GCRC?
I already miss the GCRC since the lockdown started in March! I miss the casual chats with colleagues in the hallways that are now short and blunt, the spontaneous conversations about science that are now few and far between, and the various seminars and events at the GCRC that are now on Zoom. While I know that these measures are absolutely necessary for the time being in order to safely continue our work, I nonetheless miss the community. A large component of doing impactful and meaningful science comes from creativity and collaboration, sometimes from unexpected sources. At the GCRC, this means a free flow of information, knowledge, and ways of thinking between trainees. Sadly, many of these informal interactions have been put on hold because of our new normal. I look forward to the hopefully not-too-distant future when these connections can be re-established for the benefit of our science and the cancer patients impacted by it.

Matt can be reached via:
Email: matthew.dankner@mail.mcgill.ca

Linkedin: https://www.linkedin.com/in/matthew-dankner-6a3b7780/?originalSubdomain=ca

Twitter : @MDankner

November 2 2020