6 Questions With is a new GCRC initiative focusing on the students behind the lab coats. Our trainees are the heart and soul of the centre and we want to put a face to the names by learning what they are up to both inside and outside the labs.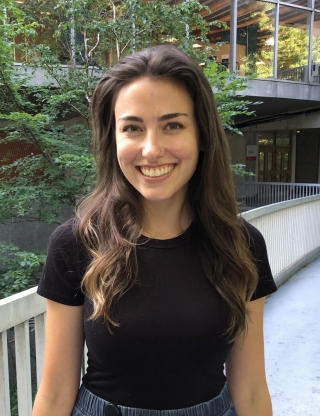 Source: Rosalind and Morris Goodman Cancer Research Centre
Research Area: Lung cancer, obesity, immunotherapy
Department: Human Genetics
Faculty supervisor: Dr. Logan Walsh and Dr. Daniela Quail
Tell us a bit about yourself: I'm about to finish the first year of my master's degree here at McGill. I'm originally from Ottawa and completed my BSc at the University of Ottawa in the Translational and Molecular Medicine program. It's while working at the cancer centre at The Ottawa Hospital that I first became interested in cancer research.
1. Why did you choose the GCRC? In my last year as a student in Ottawa, I started looking into different graduate programs in cancer research across Canada, with a particular interest in immunology and metabolism. I also attended the GCRC's annual recruitment event in January 2019. It was there that I met many of the professors, toured the facilities, and chatted with graduate students. It was a great opportunity to learn what the GCRC has to offer and the event played a major part in my decision to study here.
2. Tell me about your research in three sentences or less? My research is about understanding how obesity impacts response to immunotherapy among lung cancer patients. Interestingly, recent studies have shown that patients who are obese show improved survival following treatment with checkpoint inhibitors, compared to patients who are lean. My lab is using mouse models of obesity and patient-derived organoids to better understand the immunological mechanisms leading to this unexpected positive outcome in obese patients.
3. What excites you most about doing research? What excites me the most is that I have a real opportunity to contribute to our understanding of a disease that affects millions of people around the world.
4. What is your favourite thing to do outside of the lab? I love exploring the different areas in Montreal. There are so many unique places in this city, and of course different types of food to try. I also love to travel which has allowed me to experience different cultures and see some beautiful parts of the world! My favourite countries so far have been Vietnam and Peru.
5. What are your plans after leaving the GCRC? I want to continue working in cancer research but I'm open to exploring other career options. Teaching and science communication are other potential avenues. As scientists, we can get so insular in our own research that we often forget the need to communicate it to the outside world. Yet it's so important for our research to get recognized!
6. What will you miss the most about the GCRC? I will definitely miss the people. As a graduate student, it is so important to surround yourself with a supportive group of people and I for sure have that at the GCRC. It's been great getting to know everyone at the social and educational events organized by the GCSS. That is one of the reasons why I'm so excited to be co-leading our student society!

Email: lysanne.desharnais@mail.mcgill.ca

Linkedin: https://www.linkedin.com/in/lysanne-desharnais-7b28a1158/

Twitter: @LysDesharnais

August 10 2020