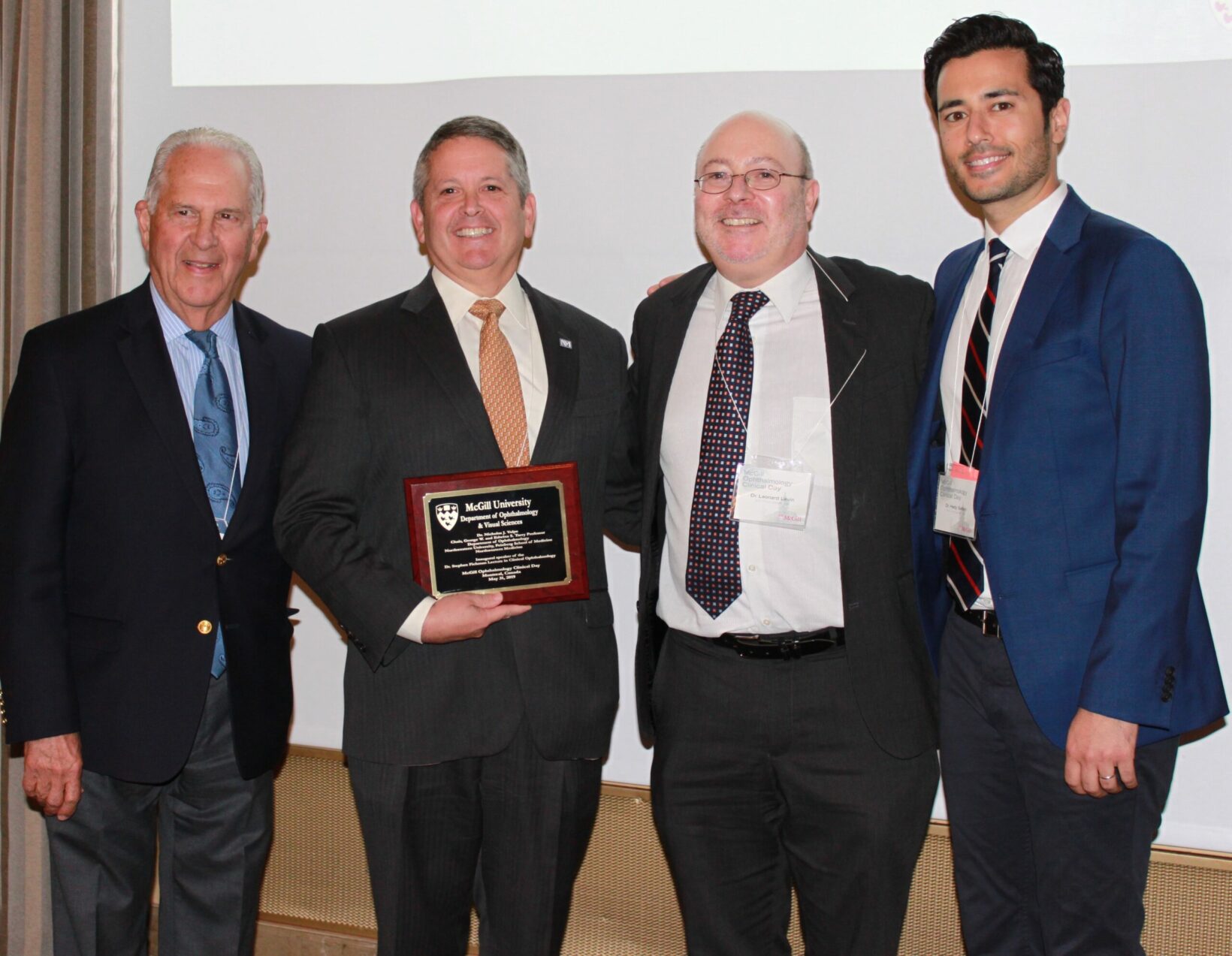 By Ali Salimi, MDCM Candidate 2020

The McGill Department of Ophthalmology and Visual Sciences held its 42nd clinical day on May 31, 2019 at the St. James club. The annual event aims to bring together ophthalmologists, residents, fellows, and medical students to shed light on important topics in the field. This year, the event welcomed over 100 attendees under a theme focused on ophthalmic emergencies.  Objectives included reviewing imaging, work-up, diagnoses as well as medical and surgical management techniques for ocular emergencies.

Featured international keynote speakers included, Drs. Ferenc Kuhn, Robert Kersten and Nicholas Volpe – three world-renowned ophthalmologists with extensive experience in ocular emergencies – who shared their scientific and surgical experience in named lectures in recognition of three distinguished ophthalmologists and McGill alumni: Drs. Stephen Fichman, Sean Murphy, and Dario Lorenzetti.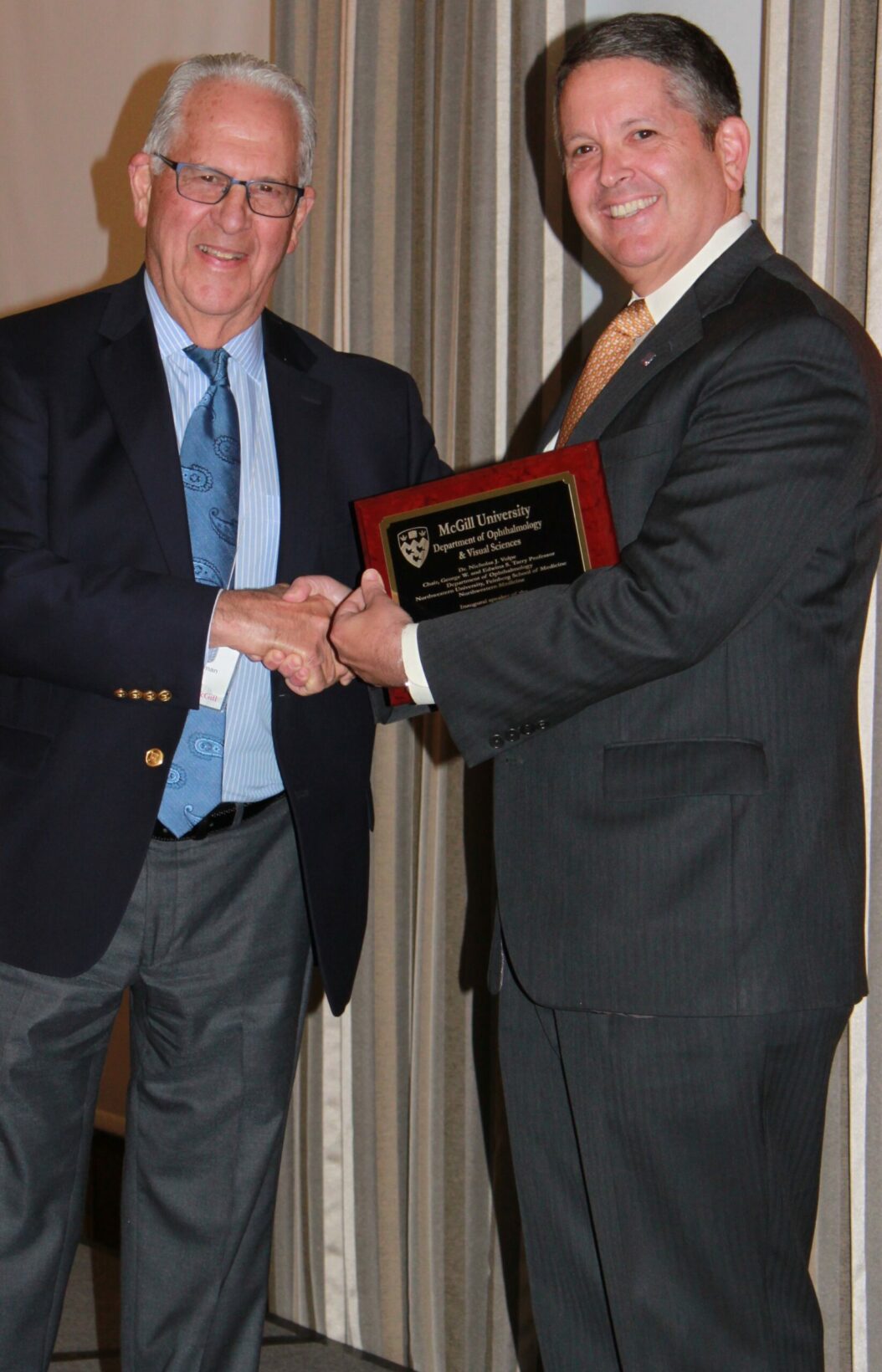 Delivered by Dr. Nicholas Volpe, Professor of Ophthalmology and the former Chair of the Department of Ophthalmology at Northwestern's Feinberg School of Medicine, the Dr. Stephen Fichman Lecture discussed emergency cases involving optic nerve swelling. Dr. Volpe stressed the importance of differentiating true emergencies (such as papilledema) from the mimickers of emergency conditions involving optic nerve swelling (such as pseudo-papilledema, cat-scratch disease, syphilis, etc.).

Dr. Stephen Fichman, a McGill graduate, is currently an Assistant Professor at McGill's Department of Ophthalmology and Visual Sciences. Over the past three decades, Dr. Fichman has made substantial contributions towards funding medical initiatives and scholarships. He is a diplomat of the American Academy of Ophthalmology and holds the Governor General Gold Medal in Public Health.

In 1989, what was known at the time as the Department of Ophthalmology established an annual lecture to recognize the late Dr. Sean B. Murphy's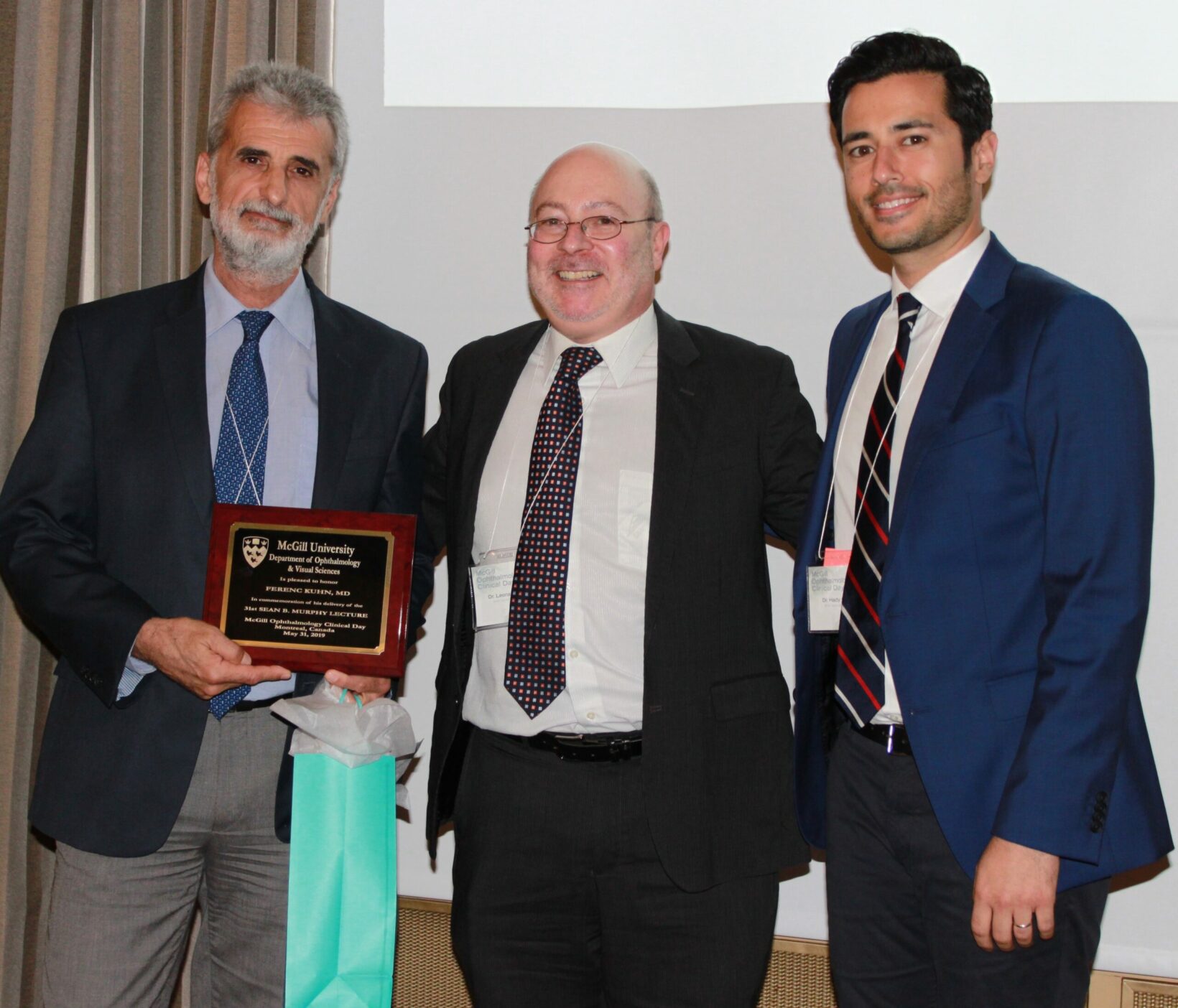 significant contribution to the McGill community. An Emeritus Professor, Dr. Murphy was the former Chair of the McGill Department of Ophthalmology, past president of the Canadian Ophthalmological Society, and a Member of the Order of Canada.  His persistence and support for unifying members of the Department of Ophthalmology across McGill's affiliated hospitals, , establishing McGill's Ocular Pathology unit and the Low vision clinic are only a few examples of his significant contributions.

The 2019 Sean B. Murphy lecture was given by Dr. Ferenc Kuhn – vitreoretinal surgeon, President of both the International and the American Society of Ocular Trauma, and author of more than 200 scientific articles. Dr. Kuhn discussed different surgical techniques for closing corneal and scleral wounds by presenting some examples of the cases he had encountered during his humanitarian trips.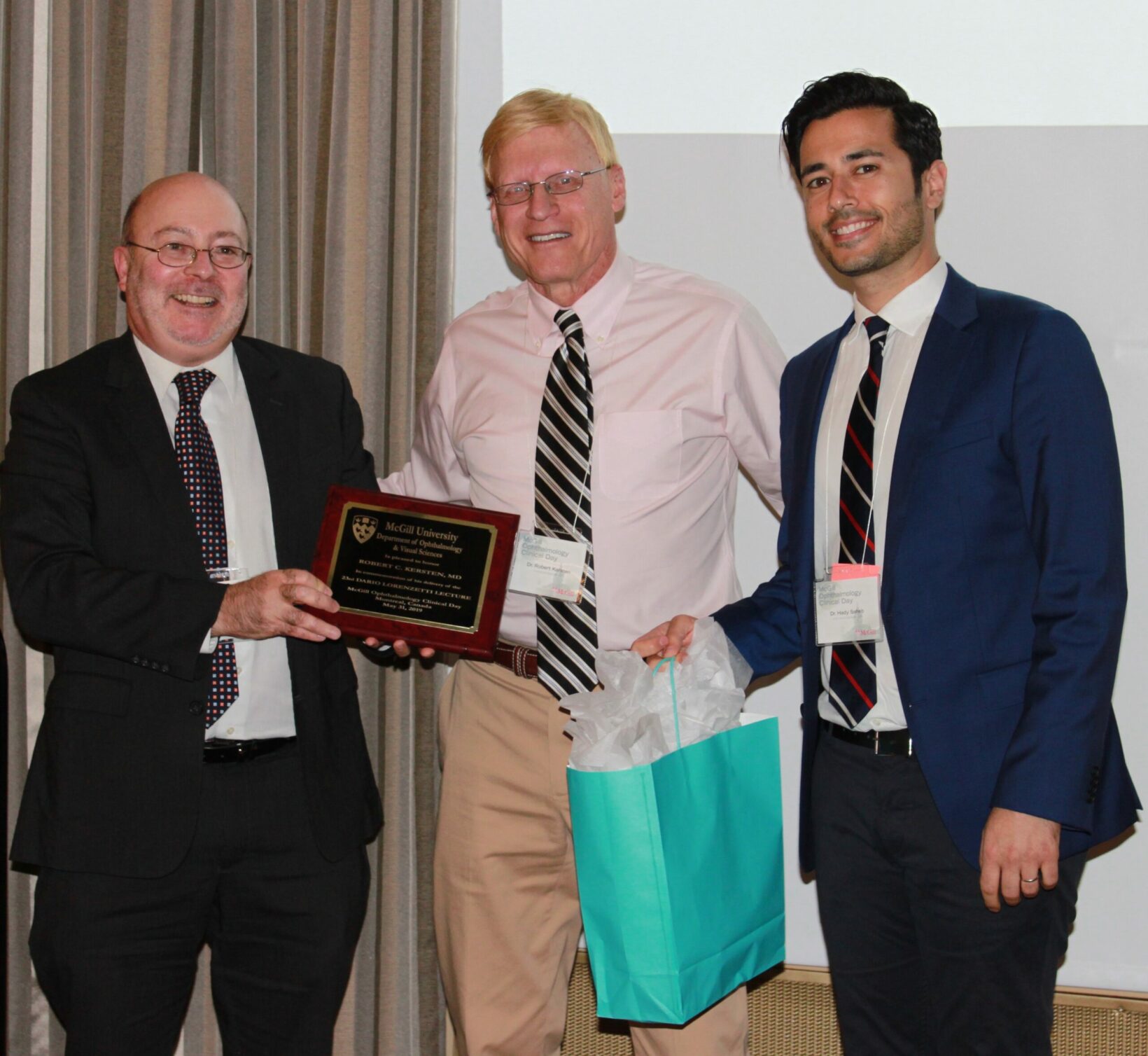 The Dario Lorenzetti lecture has been offered since 1996 in recognition of the late Dr. Dario Lorenzetti's exceptional contributions towards advancing research and improving the medical care at the Montreal General Hospital and the Department of Ophthalmology and Visual Sciences. He, for the first time, established weekly Ophthalmology teaching tailored to the residents, which were offered by distinguished Canadian or international speakers, a tradition that has been ongoing since the early 1970s.

This year's lecture was given by Dr. Robert Kersten – an oculoplastic surgeon, Professor of Ophthalmology and the Chief of Ophthalmic Plastic and Reconstructive Surgery at the University of California, San Francisco. Dr. Kersten presented a variety of peri-ocular trauma cases and discussed the optimal diagnostic and management techniques.

In addition to the invited lecturers, several McGill ophthalmologists shared their expertise on the management of ocular trauma. Dr. Hady Saheb, a world-renowned glaucoma specialist and Chair of the McGill Ophthalmology Clinical Day planning committee, presented a Ted talk-style lecture on the etiology-based management techniques for "sky high intraocular pressure." This lecture was complemented with others discussing emergency cases involving the anterior portion of the eye, which were presented by Drs. Choremis, Oliver, Khan and Darvish. In parallel, Drs. Hasan, Chen, Kapusta, Galic, Levin and Volpe alluded to causes, complications and management strategies for emergency cases involving the posterior portion of the eye. These talks were followed by lectures on ocular trauma presented by Drs. Kuhn, Deschenes, Cheema, Ares, Arthurs, Kersten, and Gans.

In line with the day's theme, Dr. Leonard Levin – the department Chair – presented a departmental initiative called McGill Primary Eye Exposure Prevention Sessions (PEEPS) developed by Drs. Cheema, Deschenes, and Ali-Ridha. PEEPS, in collaboration with the Canadian Institute for the Blind, aims to raise awareness of ocular safety and injury prevention by offering the local community information sessions about ocular safety measures.

Finally, highlighting the academic nature of McGill's Department of Ophthalmology and Visual Sciences, 30-minutes were dedicated to grand-round lectures, which were given by three ophthalmology residents (Drs. Mustafa, Berk, and Liu). In front of a panel of experts, the residents presented ocular emergency cases they had encountered over the last year and interactively discussed their management strategy with the panel.

The Clinical Day was completed by Dr. Nassrallah's introduction of the McGill Open Globe Injury Protocol (MOGIP). As a tertiary academic eye centre, the Department of Ophthalmology and Visual Sciences  receives many ocular trauma and globe rupture cases. This protocol was developed under the supervision of Dr. Oliver, as part of the department's ongoing quality improvement projects to standardize the approach to management and treatment of such difficult cases.

The 2020 Clinical Day will take place on June 5, 2020, on the topic of Oculoplastics.

For more information about McGill's Department of Ophthalmology and Visual Sciences: https://www.mcgill.ca/ophthalmology/

June 6, 2019