"I clearly remember my first day, because I was still in disbelief that I was walking in this prestigious institution," recalls Anna Santandrea, who is retiring after working 42 years in the Student Affairs Office at the Ingram School of Nursing (ISoN). Anna is one of the "founding members" of the ISoN administrative team and an esteemed colleague within the ISoN community.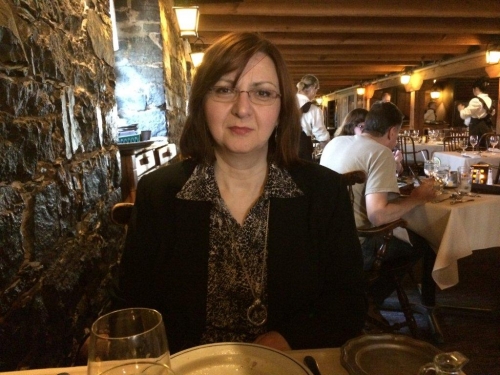 By Brianna Klint, Ingram School of Nursing

Her passion and commitment to assisting students and her team has not gone unnoticed, and her colleagues look at her career with the utmost admiration. As we prepare to bid a fond farewell to our colleague, who is retiring this August, we spoke with Anna and asked her to reflect on her career at ISoN.
The 70's
Anna began working as a casual employee in the Faculty of Medicine's Admissions Office in May 1976. "Those were the days of electric typewriters, carbon paper, and stencils for reproducing copies of documents," she says. "Things were very different back then!"

Anne McCormick, the Administrative Assistant at the time welcomed her and introduced her to the Admissions team. Later that first week, she was asked to cover the front desk. "That day, I saw an older gentleman walking up to my desk and he said, 'Hello, and who might you be?' I shyly replied, 'Anna. I just started working in the office.' He said, 'I see. Welcome to the Faculty of Medicine. I am the Dean and I am very pleased to meet you. I hope you enjoy your time with us.' Well, I just about fell off my chair extending my hand to him! I was so shy and in shock that all I managed to say was 'Thank you!' Perhaps this doesn't sound so exciting or memorable, but as a young woman who had immigrated from a small town in Italy only a few years earlier and was still trying to integrate in a new country, this encounter was over the top!"

Anna arrived in Canada as a young and naïve teenager unaware of what life would be like in a metropolitan city. "I had no idea that I would be spending so many years working in an academic environment and how this would shape the person I am today," she notes. "I also didn't know that when I started working at McGill, I was to meet my soulmate, the man I would end up marrying!"

In August of 1976, when Anna's casual employment was coming to an end, Mrs. McCormick encouraged her to apply for a permanent position and provided a reference. The position was with the School of Nursing, as the Student Record Clerk for the Bachelor of Nursing and Bachelor of Science (Nursing) programs. "I was interviewed by Mrs. Garneau, the Administrative Assistant at the School of Nursing. I noticed that day that Mrs. Garneau had a unique sense of humour and that, if I was selected for the position, I'd be learning a lot from her! The Director, Dr. Joan Gilchrist who was very pleasant and humorous as well, also interviewed me. To my surprise, I was hired shortly thereafter and worked in the main office along with a co-worker who would eventually end up being a long-time friend. I worked closely with Prof. Irma Riley, BScN Program Coordinator, Prof. Martha Doyle, B.N. Program Coordinator, and later Prof. Margaret Hooton who was appointed as the Associate Director of the BSc(N) program. This was to be the beginning of a long journey that would span over the next few decades."
Reminiscing about four decades at the ISoN
One of Anna's fondest memories of her time at ISoN was her attending the convocation ceremonies each year from 1982 to 2002. At Place des Arts, she was requested to assist the Program Director on the podium handing out diplomas to graduating students. "Although somewhat stressful, it was an opportunity to see students reach a milestone towards their goal of a career in nursing," she says.

"Convocation always marked the end of another academic year and, in those days, the reception, which followed the ceremonies, was usually held in Wilson Hall. We helped to organize and set up for the event and it gave us the opportunity of meeting some of the students' family members whether be parents, grandparents, sisters, brothers, husband, wife. Some graduates also had children while in the program and they were always excited to see Mom or Dad all dressed up in their McGill gowns! It was nice to see how happy and proud families were to have witness such a memorable moment."

In 2008, Anna was nominated for the Graduate and Postdoctoral Studies Award for Excellence. "A plaque was to be handed out at the Faculty of Medicine Ovation ceremony followed by a reception," she remembers. "It so happened that my supervisor, Margie Gabriel, was also to receive the Anne McCormick Award for Excellence for managers and this made that day extra special. It was also wonderful to see many of my co-workers and faculty attend this event. It was a very memorable day in my life at the School of Nursing."

Over 42 years of working in the Students Affairs Office, Anna has seen many nursing careers take shape. "There are those faculty members I have known through the many years of working at the School. Some of these members were students in the undergraduate and graduate programs who went on to their careers in nursing and then returned as faculty to train future nurses. Throughout the years, I have also seen some of the faculty get married, have children, grandchildren, or pursue their PhD studies. Others would go on to be Interim Directors/Directors and Graduate Program Directors whom I have supported in my role as Graduate Student Affair Coordinator since 1996."

As she gets set to retire, Anna says that there are a lot of things at ISoN that she will miss. "For example, speaking with students, seeing them succeed in their studies, and graduate. The daily interactions with Margie and my co-workers in the SAO, as well as my colleagues on the 20th floor. Over the years, I have had the pleasure of working with amazing staff! They have taught me compassion, strength, perseverance, respect, collegiality and have shown me how to laugh despite circumstances. What genuine friendship is all about – a friendship that goes beyond the walls of McGill University, and health and family are the most important things in life!"
What's next?
The decision to retire from McGill was a difficult decision for Anna. "COVID-19 has also brought on a lot uncertainty as to what life will be like for the next few months," she says. "So, for now, I plan to work on staying healthy and get used to a new routine. I must say that the prospects of not worrying about catching the bus to get to work or going out the door during those wintery and icy mornings, sounds wonderful!! When this pandemic is over and the new normal allows for more socialization, my husband and I hope to be able to take up social dancing. Perhaps join a gym. I also hope to spend more time walking through the beautiful park situated right across the street; catching up on some good books and then, we will see!"

After working at McGill for so many years, Anna has some words of wisdom to share. "We are not an island to ourselves, therefore, we can't stand alone facing a challenge. Everyone needs a helping hand and someone to support you. That honesty and transparency is so important if we are to foster a team spirit that will carry us through difficult times."

Thank you to Anna, for allowing us the opportunity to learn more about the wonderful colleague we have worked alongside for so long. On behalf of the Ingram School of Nursing, congratulations on your retirement!
August 12 2020