Source: CNW/Newswire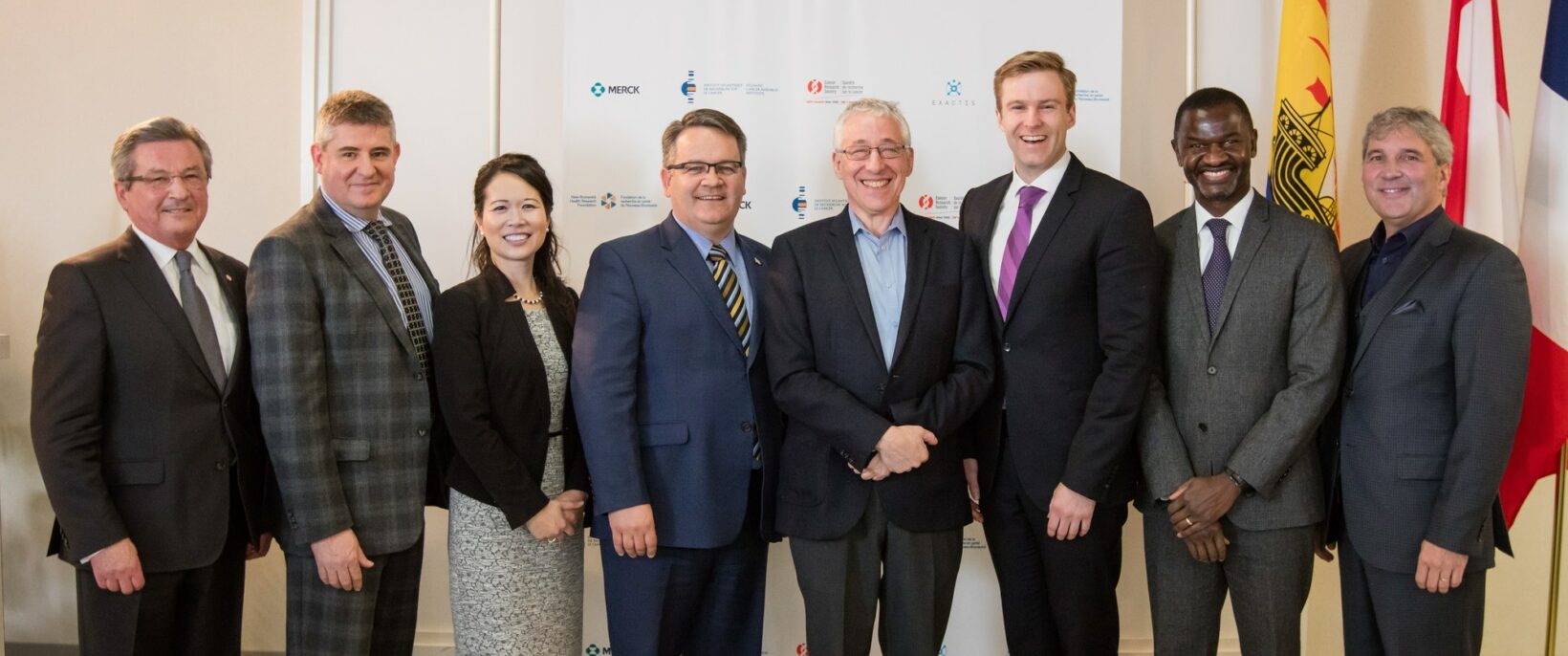 At an announcement made earlier this week at the Dr. Georges-L.-Dumont University Hospital Centre, Merck, known as MSD outside the United States and Canada, confirmed its commitment to research and innovation in oncology by contributing a total of $2 million to the Exactis Innovation 'Personalize My Treatment' (PMT) initiative. In addition, the Cancer Research Society (CRS) and the New Brunswick Health Research Foundation (NBHRF) will also contribute $1 million each to help bring innovative precision medicine to Canadians living with cancer.

"The Exactis vision is to build a Canadian Centre of Excellence in Cancer Precision Therapeutics. This project takes a giant step forward today with the partnership of New Brunswick's medical scientific community, and with the participation of patients here. Together we will accelerate discoveries and expand treatment opportunities so that we can really make a difference", said Dr. Gerald Batist, Co-Founder and Scientific Director of Exactis Innovation and of Q-CROC,Professor in the Department of Oncology at McGill University's Faculty of Medicine and Director, Segal Cancer Centre at the Jewish General Hospital.

"This contribution reaffirms Merck's commitment to developing cutting-edge treatments for Canadians living with cancer," said Chirfi Guindo, President and Managing Director, Merck Canada Inc. "When we bring leading research institutions across Canada together, including established hubs such as the Atlantic Cancer Research Institute (ACRI) in New Brunswick, we can more effectively respond to promising discoveries in cancer research."

PMT Platform: Bringing Patients Closer to Innovative Treatments
PMT is a pan-Canadian network initiative, led by Exactis Innovation, engaging cancer patients to create a comprehensive cancer database of tissue samples, genomic data and clinical data from the cancer patient population. The main goal of PMT is to match patients to available clinical trials based on the molecular profile of their cancer and defined study inclusion criteria. The initiative aims to reduce barriers to personalized medicine by making Canada's rich scientific resources accessible to the research community.

With support from Merck, the CRS and the NBHRF, the PMT initiative plans to expand its platform throughout Atlantic Canada, starting with the ACRI in New Brunswick. This will effectively increase the Institute's patient recruitment pool, broaden its molecular profiling capacity and strengthen its IT capabilities.

"As a founding partner of the Exactis PMT initiative, the Cancer Research Society is pleased to be part of this innovative personalized medicine project, co-funded with NBHRF and Merck for the benefit of all Canadian cancer patients," said Andy Chabot, President and CEO, CRS.

"This collaboration between three funders – a pharmaceutical company, a national health charity and a provincial health research foundation – is concrete evidence that a team effort is necessary to deliver better healthcare to cancer patients," said Dr. Bruno Battistini, President, CEO and Scientific Director of the NBHRF. "The era of personalized medicine is amongst us. This combined investment into the knowledge economy via a New Brunswick R&D institution, namely ACRI, will serve our province, all of Atlantic Canada and expand the pan-Canadian network initiated by Exactis Innovation."

"To have an innovative economy, we must invest in research and development. To have healthy families in New Brunswick, we must fight cancer," said the Hon. Brian Gallant, Premier of New Brunswick. "These are the reasons New Brunswick is investing in this research opportunity."

Precision Cancer Therapy: Designed for Patients Who Are Likely to Respond
Through decades of research, scientists have come to recognize that cancer is not a single disease, but a collection of over 200 distinct conditions. Personalized medicines, including immune- and gene-targeted therapies, can help deliver clinical benefits to suitable patients, while sparing others from needless treatments.

However, studies designed to test potential drug candidates need to have enough patients screened in order to identify only those suitable for treatment with personalized medicine. This can become a difficult and costly barrier against finding such treatments.

April 20, 2016