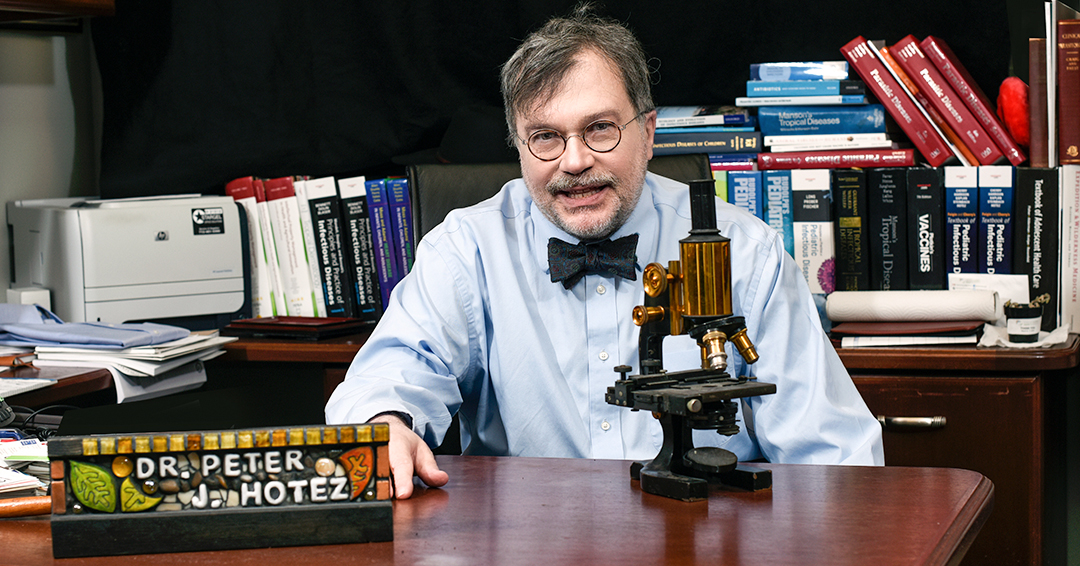 On May 16, Peter J. Hotez, MD, PhD, will kick off Global Health Week, a signature event of McGill's Bicentennial, with his talk COVID-19 Vaccines: Science vs Antiscience. Dr. Hotez is an internationally recognized physician-scientist in neglected tropical diseases and vaccine development, Dean of the National School of Tropical Medicine and Professor of Pediatrics and Molecular Virology & Microbiology at Baylor College of Medicine, where he is also the Co-director of the Texas Children's Center for Vaccine Development.
In February 2022, Dr. Hotez and his longtime collaborator Maria Elena Bottazzi, PhD, were nominated for the Nobel Peace Prize for their work to develop and distribute a low-cost COVID-19 vaccine to people of the world without patent limitation. Their vaccine, Corbevax, a recombinant protein sub-unit vaccine that uses a similar process to the Hepatitis B vaccine, recently received approval for emergency use in India and is being manufactured by a local company there, with plans to expand licensing to other undervaccinated countries in the near future. A fervent defender of science in the face of misinformation, Dr. Hotez is a regular guest on US news outlets and a prolific editorialist.
COVID-19 Vaccines: Science vs Antiscience with Peter J. Hotez will be streamed on YouTube on May 16 starting at 9am.
Please visit our website to learn more about our full Global Health Week programming.
1. COVID-19 vaccines became widely available over a year ago. Why has the world failed to adequately vaccinate those in low and middle income countries (LMICs)?
The failure was relying exclusively on the multinational companies at the expense of the LMIC vaccine producers.  Had the global policymakers supported the LMICs that already produce recombinant protein vaccines, we would have achieved vaccine equity much faster and vaccines that were as safe and effective as new technology – MRNA, adenovirus, particle – vaccines.
2. You developed a COVID-19 vaccine, Corbevax, with your colleague Maria Elena Bottazzi and team. What motivated your team to make it patent-free and available to companies in LMICs?
The entire vaccine program at our Texas Children's Hospital Center for Vaccine Development is designed to optimize equity by employing technologies that are already in place in LMICs. We do this for our parasitic disease vaccines – schistosomiasis, hookworm, Chagas disease – and for the last decade have taken a similar approach for SARS, MERS and now COVID-19.
3. Fighting antiscience rhetoric is another battle you've long engaged in. Antiscience went mainstream in many countries during the pandemic. How did we get here?
The anti-vaccine movement has evolved from small grassroots organizations that falsely believed vaccines caused autism,* into a political movement, and now one front and center of a far right political agenda promoted by members of the US Congress House Freedom Caucus, and amplified nightly on Fox News, with academic cover from far right think tanks.  Those refusing vaccines are victims of anti-science aggression from these groups.  In my new book Antiscience Kills (JHU Press, forthcoming), I estimate that 200,000 unvaccinated Americans in 2021 needlessly lost their lives despite the widespread availability of vaccines.
4. Having worked on vaccines for a long time, how can we address the problem of vaccine hesitancy?
We have to recognize that this is more than just an infodemic that requires realignment of social media computer algorithms. For the US (and now Canada and Western Europe) we need to address this as a political monster from far right authoritarian groups.
To learn more about Peter J. Hotez, please visit his website.  
*Dr. Hotez tackled the false claims about autism and vaccines in his book, Vaccines Did Not Cause Rachel's Autism: My Journey as a Vaccine Scientist, Pediatrician, and Autism Dad (JHU Press, 2020).