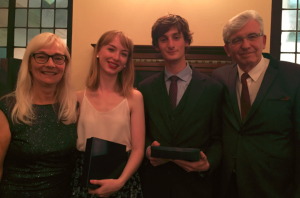 Once again this year, the three finalists of the Pam and Rolando del Maestro William Osler Medical Students' Essay Awards had the opportunity to present their essays on November 1 in the Wellcome Camera of the Osler Library in the McIntyre Medical Building.

The presentations, part of the annual Osler Day activities, offered an unusual twist this year as one of the finalists, Philippe-Antoine Bilodeau delivered the presentation for his essay "A Tale of Two Brains: Cortical Localization and the Neuron Doctrine in the 19th and 20th Century" (Mentor: Professor Thomas Schlich) via Skype while in South Africa.

The winners were announced during the Osler Banquet later that day, with Bilodeau taking home second place and Clare Fogarty ("Sanitation, Sanity, and (Moral) Suitability: The History of the Medical Inadmissibility of Immigrants into Canada (1840s-1950s)" (Mentor: Professor David Wright)) and André Lametti ("Ars uero longa: Teaching Hippocrates in Medieval Italy" (Mentor: Professor Faith Wallis)) sharing first place honours.

Congratulations to all three finalists!

November 8, 2017