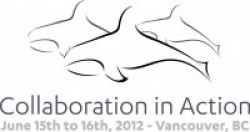 The 13th Canadian Collaborative Mental Healthcare Conference is taking place in beautiful Vancouver, BC, June 15th & 16th 2012. Registration is now open.
The conference objectives for the 13th Canadian Collaborative Mental Health Care Conference are:
– To assist mental health providers in conceiving, developing, and nurturing collaborative care models
– To encourage educators in all relevant professions to embed collaborative principles in curricula
– To urge administrators and funders to develop and sustain collaborative service design to assist consumers to self-manage and ensure their voices "count"
– To facilitate research that informs collaborative structure, process, and evaluation
Registration costs are as follows:
Early bird (before April 17, 2012): $425.00
Regular (on or after April 17, 2012): $475.00
Learner*: $250.00
Consumer/Family member of consumer: $100.00

*full-time student including a resident or intern attending an accredited post-secondary institution

The program is currently being finalized but we are excited to have Bill Mussell, Chair, Native Mental Health, Professor Graham Meadows, Director of Southern Synergy, the Southern Adult Mental Health Research, Training and Evaluation Centre in Australia and Hugh Griffiths, Acting National Director for Mental Health, England in attendance as our keynote speakers.

Please visit www.shared-care.ca frequently. Program/agenda will be posted online as soon as it's available.

Conference Hotel Details

The conference will be held at the Four Seasons Hotel in Vancouver, BC. A room block of 70 rooms per day (June 14th & 15th) have been allocated on a first-come, first-served basis as follows:
Room Category  –
 Single or Double Occupancy Rate
Superior City View – King

$195.00
Reservation Method
Individuals can make room reservations by calling the Hotel directly and requesting the Reservations Department.  Individuals must indicate their group affiliation when making reservations or the applicable group rate may not be extended.  Direct reservations must be made prior to April 30, 2012.

* Group Affiliation to Quote for Reservation:  Mental Health Conference

Call Hotel direct:

Toll-free:             1-866-223-9333

Telephone:         604-689-9333

Facsimile:            604-844-6744

Email:                    reservations.vcr@fourseasons.com

If you have any questions, please contact Conference Organizer, Amelia Kennedy at amelia@crosspointcommunications.ca or 1.604.302.9707.

March 15, 2012