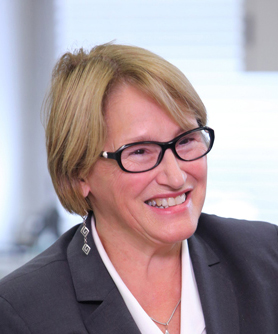 Representatives of the media are invited to attend the installation of Professor Suzanne Fortier as 17th Principal and 13th Vice-Chancellor of McGill University. The ceremony will be held on Tuesday, November 5, 2013 at McGill's Redpath Hall, 3461 McTavish St., in Montreal.

The academic procession will start at approx. 9:40 a.m. in front of McGill's Arts Building (853 Sherbrooke St. West). Participants – including members of the platform party and other guests and officials – will be wearing academic dress from various Canadian and American universities. They will be led from the Arts Building to Redpath Hall by the McGill University piper. The ceremony will start at 10 a.m. and end at approx. 12 p.m. (noon).

His Excellency the Right Honourable David Johnston, Governor General of Canada, who serves as the Visitor of McGill, will participate in the ceremony by entrusting the Charter and Seal of the University to Prof. Fortier's keeping.

Many other members of the Canadian, Quebec, Montreal and McGill communities, as well as from the international academic community, will deliver greetings to Prof. Fortier.

The Chancellor of McGill, Arnold Steinberg, will then deliver honorary doctorates to Nathalie Bondil, chief curator and director of the Montreal Museum of Fine Arts, and conductor Boris Brott, artistic director of the McGill Chamber Orchestra.

Following the conferring of the honorary degrees, Principal and Vice-Chancellor Fortier will deliver an address.

About Suzanne Fortier
Originally from Saint-Timothée, Quebec, Suzanne Fortier graduated from McGill with a BSc and a PhD in crystallography. Her research focuses on the development of mathematical and artificial intelligence methodologies for protein structure determination. She has authored or co-authored more than 80 scientific publications. Before coming to McGill, Professor Fortier served for seven years as the president of the Natural Sciences and Engineering Research Council of Canada (NSERC), boosting its capacity to support discovery research and increasing Canada's ability to attract and retain the best international talent. Prior to joining NSERC, Professor Fortier spent ten years at Queen's University in Kingston, Ontario, first as Vice-Principal (Research) then as Vice-Principal (Academic), in addition to being cross-appointed as a professor in the Department of Chemistry and in the School of Computing.

About Nathalie Bondil
Nathalie Bondil is the Montreal Museum of Fine Arts' (MMFA) chief curator and director. Under her leadership, the MMFA has expanded traditional ideas of art, staging the world's first retrospectives of fashion designers such as Yves Saint Laurent, Denis Gagnon and Jean Paul Gaultier. She also brought music into the museum with multidisciplinary celebrations of Andy Warhol, John Lennon, Yoko Ono and Miles Davis, as well as the current Splendore a Venezia: Art and Music from the Renaissance to Baroque in the Serenissima. Ms. Bondil holds degrees in art history from the École du Louvre and the Institut national du patrimoine, Paris.

About Boris Brott
Boris Brott is a symphony conductor, the artistic director of the McGill Chamber Orchestra and a motivational speaker. He has a 50-plus year history of promoting artistic development, founding the Philharmonic Youth Orchestra of Montreal as a teenager and, more recently, founding the National Academy Orchestra, Canada's only professional training orchestra for graduate musicians. Mr. Brott has also pushed classical music performances in unexpected directions, by bringing ballet dancers and astronauts to the stage and moving the orchestra itself to the heart of a steel factory blast furnace. In 1992, the maestro went back to school, studying law at the University of Western Ontario. He has since built a second career, using his musical expertise to teach Fortune 500 executives about corporate creativity and team communication. ____________________________________

To access the full program of the ceremony: https://www.mcgill.ca/secretariat/sites/mcgill.ca.secretariat/files/g140534english.pdf

The ceremony will be webcast live and can be viewed at: http://www.mcgill.ca/secretariat/installation/

The text of the Principal's address will be available after the ceremony at http://www.mcgill.ca/principal/principals-desk

October 31, 2013