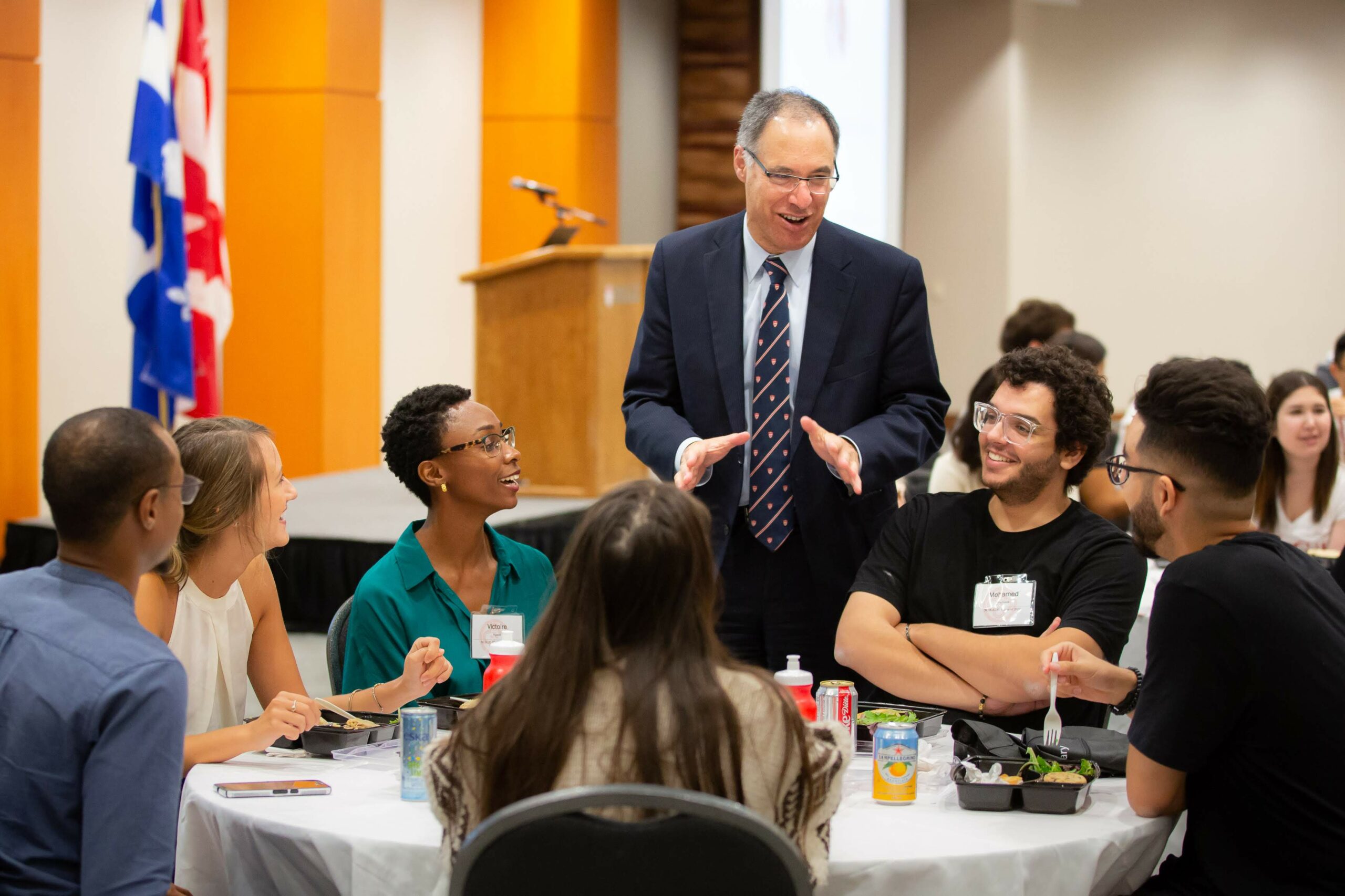 By Lisa Dutton

The McGill MDCM and DMD Class of 2022 kicked-off their studies recently with a three-day Orientation Session.  The students' enthusiasm was palpable as they filled New Residence Hall for an official welcome from Dr. David Eidelman, Vice-Principal (Health Affairs) and Dean of Medicine, Dr. Elham Emami, Dean of Dentistry and Dr. Beth-Ann Cummings, Associate Dean of Undergraduate Medical Education, among others.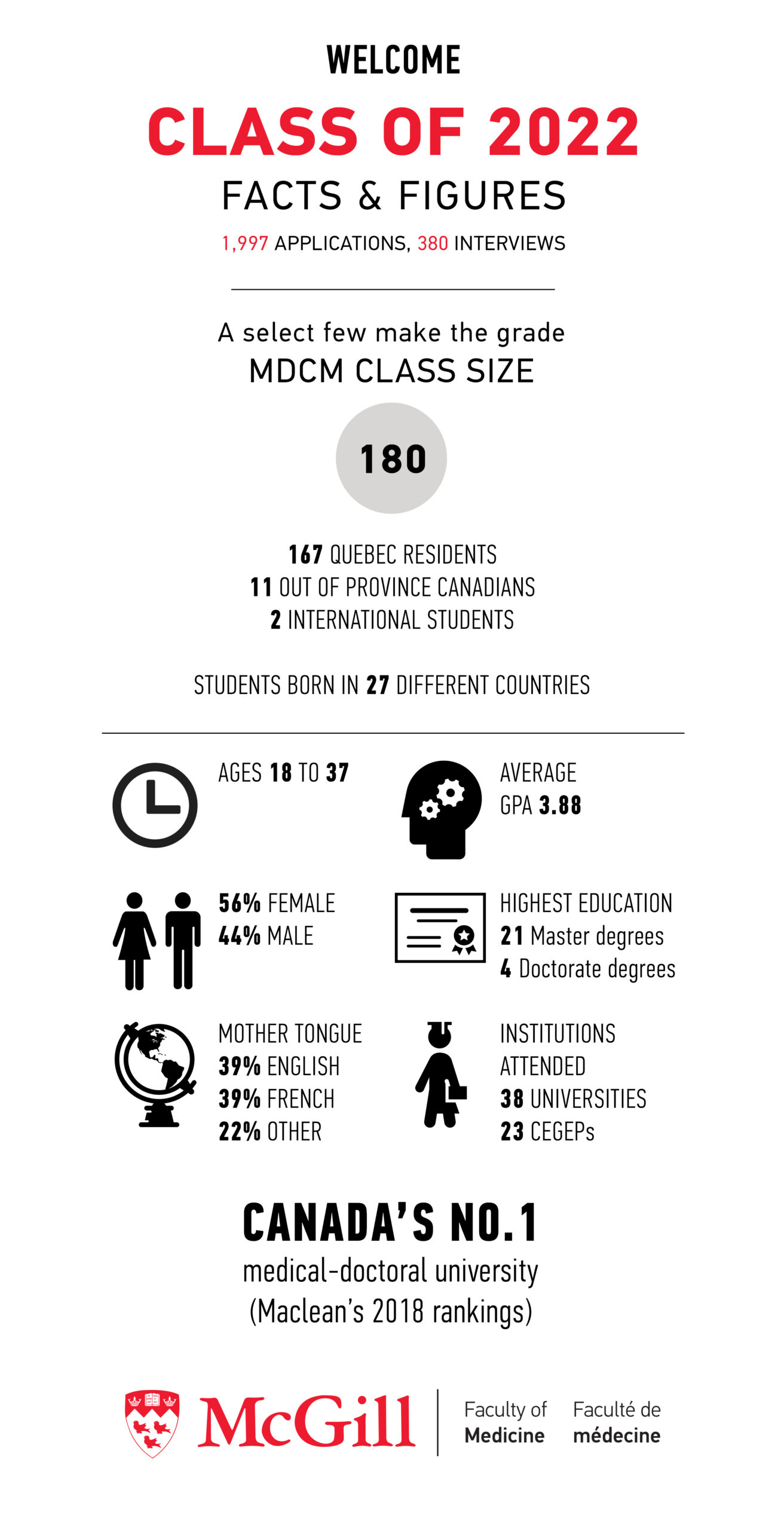 Frances Brown was 'over the moon' to be accepted at McGill.  She has dreamed of being a doctor since she was five.  "I was attracted to Medicine because this unique field combines various elements from research and innovation to deep and connected interpersonal relationships with colleagues and patients, but even further, it impacts society on a grand scale," says the Vancouver native.  "I wanted to study at McGill because it is a fantastic place that combines everything from high academic performance to the concept of wellness and physicianship and encourages graduates to strive to improve the well-being of society as a whole."  At the moment Frances is leaning towards a career in family medicine and emergency medicine, but she is leaving her options open.
Some students arrive to medical school in a roundabout way. Growing up in an Orthodox Jewish community, Yitzchok Ahisar attended Talmud school rather than high school.  He was destined to become a cantor.  Yet deep down, he really wanted to be a doctor.   Without a high school degree, his dream seemed unattainable.  Four years ago, at age 27, he called the McGill Faculty of Medicine to ask if he could enroll as a mature student and learned he would need an undergraduate degree.  With the help and support of his family and friends, he completed a bachelor's of science in molecular biology, then applied to, and was accepted in McGill's MDCM program.  "I am beyond excited; I almost can't get my mind around it. I am afraid I will wake up and it will have all been a dream," says the father of four.

One of two international students accepted to the MDCM program, Gianjeet Kaur moved to Montreal from Mauritius the day before Orientation.  She was attracted to McGill because part of the curriculum focuses on health inequality, global health and Indigenous health.  "Over the next four years, I look forward to focusing on my studies, getting a strong foundation to be a good physician but at the same time, I want to get involved in other aspects of university life like social justice and climate justice causes," she says.

Raphaël Harvey was in and out of hospital throughout her childhood.  The Montreal native had respiratory issues that eventually required surgery.  "The doctors were so nice to me, I decided I wanted to be just like them," she recalls.  Having completed McGill's Med-P Program, Raphaël looks forward to meeting her first patient and devoting her life to helping people.

Athithan Ambikkumar arrives at the MDCM program with a McGill undergraduate degree in computer science and biology.  "Being a computer scientist, I am very analytical and love to solve problems and find solutions.  However, I wanted a profession with more human contact where I could get to know people.  Being a doctor offers this.  I envision being able to use my background in data science and computer science to make big advances in medical fields like telemedicine and genomic research," he says.

"We should always strive to be students, so we can continuously learn, develop and grow and contribute to society.  I will remind myself of this over the course of my degree," says Jasdeep (Jazz) Saggar.  She is starting the MDCM Program armed with a bachelor of science and a master's degree in nutritional sciences. Jazz fell in love with research and worked in the field for a number of years. She says the idea of pursuing a medical degree was sparked while working with a physician-scientist.  She admired his ability to push forward the frontiers of medicine in the lab while treating patients and evaluating his research in early clinical studies.  Asked why she decided to study at McGill, she said, "I was drawn to McGill because it offers a world-class education but with a niche feeling.  McGill is also a forward thinking university and home to brilliant scientists and physicians trying to make things better for patients.  I thought this would be the best place to start my next chapter," she says.

September 6, 2018