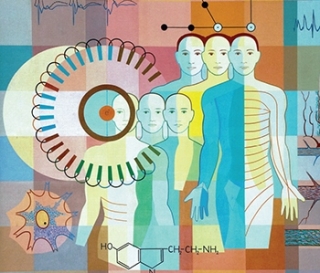 "The Wounded Brain Healed – The Golden Age of the Montreal Neurological Institute, 1934-1984″ by William Feindel and Richard Leblanc is now available for purchase from McGill-Queen's University Press.

The book covers a period when EEG was developed as a useful clinical tool, mesial temporal sclerosis was described, and the role of the hippocampus and amygdala in temporal lobe epilepsy was discovered. It was a time when the structure-function relationship of the cerebral cortex was ascertained, the supplementary motor area was discov­ered, and the relationship of handedness to cerebral dominance was established. The hippocampus was found to be the site of short-term memory and the concept of the plurality of memory was formulated. Computed tomography scanning, magnetic resonance imaging, magnetic resonance spectroscopy and positron emission tomography were introduced to North America, among other technological advances.

Dr. William Feindel (1918 – 2014) was one of Canada's most distinguished neurosurgeons and The Neuro's third director. Dr. Feindel's many contributions to medical science were recognized in 2003, when he was among the earliest inductees into the Canadian Medical Hall of Fame. The induction was one of numerous honours accorded him, including honorary degrees and membership in the Order of Canada, the Ordre national du Québec (Grand Officier), the Académie des Grand Montréalais, and the Royal Society of Canada.

Dr. Richard Leblanc's main interest for the past decade has been investigating brain tumour treatments. He participated in the first molecular characterization of the common forms of cerebral tumours by magnetic resonance spectroscopy, and in the use of magnetic resonance spectroscopy in guiding treatment of patients with gliomas. He was the local principal investigator in studies evaluating putative treatments for cerebral gliomas, including the first trial of gene therapy for patients with recurrent glioblastoma multiforme. Most notably, Dr. Leblanc was involved in one of the first trials to evaluate the effects of Temozolomide in combination with radiotherapy, a treatment that has become standard.

Proceeds will go to the MNI.

May 18, 2016