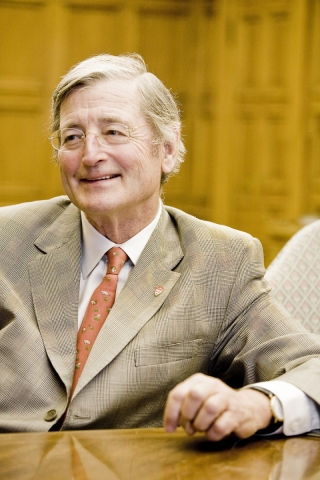 Dear members of the McGill community:

We are pleased to announce that the McGill University Board of Governors has approved the nomination of the Honourable Michael A. Meighen, QC, as the University's 19th Chancellor. He will begin his three-year term on July 1, 2014.

Mr. Meighen graduated with a BA from McGill in 1960, and has since proven himself to be one of McGill's most accomplished alumni. He has been a prominent member of the bar in both Ontario and Quebec and served as co-counsel to the Commission of Inquiry on War Criminals in Canada from 1985 to 1987. He also served in the Senate of Canada for 21 years, before retiring in 2012. He and his wife, Kelly, have shown a profound belief in the power of education through their leadership and philanthropic generosity. During Mr. Meighen's long relationship with McGill, he has served the University in many capacities, including Co-chair of Campaign McGill, Member-at-Large of the Board of Governors, Chair of the Fund Council, and has hosted countless events for McGill alumni, parents, students and friends. We are delighted that Mr. Meighen has now accepted the role of Chancellor.

Mr. Meighen will succeed Chancellor Arnold Steinberg, also a McGill alumnus, whose term will end on June 30, 2014. Over his long career as a Quebec business leader and a volunteer, Mr. Steinberg has tirelessly worked to improve the health and quality of life of people in his home province. His achievements as Chancellor reflect that wealth of experience, as well as his boundless energy and integrity, and we thank him for his exemplary performance.

Sincerely,

Suzanne Fortier, Principal and Vice-Chancellor

Stuart (Kip) Cobbett, Chair, McGill's Board of Governors