Interdisciplinary and multi-institutional projects aim to tackle infectious and immune threats to human health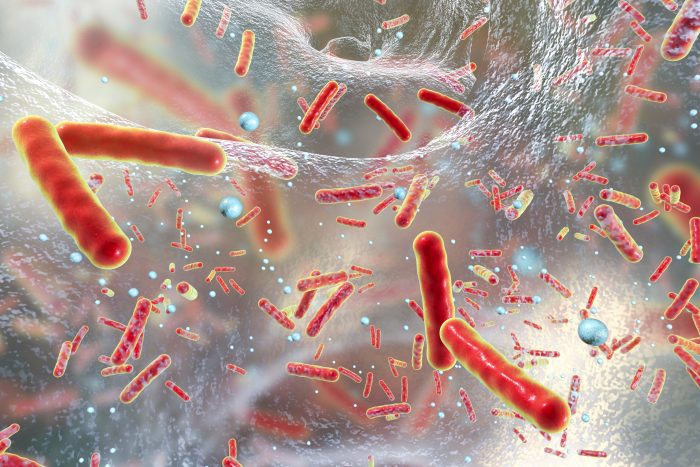 , Communications Officer, Faculty of Medicine

Formally established in April 2018, thanks to a $15-million gift from the Montreal-based Doggone Foundation, the McGill Interdisciplinary Initiative in Infection and Immunity (MI4) aims to foster interdisciplinary research to discover, develop and implement innovative solutions for infectious and immune threats to human health, which portend to be among the greatest threats to humanity as this century progresses.

To help meet this goal, MI4 put forth a call for applications for its first series of seed fund grants. Designed to unite investigators from across the McGill community, spanning the downtown campus, Macdonald campus, the McGill academic hospitals and their affiliated research institutes, the initial set of grants will support preliminary proof-of-concept studies and seeding new research in order to allow the projects to be well-positioned to subsequently secure external funding.

Focused on four themes – antimicrobial resistance, emerging and re-emerging diseases, infections in vulnerable populations, and diseases of altered immunity; the initial cohort includes 12 projects, each receiving $150K. While 10 of the grants are fully funded by MI4, two are co-funded, one with McGill's Goodman Cancer Research Centre and one with the Montreal Neurological Institute and Hospital.

"I am thrilled with the allocation of this first set of seed fund grants," says Dr. Don Sheppard, Professor in the Departments of Medicine and Microbiology & Immunology at McGill and Director of MI4. "The high quality of the proposals we received is a testament both to the enthusiasm for this initiative and to the vast expertise found throughout the McGill community, on-campus and across our affiliated hospitals."

All projects were reviewed by an expert panel of reviewers from outside the McGill community and the winners were selected based on their excellence. Both McGill's downtown and Macdonald campuses are represented among the funded projects as well as the Research Institute of the McGill University Health Centre (RI-MUHC), the Lady Davis Institute and the Montreal Neurological Institute. "As we aim to tackle some of the world's most pressing health care issues, MI4 provides an opportunity to bring people together in an area where new ideas require interdisciplinary expertise," adds Dr. Sheppard, who is also a scientist at the RI-MUHC.

The grants will officially be awarded by the Doggone Foundation during MI4's upcoming first annual scientific symposium at New Residence Hall.  Each selected team will have 10 minutes to present their projects during the June 3 event, which will also include a keynote speech from Dr. Gerry Wright, Director of the Michael G. DeGroote Institute for Infectious Disease Research at McMaster University.

Some of the funded projects include:Project title:
Nature-inspired nanostructures: designing next generation antimicrobial biomaterials.

Principal Investigators
:
Dr. Dao Nguyen
, Associate Professor, Department of Medicine & Assistant Professor, Department of Microbiology and Immunology; Scientist at the RI-MUHC.
Dr. Nathalie Tufenkji
, Professor and Tier 1 Canada Research Chair, Department of Chemical Engineering.
Project synopsis:
Our therapeutic arsenal against bacterial infections is rapidly shrinking, as drug resistance spreads and the antibiotic development pipeline runs dry. Novel technologies that can minimize the transmission of potential pathogens, particularly drug resistant bacteria, can be part of the solution to these shortcomings. One such class of technology was recently identified by studying the anti-bacterial properties of dragonfly and cicada wings, which contain beautifully-formed and intricate nanoscale "beds of nails" that kill by physical contact rather than by the use of antimicrobial molecules.Subsequent studies suggest that certain high aspect ratio nanomaterials, termed "mechano-bactericidal" nanostructures, can mimic this behaviour and impart critical microbial damage via their nanoscale shape, while leaving mammalian cells unharmed. As with any research field in its infancy, there exists significant debate and contradictions regarding underlying mechanisms and, by extension, the optimal design strategy to maximize antibacterial performance of these nanostructures.

This research will investigate antibacterial interactions between bacterial cells and nanopillars synthesized on various materials. A comprehensive understanding of cell-surface interactions will improve insights for future designs of antibacterial surfaces. As antibacterial surfaces that do not rely primarily on diffusion of antibacterial agents, mechano-bactericidal nanotopographies offer opportunities for next-generation sustainable antimicrobial materials.

Project Title
:
The impact of the microbiome in shaping host defense against tuberculosis

Principal Investigators:
Dr. Maziar Divangahi
, Associate Professor, Department of Medicine, Associate Director of the McGill International TB Centre and scientist at the RI-MUHC.
Dr. Jianguo (Jeff) Xia
, Assistant Professor, Institute of Parasitology and Department of Animal Science, and Associate Member of the Department of Microbiology and Immunology.
Project synopsis:

Despite more than 100 years since the discovery of Mycobacterium tuberculosis (Mtb), this organism remains one of the most successful human pathogens. Approximately two million people die of TB annually and 8 to 10 million new cases of active tuberculosis occur each year. Millions of individuals worldwide are treated with anti-tuberculosis therapy (ATT) to control active disease or prevent recrudescence of latent Mycobacterium tuberculosis (Mtb) infection.
Although these antibiotics are effective at decreasing TB-associated mortality, they do not lead to a sterilizing cure and, paradoxically, may leave individuals more susceptible to reinfection.

Furthermore, these antibiotics may have previously unrecognized consequences on the commensal microbiota that perform important roles in host defense. The central hypothesis of the current proposal is that anti-TB antibiotics compromise microbiota-immune crosstalk that prevents the generation of permanent immunity to Mtb. This project will define the intersection between the microbiome and the immune response to Mtb infection and is expected to have rapid clinical impact for this devastating disease.

Project Title:
Design of a Rapid Point-of-Care PCR device for the diagnosis and management of HIV, HCV and other infectious diseases for key vulnerable populations in real-world settings

Principal Investigators:

Dr. Bluma Brenner,
 Assistant Professor, Department of Surgery and Investigator at the Lady Davis Institute of the Jewish General Hospital.
Dr. Nadine Kronfli
, Assistant Professor, Department of Medicine (Division of Infectious Diseases) and scientist at the RI-MUHC.
Project synopsis:
The World Health Organization advocates for increased accessibility of point-of-care (POC) diagnostics for HIV-1 and related infections (including hepatitis C virus (HCV)) in hard-to-reach settings that lack laboratory infrastructure.  To this end, McGill Drs. Trifiro, Kirk and Paliouras have re-designed Polymerase Chain Reaction (PCR) technology towards the development of a true POC, rapid, portable and battery-powered device, to provide "label-free" quantitative detection of microbial infections.

This project aims to develop an integrated "sample-to-result" diagnostic test for the detection and quantification of HIV and HCV using the patent-approved and proprietary Plasmonic PCR platform. The performance of Plasmonic PCR will be compared to government standard qPCR viral load detection assays. The Plasmonic PCR device will be evaluated in key vulnerable provincial populations, including the MUHC cohort of new migrants, refugees and asylum seekers, the Canadian Co-Infection Cohort of HIV/HCV co-infected persons, and the Primary HIV cohort of men who have sex with men and people who inject drugs.

The researchers hope to apply the technology to other viral and microbial infections, (e.g. human papilloma virus and tuberculosis) as part of a multi-disease/multiplex mobile rapid POC testing strategy.
Complete list of funded projects:
Nathalie Tufenkji and Dao Nguyen.


Nature-inspired nanostructures: designing next generation antimicrobial biomaterials

Michael B. Reed and Ioannis Ragoussis


Integration of genomics and metagenomics for the surveillance of the Lyme disease vector Ixodes scapularis in Canada and the USA

Madhukar Pai and Scott Weichenthal


A Deadly Combination: Air Pollution and TB in India

Bluma Brenner and Nadine Kronfli


Design of a Rapid Point-of-Care PCR device for the diagnosis and management of HIV, HCV and other infectious diseases for key vulnerable populations in real-world settings.

Selena Sagan and Nicole Bernard


Investigation of the functionality of anti-Respiratory Syncytial Virus specific antibodies

Maziar Divangahi and Jianguo Xia


The impact of the microbiome in shaping host defense against tuberculosis

Sara Mahshid and Momar Ndao


Apta-Nanosurface Fluidic Assay for Specific and Rapid Detection of Parasites via a Labelfree Electrical Readout

Sonia del Rincon and Pnina Brodt


Targeting the MNK1/2-eIF4E axis in postpartum breast cancer liver metastasis

Heidi McBride and Erwin Schurr


Unraveling the microbial contributions to Parkinson's Disease (co-funded by The Neuro)

Sabah Hussain and Heidi McBride


Targeting the mitophagy pathway to treat sepsis-induced organ dysfunction

Ines Colmegna and Logan Walsh


Humanized Mouse Models to Untangle Mechanisms of Immune Checkpoint Inhibitors- Immune Related Adverse Events and Effects of their treatment in Tumor Biology (co-funded by the Goodman Cancer Research Centre)

Jean-Claude Bertrand and Moulay Alaoui-Jamali


The combi-targeting concept: Engineering small molecules to target cell signaling, kill tumour cells and stimulate the immune system
May 30 2019