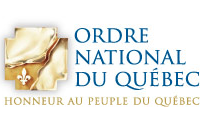 McGill Principal and Vice-Chancellor Suzanne Fortier congratulates the 34 outstanding individuals who received the Order of Quebec yesterday, in particular McGill faculty, graduates and friends.

Business leader Lawrence Rossy (BA'65), a generous donor to McGill who in 2013 made a transformative gift to McGill and its affiliated hospitals to create the Rossy Cancer Network, was named "officier" of the Order, as was McGill graduate Marguerite Mendell, PhD'83, a renowned scholar in the field of social economy.

Diabetes specialist Dr. Barry Posner, a professor in the Faculty of Medicine and Associate Director of the Montreal Diabetes Research Center, was made "chevalier" of the Order, along with Lucia Kowaluk, MSW'63, a tireless advocate for social justice and heritage preservation in Montreal.

"McGill is proud to count such exceptional individuals among its faculty, friends and graduates as those honoured with this distinction yesterday," said Prof. Suzanne Fortier, Principal and Vice-Chancellor of McGill. "The Order of Quebec recognizes creativity, innovation and solidarity, values we aspire to instill, nurture and promote at McGill every day."

To view the full list of Order of Quebec recipients

June 19, 2014