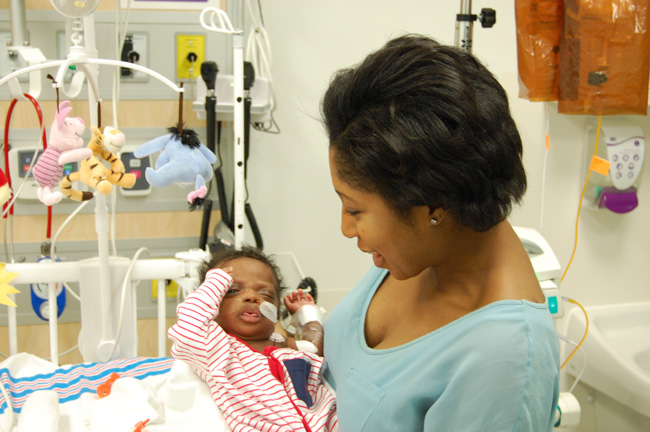 Skin-to-skin method to become a regular practice in the MUHC neonatal intensive care unit

By Eliane Leroux-Lafortune, McGill University Health Centre

Getting an ultrasound for pregnancy can be nerve racking, but on this day Naminata Sylla was looking forward to hers as she needed a little light in her life after being delivered some very sad family news. But what was intended to be a happy moment soon turned to panic for Sylla. At 23-weeks pregnant she was told her cervix was three centimetres dilated and that her baby may not make it.

Sylla was rushed from Laval's Cité-de-la-Santé Hospital to the Royal Victoria Hospital of the McGill University Health Centre (RVH-MUHC) at the Glen site, where she stayed for three and a half weeks.

At 27 weeks and two days gestation, Yanis was born.

"The first week was very difficult because we didn't know if he was going to survive," said Sylla. "I stayed by his bedside every day, without being able to hold him. I felt lost and I didn't know what to do or how to help him."

But a week after Yanis was born the nurses in the Neonatal Intensive Care Unit (NICU) suggested that Sylla practice the Kangaroo Care method with her son.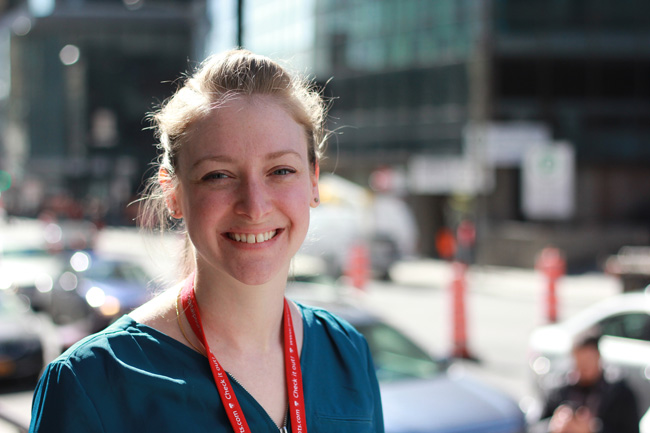 "Kangaroo Care involves skin-to-skin practice and is beneficial for all babies," said Amanda Camacho, NICU nurse. "The NICU environment can sometimes be stressful for babies so this method helps in their development and to comfort them. It also really fosters the bond and attachment between the babies and parents who must live in this separated living arrangement while they are in the NICU."

At the MUHC, developmental care of babies in the NICU is taken seriously. "There are certain developmental issues regarding the environment we deal with in our unit, like the sound, lighting, different positions we place the babies. We try to find what is most favourable for them so they can develop properly while still being in a hospital," said Camacho, who is on an MUHC committee to optimize developmental care. "For example, the premature baby population requires an environment more like a womb, which is very dark and quiet and then we have term babies and older babies, who require more stimulating environments."

Through the committee it became very apparent that this skin-to-skin care would be one of the easiest and most effective ways to try to improve the development of the NICU babies.

During Kangaroo Care, the baby is dressed in his/her diaper and then either the mom or dad removes their shirt and puts on a hospital gown that is open in the front. They then place their baby on their chest and wrap themselves up together while they sit quietly for about an hour.

"The benefits of Kangaroo Care are well documented," said Camacho, who has written a protocol for Kangaroo Care at the MUHC that was published in December 2014. "One of the main ones is it stabilizes vital signs like body temperature. Moms and babies actually have a physical relationship where the mom's body temperature will change to make the baby's temperature appropriate; so if the baby is cold the mom's body will warm up."

In addition to temperature, the other vital signs it regulates include respiration rate and heart rate, which means the incidence of apneas and bradycardia is reduced. Further, it contributes to better and deeper sleep for longer periods, which promotes brain development. "This is very important because significant brain development occurs during that last trimester," said Camacho. "The brain can triple in weight during this phase of gestation."

Kangaroo Care also reduces infection rates, which are often a big problem in the NICU population because the babies' immune systems are very vulnerable. "By having skin to skin, babies can colonize their mom's with the microorganism they are exposed to. This means that by holding and touching their baby, moms are exposed to all the same things the babies might be exposed to. The difference is moms have mature immune systems, where the baby does not. The mom's body will make antibodies to fight off any illnesses and will then pass those on to their baby through their breast milk. The skin to skin contact also really improves milk production."

Kangaroo Care is even good for the parents, helping to reduce anxiety levels, postpartum depression rates and to improving overall satisfaction with their hospital stay.

"When I was finally able to hold Yanis, he was so small and I was afraid to touch him," admitted Sylla. "The nurse reassured me a lot and told me to sit comfortably and she would put Yanis on me and everything would be okay. It went so well. That day I had my baby in my arms, I finally felt like a mother."

Since Yanis was a week old, Sylla has been practicing the Kangaroo Care method every day, for several hours a day. "My milk production has increased, Yanis is more rested, and his oxygen levels have improved," she said. "The kangaroo method provides many benefits for my son, but also for me."

At nearly three months of age, when this article was written, Yanis was in good health, despite some minor difficulties due to his prematurity. "Skin-to-skin contact makes me feel like I am giving my son what he needs," said Sylla. "It's a unique experience that I will continue when I can finally take my son home."

June 29, 2016